Television Good Enough to Eat:
How "Beef Baloney" and TV Shows are Made

By Wilhelm Murg, 8/2003
On Saturday, August 2nd, Rose Rock Media's new locally produced television show, "Beef Baloney," premiered at midnight on KOKI, Fox 23. Following in the traditions set in the Golden Age of local, Tulsa-made, late night television, like "The Uncanny Film Festival and Camp Meeting" in the 1970s and "Creature Feature/The Groovy Movie" in the 1980s, "Beef Baloney" is an irreverent mix of man-on-the-street interviews, sketch comedy, and straight-up surrealism. The show also repeats on cable channel 71 on Wednesday nights at Midnight, and on Fridays and Saturday nights at 2:30 AM.
"Beef Baloney" is the brainchild of producers Robert Kurtz, Nathan Gray, and Bryan Storkel, who also write, direct, edit, and star in the show. Its style is freeform and ranges from interviews at local events to pieces that look like outtakes from "Un chien andalou". It's one of the funniest and most intelligent shows on the air.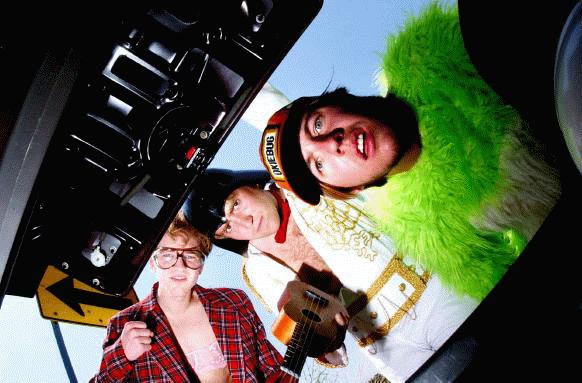 Left to right: Kurtz, Storkel and Gray

Executive producer Robert Kurtz took time out of his frantic schedule to talk to The Mirror about the show. "I think it's a good format; people can expect to be surprised. We've gotten really positive response, and we're relieved. There's not a cap on the creative material; the sky's the limit, almost, within FCC regulations," Kurtz laughed. "We don't get any sleep now because we're making commercials, and raising money, marketing, and making the TV show."
As for the mixture of influence, Kurtz noted that the blend is from television. "We grew up with all these things and that's who we are, that's what makes us laugh," Kurtz said. "Humor is a big aspect of our lives and we compete with each other. The variety of creative material is what we always wanted to keep on the show. I'm kind of afraid to be too inspired by something, because I don't want to copy anyone."
The show came about when Kurtz and Gray, who were childhood friends,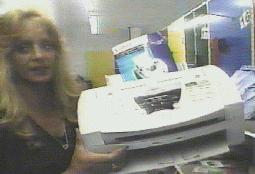 were living in the same house while they were going to college (TU and ORU respectively). "I grew up with Nathan," Kurtz said. "We were in Kindergarten together and went through grade school, and everything else. We would get home at 2 AM and stay up to watch 'Auction Line.'" (The show was an actual auction of used goods on local television). "It was a funny show, if you remember it. They were just selling junk 'as is,' which always means 'broken.' So we would laugh about it while we were trying to get sober enough to go to sleep. We got the idea that if we put something on late at night, like a stupid little cable access show, people would watch it."
Originally Kurtz and Gray had planned to do the show in their spare time while they were in college but, of course, they had no spare time once they were enrolled. "I started making movies when I was in high school as a hobby," Kurtz said, "Then I started cutting class a lot to go shoot a movie, because the snow was just right or for whatever reason. When I started doing that I realized that my priorities weren't really correct, and I needed to make movies or go to school, so I dropped out. We always had this show in our head, and the name had always been "Beef Baloney" even when we were in school. We would jot something down for it every now and then, we always figured it was going to be on TV at some point, so we started shooting little skits."
Kurtz went to the SXSW film festival and met with some producers who thought he had a good concept. Armed with new inspiration he began to develop the show, and convinced the Tulsa WB station to put "Beef Baloney" on the air at 2 AM. "Having it on late was part of the original idea, to create a simple, cheap show that is local crap programming, but it's better than 'Auction Line,'" Kurtz laughed. "It would be on when people got home from the bars. We worked hard and we had a couple of sponsors interested in it, then the station called us and said the national WB office didn't want to do it, but I never got the whole story because they wouldn't answer our phone call."
Their next stop was KJRH, Channel 2. "We got the business loan and set up a deal with Channel 2 to be on right after 'Saturday Night Live.' We had multiple meetings with them; we screened tapes for them at every meeting and a lot of people from the station watched it and gave us compliments. They had trouble with the gay guys dancing." Kurtz referred to the opening segment of their premiere episode, which was filmed at the 2002 Pride Picnic. Two young men were dancing with each other as a background to a comedy piece. "They didn't want to show that, but we were willing to cut it to get on the air."
Despite having to censor their show for KJRH practices, Kurtz and company let the station know that they wanted to have a good relationship and that they just wanted to get their show on the air. "Of course, we were paying them to get on the air, and that's the kicker," Kurtz said. "We were buying the time, but they were telling us what we could or could not show. Then all of the sudden, a month before our air date, a woman from Channel 2 called me up and said it was going to be a no-go. I argued with her and pointed out that we had a contract and that we had sent them money already. They sent the money back to us. There are a lot of shows that NBC is producing now, which KJRH will not broadcast because they think they are 'protecting' the people of Tulsa from NBC and the rest of the world, which is ridiculous." KJRH has a long history of keeping television shows from the Tulsa audience, such as refusing to broadcast the classic first year of SNL in the 1970s, canceling "The David Letterman Show" in the 1980s, and most recently refusing to show "Queer Eye for the Straight Guy" to the Tulsa audience.
Webmaster, 8/15/2003: More about this, and past local preemptions in Guestbook 143.

"Luckily we talked to Fox, and we sent in a tape of our worst stuff and they liked it at the station," Kurtz said. "They did a test screening with some of their interns and it tested really well, so we have a good relationship with them and they don't have a problem with anything we sent them. We're still buying the time, but it's a lot cheaper than Channel 2."
While some local programmers may not think "Beef Baloney" is as moral as the pyramid schemers that usually make up late night television, they are a lot more entertaining, and they have single-handedly started a new chapter in Tulsa's TV history. For more information, visit BeefBaloney.com.

(Printed by permission, © 2003, Wilhelm Murg. All rights reserved.)
---


(from Guestbook 154) Carl "Uncle Zeb" Bartholomew said of Beef Baloney:
Finally took the time to catch one of the shows. I enjoyed it. Lot of imagination and creativity going on there. I could tell a lot of time, effort, and energy must go into those shows. I was particularly impressed with the posting of the show, i.e., video effects, etc. Overall production is obviously light years ahead of anything I did.
Congratulations to all of those young men.