Even death can't part Tulsa couple

By MICHAEL OVERALL World Staff Writer
(reprinted from the Tulsa World by permission of Mike Kimbrell, Web Editor, 10/23/2003)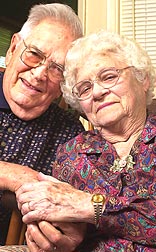 Shown in 2002, Bill and Thelma Brewster first achieved local fame for their toy store, then for their long marriage. After three-quarters of a century together, the couple died within hours of each other this week.
Tulsa World file photo
---
Thelma and Bill Brewster die within hours of each other after 74 years of marriage


Three-quarters of a century ago, they answered an altar call at a Pentecostal church and knelt next to each other to pray.
After a minute or two, Bill Brewster raised his head, reached out for Thelma Brock's hand and asked if she would marry him.
She said she would have to pray about it first.
"For the next 74 years, as long as they were married, they never stopped praying together," said Gene Yeager, their son-in-law.
In recent months, stricken with cancer and under hospice care, Bill Brewster would often hold his wife's hand and they would pray for God to take them home together.
Well-known in Tulsa for decades as the owner of Brewster's toy store, William Sardius "Bill" Brewster died Sunday.
His wife, Thelma Brock Brewster, died Monday.
He was 94. She was 92.
A combined funeral is scheduled for 10 a.m. Thursday at Woodlake Assembly of God, 7100 E. 31st St., under the direction of Moore's Eastlawn Funeral Home.
Friends are making memorial contributions to the St. John Medical Center Hospice.
Bill used to call it his "acorn of an idea" -- a store that sold nothing but toys and stayed open year-round, not just during the Christmas season.
It seemed like a radical concept when Brewsters of Tulsa opened in 1945.
The way he promoted his store was a revolutionary brainstorm, too. Brewster was one of the first retailers in Tulsa -- indeed, one of the first in the country -- to experiment with "do-it-yourself" commercials on television.
By the time the store closed in 1984, the television ads had made him a minor celebrity for generations of Tulsa children.
In more recent years, as a new generation of Tulsans grew up without ever knowing the Brewsters' store, the couple gained new fame for their long-lasting love affair.
In 2000, when they celebrated their 71st anniversary, they were honored during the annual Golden Age Couples Celebration at the Tulsa State Fair.
Last year, they gave advice to the Tulsa World for an article on how to make a marriage last.
"Putting up with each other helps a lot," Brewster said at the time. "But I will say this: She has her ways. I gave in to those ways, and it's worked."
In fact, the Brewsters seemed to do a lot better than just putting up with each other.
"They had a very loving and tender relationship," said Yeager, who is married to the Brewsters' only daughter, Barbara. "He did everything to make her happy, and she did everything to make him happy. They were always giving -- not taking."
In their retirement years, the couple traveled together in Europe. They kept meticulously good care of their yard, nurturing miniature roses and a vegetable garden.
As their health declined, however, the vacations became shorter and less frequent. Eventually, they couldn't leave the house much at all, except to go to church on Sundays.
The vegetable garden faded. Weeds crept back into the yard. And when they could no longer care for themselves, their daughter moved in to help.
But there was always one thing they could do for themselves, and they did it together. They prayed.
"We would hear them a lot, asking the Lord to end their suffering," Yeager said. "They thought of it as going home. And they wanted to go together."
---
Copyright © 2003, World Publishing Co. All rights reserved
Michael Overall 581-8383
michael.overall@tulsaworld.com

Back to Brewster's Toys Back to Channel Changer 2 Back to main