First came reasons for running...
...then came BRONSON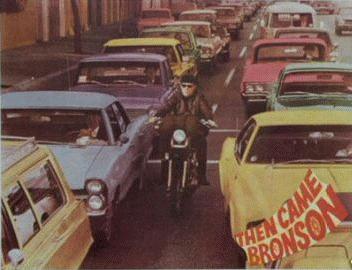 "Then Came Bronson" lobby card

(via email forwarded by Molly at Listen Recordings, 5/18/2008) Larry Ward in Youngstown, Ohio said:

Michael Parks has graciously consented to do a live interview with me on the "2 Wheel Power Hour" motorcycle show. The show airs May 19. Fans can listen to the interview live through our streaming. The web site is 570WKBN.com.

I've had a wonderful time chatting with Michael today, he's a very nice guy, enjoyable to speak to.

Webmaster, 5/20/2008: The Michael Parks interview is available on MP3. Go to this podcast page at 570WKBN.com to download. It's in the first 30 minutes of the show..


Michael Parks singing on The Johnny Cash Show, March 24, 1970

Trailer for "Then Came Bronson" (1969)


Webmaster: I wrote this article specifically for TVparty in 1999.
However, this version is fleshed out with more pictures and links.


---
"Takin' a trip?"

Crossing the Bixby Creek
Bridge north of Big Sur
(Opening scene: busy city street...a harried businessman at a stoplight turns to his left, where a young man is revving his motorcycle, and asks...)
Opening credits for "Then Came Bronson"
"Taking a trip?
"What's that?"
"Taking a trip."
"Yeah."
"Where to?"
"Oh, I don't know...wherever I end up, I guess."
"Pal, I wish I was you."
"Really?...well...hang in there."
The businessman smiles wistfully and nods. The light changes, and off goes the laconic motorcyclist, gunning it out of the city, toward open space and adventure.
The cyclist is Jim Bronson. Although his economy of speech would not suggest it, he is freshly an ex-newspaperman.
Only a few days earlier, a friend, Nick, had lept to his death from a bridge, but not before asking Jim to buy back the motorcycle from his soon-to-be widow. Jim had originally owned and customized the bike, then sold it to Nick when he became a reporter.
Bronson began thinking about the meaning of his own life. He decided to quit the rat race, simplify, see the country, visit some old friends and discover what life would put in his path.
That is the premise of the 1969-70 NBC series, Then Came Bronson, starring Michael Parks.
Easy Rider was a hit in 1969, a movie about two young counter-culture cyclists looking for the "real" America. Perhaps Middle America was not quite ready for that story on the small screen, but "Then Came Bronson" expressed some of the themes of that movie in a way more palatable to the mass audience (the pilot movie was completed before Easy Rider hit the screen, so TCB was not an Easy Rider knockoff.)
The idea of getting back to basics was "blowin' in the wind" at that time. "Natural" food, ecology and hippie communes were other expressions of this philosophy. However, promotional literature assured us that "for the necessities of life, Bronson works". He owned only his motorcycle, his bedroll and the clothes on his back. Those clothes usually consisted of corduroy pants, black tee shirt, leather jacket, and watchcap (according to Michael Parks, he took this costume from the Jack London bio, Sailor on Horseback).
The two hour pilot movie told the story of how Bronson began his peregrination. Martin Sheen was Nick. Bonnie Bedelia played a runaway bride. After a rocky first meeting and some character-revealing incident, Bronson develops feelings for her that conflict with his need to continue his journey and come to peace with himself.
Martin Sheen

Bonnie Bedelia

Stunt rider Bud Ekins
doubling on a CZ bike

The pilot featured a hill climb contest, which Bronson won (remarkable, considering he rode a street-equipped Harley-Davidson Sportster!). The most identifiable feature of the Bronson bike is the insignia on the gas tank, a triangle with an eye in the middle.
While Bronson and the girl were in a diner, a local yokel hopped on the bike and ran it directly off a ramp into the water. It was hauled out and painstakingly disassembled and cleaned up. Soon they were back on the highway.
All-seeing eye on Bronson's gas tank
By the end of the show, the two understand that their life paths must diverge. Good thing, or else there would have been no series!
One of the unique qualities of the show was the natural style of the dialog. Parks played the role in a soft-spoken way, and even mumbled some of the often-improvised lines. This added a more realistic, unpredictable feel to the show. Quentin Tarantino has said that Parks' performance in the series was "the most naturalistic acting I've ever seen on a TV show." (Parks plays the roles of Sheriff Earl McGraw AND Esteban Vihaio in Tarantino's recent film, "Kill Bill, Part 2".)
The motorcycle was almost a character itself. The deep, throaty growl of that 4-stroke Harley engine seemed to give voice to the dream of a life of simplicity and freedom.
One of the co-producers of the series was Robert H. Justman, who had just worked on the original Star Trek as associate producer ("ass prod", as TV folk abbreviate it). The Bronson credits reveal several other carryovers from the Star Trek crew as well.
Come to think of it, Jim Bronson and his bike were a lot like Jim Kirk and the Starship Enterprise. His arrival often brought long-standing local conflicts to a head. He helped iron them out (though in a more subtle fashion than Captain Kirk), then warped out down that "long, lonesome highway" at the end of the show.
| | | |
| --- | --- | --- |
| | "Long Lonesome Highway" | |
| Goin' down that... | | Gonna live life my way. |

Two particularly memorable episodes:
"A Pickin' and A Singin'" - Bronson drops into a small diner/nightclub and meets a young songwriter. Bronson teams up with him to win a talent contest.
Michael Parks did the singing for this episode himself. He released three albums on MGM of folk/country-tinged songs, including "Mountain High" (written by James Hendricks) from this show, plus other standards such as "My Melancholy Baby" and "Re-enlistment Blues".
Some of these songs showed up on the soundtracks of other episodes. One of the Hendricks songs, "Long Lonesome Highway", was the closing theme for the show and became a top 40 hit. Parks' voice was not commanding, but quite affecting. Elvis' band (James Burton, Ronnie Tutt and Jerry Scheff) backed Parks on the second album, albeit in a much more sedate style than they employed with the King. Excellent music.
"You're a beautiful audience,
ladies and gentlemen"

Hubba, hubba!

Busted

Escape

"The Forest Primeval" - Tired of big-city traffic jams, Bronson takes a trail ride in the Los Padres National Forest. The park ranger gives him a map and a warning of impending weather. Bronson misses a downed signpost and takes the wrong path. He is enjoying the scenery so much that he fails to observe an obstruction, and goes head over heels with the bike down a steep incline. He camps out, sleeps, gets up and hammers his bike back into shape. Then he is off again, this time over trailless terrain .
While his situation is near desperate, he finds himself contemplating the wonders of the beautiful Big Sur redwood country. As the storm approaches, Bronson feels the power of nature and faces his own mortality. He hunkers down and keeps riding. Just as a posse on horseback is making ready to search for him, he rides, near exhaustion, onto their ranch.
Later, he talks with the ranger over coffee about the need to preserve this wilderness for his children. Humbled by his experience, he rides back down the trail to the highway.
This unique show lasted only one year on NBC, but has remained in syndication for the last 27 years.


(via email, 12/14/2004) Stephen Wylder said:
I turned 53 (a prime number) November 30. My brother sent me a birthday card containing a reminder of a long-ago trip and my one encounter with network television.
In the summer of 1969, I took a train-bicycle trip to the Tetons. I rode the train from Iowa City to Victor, Idaho, changing trains in Omaha, Pocatello, and Idaho Falls. The last leg of the rail trip was by mixed train (a combined freight-passenger train, in this case, a freight train where passengers rode in the caboose). From Victor, I bicycled over the Teton Pass. Somewhere in the Grand Teton National Park, there was a sign announcing the filming of a new TV series, "...then came BRONSON." Shortly beyond the sign was an assortment of trailers and tents of the film crew. I must have been something of a sight, with a frame pack on my back, on my trusty Raleigh Sports, loaded with two full saddlebags.
As I was riding by, somebody on the film crew called over to me, asking whether I wanted to earn ten dollars. Of course I did. Ten dollars in 1969 was the equivalent of forty or fifty dollars today. I was ushered into one of the tents, where I signed a contract which, according to one member of the film crew, bound me to MGM (now Sony??) for the rest of my life. I rode past the cameras a couple of times, and that was that. Alas, the footage ended up on the cutting-room floor.
Had I been included, I'm not sure which episode I would have appeared on, but I don't think it would have been "Your Love is Like A Demolition Derby in My Heart." (Honest, there really was an episode with that title.)

According to Guy Boutin's journal (about 2/3 down the linked page), the first four episodes were filmed in the Teton Pass area. He also says that the closing credits of each episode followed Bronson riding south on US 89, with the snow capped Teton Mountains on his right...webmaster

I hope I haven't bored you thoroughly with Bronson and my brush with network television. But this kind of reminiscence isn't all bad, even it it's just an escape from depressing current events. Maybe Bronson's best advice is his signature line:
Hang in there,
Steve

Mad Magazine's version of the opening scene

For much more information about the series, visit ThenCameBronson.com. Thanks to webmaster Jon Foulkes for his help with this article. And here is Jon's Episode Guide.
Another good site where you can order Bronson merchandise: ThenCameBronson.TV.

5/18/2008: Here's a new one: JimBronson.com.
MichaelParks.com - Michael Parks has a more recent CD out, "Coolin' Soup". The title came from a comment once made to MP by "Thumbs" Carllile that he had a "good voice...for coolin' soup".

If you enjoyed the low-key charm of Parks' earlier albums, you will certainly like this one. These musicians have that subtle ESP swing thing going for them. Oklahoma Music Hall of Famer Byron Berline is the violinist on this date.

Highlights are "Rockin' Chair" by Hoagy Carmichael, "But Beautiful" by Van Heusen/Burke, Johnny Cash's "Big River", and a song written by MP himself, "Down New Orleans Way", which fits beautifully into the set.

I find myself playing this CD a lot...it's a bit like Chet Baker meets Dan Hicks and the Hot Licks! (4/22/2007, eight years after this comment: I still feel the same way...this is a terrific CD.)

Download "Down New Orleans Way" in MP3 for free at Michael's site.

Order "Coolin' Soup" at Amazon.com.

There were four excellent columns written by Bob Greene, then of the Chicago Tribune, about this show. The first two are accessible on the Jewish World Review site. The other two are available from the Trib's archives for a fee.
"Of Saints and Sinners, and the Nearness of Faraway Dreams", about Bob's search for an episode of Nick Adams' 60s TV show about newspapermen, "Saints and Sinners" (see Nick in Tulsa circa 1960.). It sets up the next column:
"First came Saints, next came Sinners, then came Bronson", which deals with Bob's obsession with the "mother-daughter" episode of TCB:
"Then came those three little words: 'Takin' a trip?...'" and
"First came Bronson, next came Klitsner, then came Greene" (Stu Klitsner is the actor who played the businessman in the opening sequence...Bob Greene talks with him on the phone and can't resist recreating the famous scene).


Copyright © M. Ransom, 1999-2008


Back to webmaster reviews Back to Channel Changer 2 Back to main