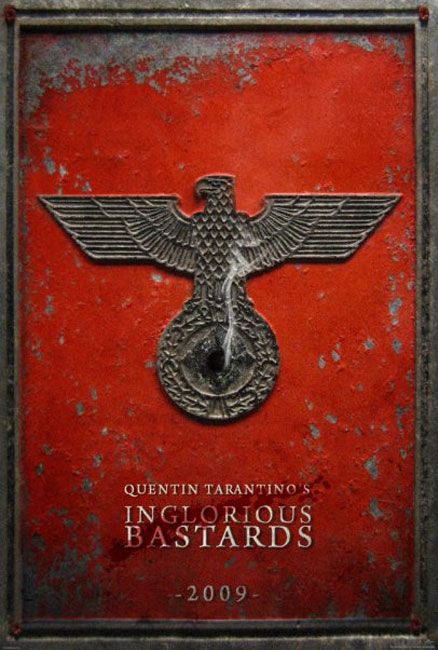 A film review by Gary Chew


GARY CHEW/Sacramento
8/13/2009
You've got to be ready to rock 'n' roll when you go see a Quentin Tarantino movie. It doesn't hurt to know upfront that what you'll likely see with QT is an amalgam of subtle comic book opera and his continuing homage to esoteric and foreign cinema.
Mr. Tarantino has been saying that "Inglourious Basterds" will be his masterpiece. I don't want to disenchant anyone reading this, but my movie-meter tells me QT made it hard for himself when he became a household word making the movie that will likely, after all that's shot and edited, be his masterwork. That would be "Pulp Fiction."
QT has spaghetti on his plate this time. Not a Western in that memorable Italian tradition, a la Sergio Leone ("Per un pugno di dollari") but a tip of the lens cap to that genre. Tarantino also brings his basterds into more recent history during WWII in Nazi-occupied France where he looses a squad of US Jewish-American soldiers---meaner than a kibbutz full of junkyard dogs---who really relish scalping and brutally killing soldiers of Hitler's Third Reich.
| | |
| --- | --- |
| | |
| | Brad Pitt |
These inglorious bastards are under the command of Lt. Aldo Raine. (Remember Aldo Ray, the blonde-headed guy with the gravelly voice in all those WWII movies?) Well, Brad Pitt gets his George W. Bush on for the Raine role even though the character hails from another state that begins with "T." That would be Tennessee.
Throughout "Basterds," Brad plays Raine with few dynamics. He's about the same whether firing up his men to go kill Germans or trying to fool some SS officers he's an anonymous upper-class Italian in a white dinner jacket who seldom speaks. The fun comes when he does say a word or two: they're in a strange accent that sounds a lot like Buddy Ebsen on "The Beverly Hillbillies" bidding someone, "Arrivederci." Pitt has Raine carrying himself in a swagger that resembles the characters we remember as played by Samuel L. Jackson and John Travolta in "Pulp Fiction": subtly comic, but menacing as hell.
Another story runs parallel to the basterds' mission to dispose of Germans. A young Jewish woman named Shosannah Dreyfus (Mélanie Laurent), seeks revenge for the death of her parents and siblings. Shosannah's family is machine-gunned to death in the first scene of the film by a squad of German soldiers under the command of Colonel Hans Landa (Christoph Waltz), also known as The Jew Hunter. Col. Landa has a magic touch for seeking out and exterminating Jews living undercover in territory controlled by der Führer. Shosannah escapes the raid on their hiding place and shows up later in Paris.
Since Quentin Tarantino also wrote "Basterds," he aptly has Shosannah inheriting a Parisian movie theater. Notice the marquee in the first scene showing it where Shosannah is being hit on by a young German officer (Daniel Brühl). He proves to be a Deutschland hero for single-handedly killing lots of American soldiers. I didn't like watching the young officer's "heroic" effort much.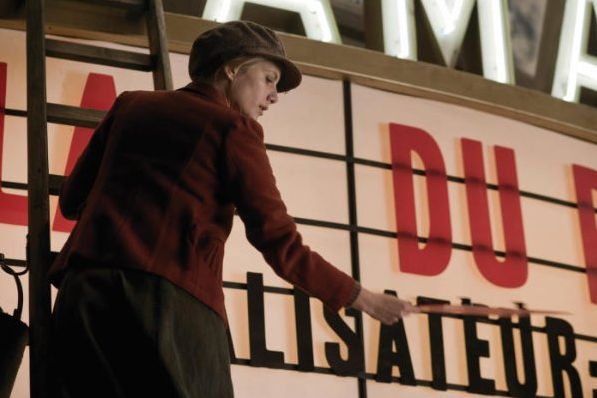 Mélanie Laurent

The possibilities are endless for Tarantino's encyclopedic knowledge of film and directors to show in this scenario: the theater, the projection booth, the projectionist with whom Shosannah is in love, the very essence of French and German Cinema of the early 40s. Right up Tarantino's Rue de la Strasse.
Shosannah's theater is where Hitler's propaganda chief, Joseph Goebbels (Sylvester Groth) is persuaded to premiere a Nazi documentary about that young German hero who sniped his way through all those good US soldiers. Gee dad, a Leni Riefenstahl Film Festival.
The black and white footage used as the premiering documentary in "Basterds" was shot and directed by one of Tarantino's supporting actors, Eli Roth, who is cast as Sergeant Donny Donowitz. In real life, Roth is part of the Splat Pack, filmmakers who create extremely violent, low-budget horror flicks.
Roth's character is one of Lt. Raine's best basterds for dispatching German military personnel. On special occasions, the Sgt., a Bostonian Jew, uses a good old-fashioned baseball bat to follow orders. The film doesn't say whether or not the bat is from a Red Sox' rack though.
Front and center and a mile ahead of just about everyone in the cast, Christoph Waltz, as Col. Landa, shines. Waltz speaks German, French, Italian and English, fluently. Add to that his immense talent for playing an exceedingly smart, perceptive, mannerly, sinister SS officer and you've got yourself a guy who might receive a nomination for Best Supporting Actor in a town called Hollywood. That would be, "Waltz ist Wunderbar!"
Brad Pitt and Christoph Waltz

Speaking of Herr Waltz' fluency: Quentin Tarantino has left many subtitles to read if you're not as multilingual as the native born Austrian. Tarantino also gets sidetracked in bar room minutiae in a scene where everyone in front of the camera speaks a tongue other than English most of the time. You must read fast to keep up. Maybe further editing, particularly this scene, would speed "Basterds" up a bit.
But these "Basterds" do have their moments: some terribly violent, some quite humorous. Some of the funny is seeing Rod Taylor in a brief appearance as Sir Winston Churchill and Mike Myers as a prissy English officer. (Oh, behave!)
Inglourious or not, that would be entertainment.

"Inglourious Basterds" official site.
Opens Friday 8/21 at the AMC Southroads 20 and the Tulsa
Cinemark. Check Yahoo Movies-Tulsa for theaters and times.
Gary Chew can be reached at garychew@comcast.net,
Facebook.com/justin.playfair and Twitter.com/orwellingly.

Copyright © 2009, Gary Chew. All rights reserved.