"Leap Year"; a film review by Gary Chew


GARY CHEW/Sacramento
12/1/2009

It's difficult to say, of three prominent features above Amy Adams' chin, what one is most attractive: her delightfully and perfectly tilted nose, those expressive blue eyes or, just slightly higher, those blindingly, radiant, red tresses of hers.
When you put them together with the rest of her and the fact that she's a first-rate actor, Ms. Adams is a visage to behold, especially when you see her stretching herself (yet again): this time into Anna, a yuppified control freak of a character who exudes more confidence than Bret Favre and Julia Roberts combined.
How many times have we seen this Italian-born American woman, raised in Castle Rock, Colorado, playing well in a part that calls for being compliant, tender and sensitive? No one weeps as well on screen or as convincingly as Amy Lou Adams ("Julie & Julia," "Doubt," "Sunshine Cleaning," "Charlie Wilson's War").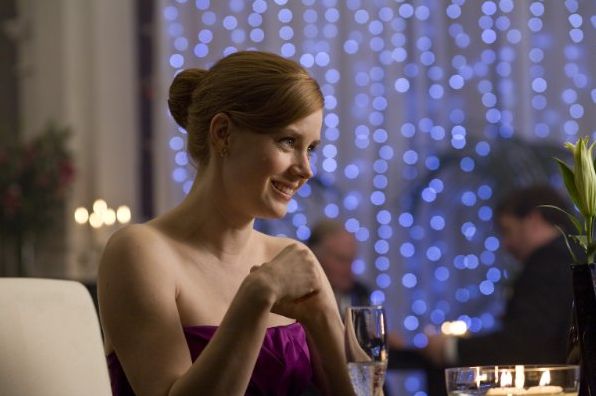 Amy Adams

For me, what seemed a drag about seeing "Leap Year" going in was: I thought I'd burned out long ago on warm, perky, romantic comedies. Hollywood's been grinding them out at what seems one-per-month since the motion picture was invented. Any movie geek knows the list is endless for this genre that's responsible for catapulting so many film actors to eternal stardom.
The romantic comedy is trite and by definition, usually predictable. For the most part, "Leap Year," too, is predictable, and although one can sense what's about to occur in some scenes, there are turns in the film that do surprise, if also seeming to be a bit forced to catch one off-guard.
Anna is a Boston apartment stager. An apartment stager stages empty, up-for-lease apartments to entice prospective clients how fashionable and neat the space they're viewing could be if they take the bait, sign a lease and buy such décor and furniture for the apartment that Anna has put there, temporarily. She's organized, efficient and…did I say controlling?
Her boyfriend, Jeremy (Adam Scott) is even more efficient and all that. A cardiologist has to be. His schedule is so jammed, he must examine aortas via his cell phone which are being exposed (at that moment) during open-heart surgery being performed by one of his doctor buds.
It's a good life for Anna and Jeremy who reside together without benefit of clergy. Just as Jeremy leaves for a medical conference in Dublin, a little bird, who has spied Jeremy in a fancy jewelry shop, tells Anna to expect a marriage proposal from him before he leaves for Ireland. But whoops, Jeremy has only bought Anna a pair of expensive diamond earrings, not an even more costly diamond engagement ring. Boo-hoo. She is disappointed, but you and Jeremy never know it.
This introduction kick-starts the film (script by Deborah Kaplan and Harry Elfont) and has Anna following Jeremy to Dublin to propose marriage, as it is Leap Year. On Leap Day, February 29th, in Ireland, it's said a woman may ask the man she loves to be her husband. Anna phones Jeremy in Dublin to say she's on her way. He happily awaits, but hasn't a clue about the question she's got in her baggage.
Basically, "Leap Year" is a movie about trying to get to Dublin more than being there with Anna popping the question. You know the saying, "It's not the getting there; it's the going?"
Traveling from Boston to Dublin, Anna encounters a string of minor accidents and delays brought on, for the most part, by some pretty darned funny random acts of God that make her realize there are more options in how she might live her life and that, maybe, happiness could be, as they say on "Monty Python," "something completely different" from what she thought before embarking for the Emerald Isle.
Paralleling, to some degree, an English dramatic romance of WWII days called, "I Know Where I'm Going," bad weather puts Anna on hold for getting to Dublin. After missing rained-out flights, she takes a boat on an angry sea to make her destination, stranding her in a quaint Irish village where she takes refuge in a hostelry and pub. The bartender at the pub (that's pronounced: poohb in Irish), is a man who couldn't be more different (and indifferent at the same time) than Dr. Jeremy. He's Declan and Matthew Goode plays him with a sort of bucolic, Gaelic suavity that's sure to please the lassies.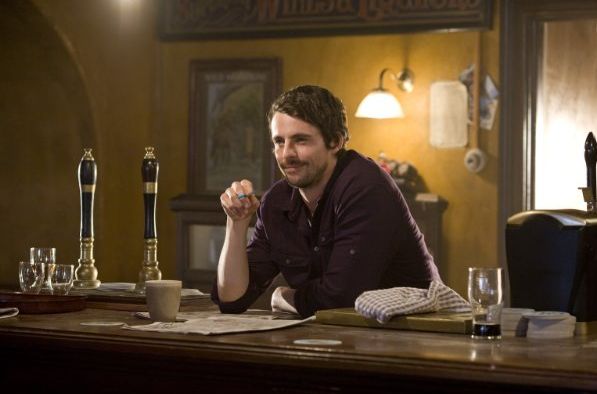 Matthew Goode

Differences between Declan and lovely Anna are also separated by no more than a mere two to four Irish light-years. Aye, the conflict is on. And isn't it great. Both Adams and Goode are so good at playing off one another as well as on the friction. There are gobs of laughs: mostly with Ms. Adams as the butt of the extended series of humorous events that inexorably draw the audience closer and closer to that which seems to be…the predicted. At least, it looks like that's where "Leap Year" is going.
Not quite like a ballerina, Adams is "light on her feet" in the comic role and should be considered eligible for some sort of Good Sport award playing the haughty, precise Anna who sees everything she undertakes as having a most high-priority agenda. Goode's laconic yet assuaging Declan is the perfect foil to Anna's foibles.
But I couldn't see anything coming near being faulty with Ireland, where the film was shot. Friends have "warned" me that Ireland could be the most beautiful place on this green earth. After seeing "Leap Year," I think there might be something to that. 'Tis a site (or is that, sight?) for sore eyes a'lookin' at Éire in this movie.
"Leap Year" is the perfect first-date movie. There's nary a coarse word uttered, and the hanky-panky in it would almost be safe on those postage stamp-sized screens of the 30s and 40s. But the film isn't hokey or stilted. It sends its warm and sagacious message on how to learn more about oneself and other people with well-turned vigor and cheer.
Some of that cheer, by the way, should be reflected back on the director of "Leap Year," Thai-born filmmaker, Anand Tucker, who also did another good picture back in 1998: "Hilary and Jackie."
It's never made clear in "Leap Year" exactly what intercalary year the story is set. Maybe the film was to have been released in 2008. Or could it be in early release now anticipating the DVD being put on the 2012 market? Whenever---it's sure to have the "come back flavor" of classics such as "White Christmas," "Halloween" and "Groundhog Day."

"Leap Year" official site.
Opens wide on January 8.
Check Yahoo Movies-Tulsa for theaters and times.
Gary Chew can be reached at garychew@comcast.net,
Facebook.com/justin.playfair and Twitter.com/orwellingly.

Copyright © 2010, Gary Chew. All rights reserved.