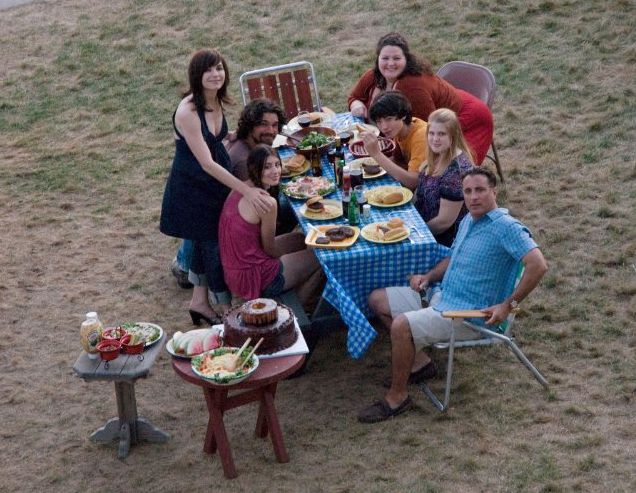 "City Island"; a film review by Gary Chew


GARY CHEW/Sacramento
4/23/2010

Advancing the argument that stories about ordinary people are more interesting than tales of affluence, beauty and royalty comes an ethnically rich film called "City Island."
The picture is quite American too, but so New Yorkish, it's like a foreign movie or one made about American culture as done by, say, a European director. Very refreshing.
Raymond De Felitta, who wrote and directed "City Island" is a professional jazz pianist and composer. He's as American as can be: born in New York City in 1964, De Felitta received an Oscar nomination in the early 90s for his short film, "Bronx Cheers." (It's about a soldier returning from WWII to his Bronx home.)
"City Island" is also set in The Bronx, but not just any place in that borough. The town, City Island, sits on a small (yes, island) in the east end of Long Island Sound. As a jet would fly, City Island is about 7 miles northeast of La Guardia Airport and about the same distance south of New Rochelle. The movie would have you believe some real characters live in "City Island." Even though the film is fiction, I don't think it kids us about that.
Ethnically rich Vince Rizzo (Andy Garcia) and his even more ethnically rich wife, Joyce (Julianna Margulies, star of TVs "The Good Wife"), live in Vince's grandfather's neat old house on City Island. They have two children: Vivian (Dominik Garcia-Lorido, Mr. Garcia's real-life daughter) and Vince, Jr. (Ezra Miller).
This movie could be less creatively titled, "I've Got A Secret" as every Rizzo has at least one thing he or she isn't telling other family members.
| | |
| --- | --- |
| | |
| | Andy Garcia |
Vince, a corrections officer at a nearby prison, is taking acting lessons over in Manhattan and still sneaks cigarettes, but Joyce doesn't know about either. Joyce is also jiving Vince that she doesn't smoke anymore. Meanwhile, Vivian has lost her scholarship at college because the school found weed in her room, so she's stripping at the Hell's Half Acre bar to pay her tuition. Then there's Vince, Jr. who, in the throes of accelerated puberty, suffers from adipophilia. He has a fetish for obese females. One lives just across the street from the Rizzo's where she's usually cooking great amounts of food in front of her webcam that's connected to the Internet. Vince. Jr. watches on his computer and through her window.
If that weren't enough secrets, Vince goes to work one day and finds that his other son, who was born out of wedlock before he married Joyce, has been incarcerated at the prison. No one in the Rizzo family knows about father Vince's other kid from an earlier liaison. The good-looking and car-stealing son is named Tony. He's played by Steven Strait.
| | |
| --- | --- |
| | |
| | Steven Strait |
Vince has a big heart and brings Tony home to City Island for 30 days since the young man has no relative to take him in before finishing his sentence. It seems Tony's mom, or, if you like, Vince's old girlfriend has passed away. Of course, Vince swears Tony to secrecy about the fatherhood thing as he drives his son home handcuffed to the passenger door handle of Vince's swell-looking, vintage convertible.
How could anything go wrong under these circumstances? Well, going wrong is the direction "City Island" takes as all these juicy untruths unravel and make for about an hour and a half of fine movie entertainment.
Two other secrets develop between Vince and Joyce as the story moves forward. Besides sneaking off to acting lessons as he's always wanted to be in the movies, Vince is also becoming innocently acquainted with Molly, a lovely lady (gulp) also enrolled in the acting class. Emily Mortimer ("Shutter Island") does that part.
Vince tells Joyce he plays poker on acting class nights which has been causing Joyce, for quite a while, to suspect her husband is having an affair.
So, gulp again as the vibes warm up between Joyce and the usually shirtless Tony as he helps Vince install plumbing in an outbuilding on the Rizzo property. This might be a good time to repeat that Joyce doesn't know that Tony is her husband's son.
| | |
| --- | --- |
| | |
| | Dominik Garcia-Lorido |
Garcia's 26-year-old daughter is impressive as Vivian; Margulies is just right as the edgy, sassy, long suffering wife and mom; and Ezra Miller's take on Vince, Jr. is humorously right on, too. But most of all, I'd forgotten what an excellent actor Andy Garcia is. It's been too long since I saw Mr. Garcia treading the boards. He even does Brando when Vince auditions for a brief role in a Martin Scorcese movie that has a New York casting call. It's "City Island's" best scene among many good ones.
Steven Strait's performance as Tony fits quite well, and the reliable Alan Arkin does two short scenes as Vince's acting coach that appear effortless in the hands of this Oscar-winning veteran.
The cast and script allow for some funny resolutions. However, the underlying goodness of these ordinary, day-to-day people, in all their ethnicity and flawfulness (Is that a word?) as well as all the heart written into the narrative by De Felitta weigh even more heavily. And what's best about it all is that none of it comes even close to being cheesy.


"City Island" official site.
Opens wide Friday, 4/30.
Check Yahoo Movies-Tulsa for theaters and times.
Gary Chew can be reached at garychew@comcast.net,
Facebook.com/justin.playfair and Twitter.com/orwellingly.

Copyright © 2010, Gary Chew. All rights reserved.