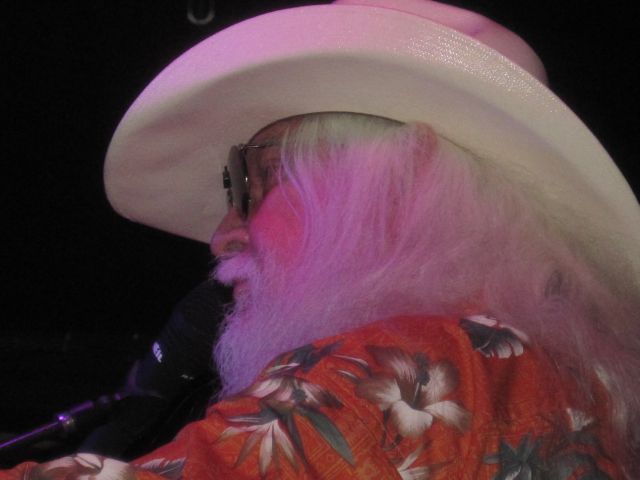 Leon in Sacramento photo by Rochelle Furtah


Leo* Russell Does Sacramento
An Appreciation of a Tulsa Legend
by Gary Chew


GARY CHEW/Sacramento
7/15/2010

There were four guys from Tulsa in the entourage: two now living in cities other than Tulsa, and two who still hang out around Green Country. The current Tulsans were Brandon Holder (drums) and Beau Charron (guitar). And the others, since gone on to other places, were Ben Easley (tour production manager) and some dude in shades with long white hair named Leon Russell (keyboards and vocals).
It was the third time the big red bus with the Tennessee plates had been in Northern California since September of 2007 (see Leon's Nevada City gig). The medium-sized venue on J Street in Midtown Sacramento about to launch Leon's latest tour was crammed with Californians ready to lop themselves off some mighty fine Okie music.
If only Mr. Joad were here. Too bad Tom's turned around and headed back to Oklahoma.
Last time I'd been at Harlow's was to listen to another Oklahoma-born singer-songwriter who had also made a name for himself: Jimmy Webb.
I couldn't tell that Leon had had brain surgery in Los Angeles last January when he walked up (cane in hand) to his onstage keyboard array. It looked like the same old Leon to me---maybe a bit heavier. But heck, who ain't, and I've heard that Leon likes biscuits and gravy. Not many Tulsans who don't.
I had recently heard Leon do a 20-minute set during Willie Nelson's 4th of July Picnic bash on Sirius XM radio, so I hadn't gotten quite enough of his Tulsa Sound this year. The techie people down in Austin hadn't brought-up Leon's mic for the first few minutes of the radio gig. That caused some hankering on my part for Leon to get out to Sacramento one more time (at least) in order for me to hear him up close and for a longer stretch. So, that's what I did tonight: lots'a of Leon and his band playing the stuff Russell junkies love. It was full throttle, with no break, in one blazing, ninety-minute set. Now, that's a load of Tulsa.
What I found different about this Leon performance was that he actually chatted a bit...and told two or three stories: one of them about Jimmy Reed. There was another about some poet who walked Leon around New York City, one time, pointing out places of interest that had inspired the poet to write about them. Then Leon sang something by the poet. You may know it: "A Hard Rain's Gonna Fall." No pretense here in this joint.
Curiously, during one of his short commentaries, he forgot the point he was going to make, and asked one of his sidemen what it was. The guitar player told him, and all of them made a big joke about it. I tell you this only because I'm eligible, since I pull that senior moment thing now and then. I'm older than Maestro Russell.
The crowd, not surprisingly, was a tad toward seniority, too, except for a thirtysomething visiting Floridian sitting next to me as both of us marveled, up close, at the excellent left hand of Leon Russell. The lady had come to Sacramento to visit her aunt and was grooving to that T-Town Sound like she'd been born well before Leon left Tulsa for the first time, and that she might've been raised somewhere in Tulsa County.
Unfortunately, the PA system that carried the voice mics wasn't up to snuff. Maybe listening to classical music in my headset for 20 consecutive years while on KXPR here in Sacramento is the cause of that, but despite the distortion of the overhead ceiling speakers, I had myself an awesome and good old Tulsa time. And all those nutty Californians around me, including one Floridian, did too. I wish good health for Leon Russell, a spacey and timey kind of guy---if there ever was one.
Gary Chew can be reached at garychew@comcast.net,
Facebook.com/justin.playfair and Twitter.com/orwellingly.

Copyright © 2010, Gary Chew. All rights reserved.