"Let Me In" | a film review by Gary Chew


GARY CHEW/Sacramento
9/23/2010

New Mexico is an awesome state that boasts such places as Santa Fe and Taos, but there is a part of the Land of Enchantment that's freighted with the strange and, more pointedly, the grim; especially and respectively, for a couple of other towns: Roswell... and Los Alamos. In fact, the word "aliens" is now considered Roswellian. And in New Mexico, to use the term "atomic bomb" all one has to do is say these four syllables: "Los Alamos.
For me, that's why Abby and her "father" are just moving to a wintry Los Alamos" in "Let Me In." It's the American remake of the 2007 Swedish hit, "Let The Right One In." Los Alamos looks as cold and icy as Stockholm. But, this time, no one speaks Swedish.
Thus a metaphor commences that can be inferred from the U.S. version, but not the Swedish.
The stories are basically the same. If you haven't seen the first, see it; but you can certainly put the English language take at the top of your list---if you want. This more recent production was directed by Matt Reeves, ("The Pallbearer," 1996; "Cloverfield," 2008). He also wrote the script for "Let Me In"
The difference in the titles has to do with there being a chance that another vampire might be, mistakenly, let in: the Swedish version; and the simple, straightforward query of asking to be allowed into a domicile: the American production. The possibility of making the mistake has been eliminated in the movie remake.
Owen (Kodi Smit-McPhee , "The Road") is a 12-year-old with dark interests. He's also bullied at school by boys some years older and bigger. He lives with his well-intentioned mother, who is divorcing Owen's estranged father.
The boy is a blossoming voyeur with the telescopic peering he does from his bedroom window. In some scenes, Owen makes me think he's on the way to serial killing.
Out the window, Owen notices the new tenants coming into the complex: the middle-aged man and the girl close to Owen's age. The newcomers move into the adjacent apartment. Later, we learn Owen's and the girl's bedrooms have a common wall, and that, through it, they cozily converse by Morse code. (Check out the the very last of the accompanying trailer for some of that code.)
Yes, it's Abby (Chloe Moretz, "500 Days of Summer"). In the snowy night, she walks, barefooted in the complex playground where, at the monkey bars, she first meets Owen.
That's not the only thing different about Abby.
Her father isn't her father. The dad (Richard Jenkins, "The Visitor") is a pedophile who masquerades as Abby's dad. The book ("Låt den rätte komma in"), by John Ajvide Linqvist, who also wrote the screenplay for "Right One In," handles this facet of the story more specifically. The Swede's movie implies it, but the US film tippy-toes around it. Fathers of daughters can rest easy with "Let Me In," but I don't recommend it as Father's Day treat for a dad and his daughter.
Daddy Bogus retrieves the fresh blood of his victims in Los Alamos, giving regular sustenance to Abby, since, as she tells Owen later, "I've been 12-years-old for a very long time." Up front, though, Abby admonishes Owen they can't be friends because she proves to be what may be the prettiest pre-teen vampire to ever show up in a horror film.


Chloe Moretz

Conflict focuses on the bullying issue at school and the subtle development of Owen's attraction to the girl next door, although he's not aware of what the demure Abby actually is. She tries to be honest with him by abstrusely advises him, "I'm not a girl." Owen believes it to be, in his 12-year-old way, a metaphorical remark.
Keep thinking about metaphors as you watch this pretty damned creepy, well-made, motion picture.
Abby likes Owen. Owen likes Abby. Some scenes with just the two are touching and even poignant: he, just stumbling into puberty, and she, slightly ahead of him, even though she's much older than 12. She'll stay the same age, so long as "daddy" procures fresh blood for her.
For someone not seeing either film, the narrative might sound really gross, I imagine, but strangely, the association of the youngsters is couched in innocence and concern for one another as they grow closer and more dependent: all the while, Owen being mostly ignored by his benign mom and never seeing his dad (who lives outside town). Then... with that: couple the bizarre relationship of Abby and the ersatz father.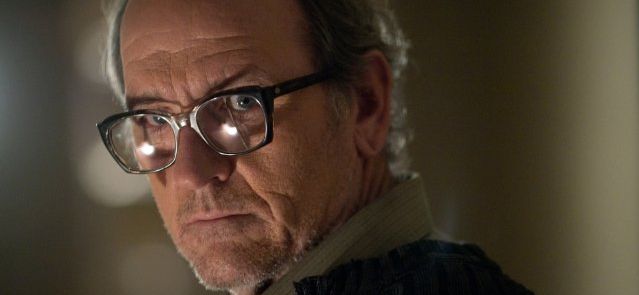 Richard Jenkins

Jenkins' character is an unusual mix of emotions. He loves Abby, and is deeply committed to the girl's survival, but tormented by the savagery he must perpetrate... to supply her with blood. Jenkins can really play creepy, as well as so many other kinds of roles he's shown his fine talent. I still can't get Jenkins out of my mind as the ghost father on "Six Feet Under": what a character to play on TV or a motion picture screen. You might say Nathaniel Fisher, Sr. is a role to die for.
As Jenkins, Smit-McPhee and Moretz are too believable. Each carrying such heavy character loads. And remember, Smit-McPhee was also Viggo Mortensen's unnamed son in "The Road," which has to be one of the grimmest films to come along since "On the Beach," "Fail-Safe" and "The Bedford Incident." Meanwhile, Moretz flirts with movie stardom.
The bullying gets more intense. That brings Abby to Owen's rescue at least twice in the film; each of them, you'll probably not be able to get out of your mind. One I can cite is that she instills the diminutive Owen with enough fortitude to react to the school punks. It liberates him to strike the threatening Kenny (Dylan Minnette) upside the noggin with a metal hockey stick or something, nearly severing Kenny's left ear---and putting Owen, needless to say, in the office. Watching this has a way of making one revel in the revenge Owen takes on Kenny. Warning: there's even more of that not long before the movie ends. In Spades.

Kodi Smit-McPhee at left, Dylan Minnette on the far right.

"Let Me In," is what a vampire asks of one to come into one's home, and that one must answer, "yes" before the creature will enter. (How polite for someone to be... just before he or she sinks fangs into a homeowner's throat.)
Be ready for mucho blood and some horrific scuffles by those who are stalked and killed by the 'father,' as well as the victims of Abby, turned savage, when her "blood count" falls and temper rises. There's also a good deal of f-wording in the film, so please be advised young children shouldn't get even a California mile of a theater playing it. There is no overt sex play, but Abby does slip under the bed covers with Owen once, and that's all, except for conversation.
Owen's custodial parent is dealt with like "Peanuts'" moms and dads are drawn. No faces. (But no trombones, either.) Mom is in several scenes but you can't tell who she is. For me, that represents absenteeism and distance of the mother (Cara Buono), despite her concern for the boy. She is religious, but in a superficial, mechanical way. It has no nurturing effect.
That brings me back to the metaphor. There's Los Alamos as the setting. There's 1983 as the time. And there's President Reagan in more than one pontificating scene, on TV (from actual news footage). The first we see and hear the former president is reciting a homily in which he quotes Bible scripture.
Mr. Reagan is reading words many Americans want to hear. Yet, even when the alleged New Mexican sun---rare and bright---breaks through the dark portent of "Let Me In," there is evil all around---preying on innocence.
Time now for: "What's YOUR Metaphor?"


"Let Me In" official site.
Opens Friday, 10/1. See Yahoo Movies-Tulsa for theaters and times.
Gary Chew can be reached at garychew@comcast.net,
Facebook.com/justin.playfair and Twitter.com/orwellingly.

Copyright © 2010, Gary Chew. All rights reserved.