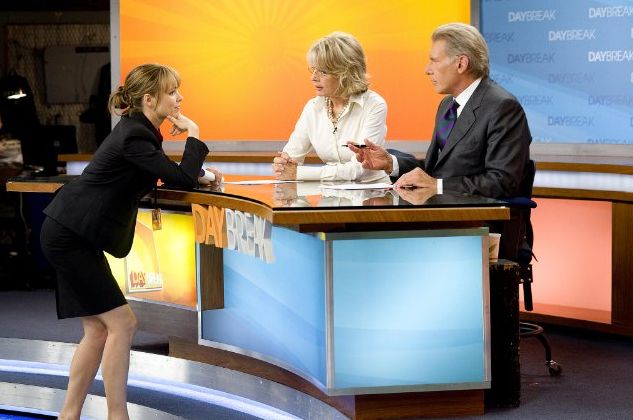 "Morning Glory" | a film review by Gary Chew



GARY CHEW/Sacramento
11/8/2010

There couldn't be a better movie to review for this web site because "Morning Glory" shows how much television news has changed since the mid-Sixties. Not so much as TV news was that long ago, but how it is now after all the TV news doctors have crammed electronic journalism through their therapeutic hoops over the decades in order to get the ratings up and beat the competition.
First of all, this film depicts on-air TV news personalities as having exceedingly large egos. Let me say, here and now, as I, myself, have spent time in the commercial television game, that egos are not---repeat, not something well-known TV people have or have to endure of their colleagues.
Harrison Ford, as Mike Pomeroy and Diane Keaton as Colleen Peck are not rivals. These veteran TV news co-anchors never try to upstage the other on set. Both are paragons of professionalism. And if you believe that hoo-haw, I've got a large, orange-colored bridge that sits just north of San Francisco I'll make you a good deal on.
"Morning Glory" is really about Becky Fuller. She's played by the fetchingly irrepressible Rachel McAdams, who, in this film, has more verve and perk than Doris Day, Debbie Reynolds, Betty Hutton and Judy Canova combined. Becky's an indefatigable early morning IBS rookie news show executive producer who's got to get the program's ratings out of the toilet... or her boss, Jerry Barnes, played by Jeff Goldblum, will cancel it. Could it be "The Mary Tyler Moore Show," considerably updated for us who've watched how TV news has mutated since I got into the biz, for a spell, back in the mid-Sixties? That would be, sort of a "yes."
Yes, Ford's character is sort of a Ted Baxter, too, but with a tad of Tom Brokaw and Brian Williams thrown in to bring off the role a smidgen more haughty: No low-comedy pranks or vacuous news story reportage for Mike Pomeroy in "Morning Glory."
Diane Keaton's Colleen comes fairly close to being Diane Sawyer, but lightened-up so as to give the film a nuance of Keaton's Annie Hall/Alvy Singer days. Keaton and Ford are a solid comedic pairing, but the relationship between Ford's and McAdams' characters is the one to watch. It's a father/daughter kind of thing, humorously conflicted, that moves on to stuff that will warm your heart.
Patrick Wilson, cast as Becky's love interest, doesn't do much for the story other than suggest that Becky is a pretty normal 28-year-old woman who, coming out of the chute, is not so swift in the men department. Wilson is a good actor, who always conjures up Paul Newman for me when the "Hud" dude was but a sweaty lad on the screen, hitting-on an obdurate Patricia Neal.
Roger Michell directed "Morning Glory," and Aline Brosh McKenna wrote the screenplay. Michell is known best for his 1999 film, "Notting Hill." Going into "Morning Glory," McKenna's most significant script adaptation is "The Devil Wears Prada" from 2006.
I know several former television personalities sneakily surf Mr. Ransom's grand online service here. So listen to me, my former colleagues who wish to remain anonymous: you must see this movie with your grandchildren, even your children. It will be a freakin' hoot for the whole family of any who've been an on-screen standout, even those of us former tubevillians who enjoyed a modicum of mediocrity on the unblinking end of lenses affixed to big cameras on wheels. I'm still trying to live down "Go For Dough On The Early Show."
Watch Rachel McAdams deftly carry this really entertaining piece of cinema as it hints we're at the end of an era where even bigger changes are near as to how people get their so-called-news and entertainment. May it be we're filled with only fact, amusement and understanding.
BTW, speaking of Tom Brokaw and Brian Williams: neither shows up in this film, but, for a brief moment, Chris Matthews, Morley Safer and Bob Schieffer do---as themselves---having a cold one with the fictitious but grandiose Mr. Pomeroy.
Now... your moment of Zen.


"Morning Glory" official site. Opens wide 11/10.
See Yahoo Movies-Tulsa for theaters and times.
Gary Chew can be reached at garychew@comcast.net,
Facebook.com/justin.playfair and Twitter.com/orwellingly.

Copyright © 2010, Gary Chew. All rights reserved.