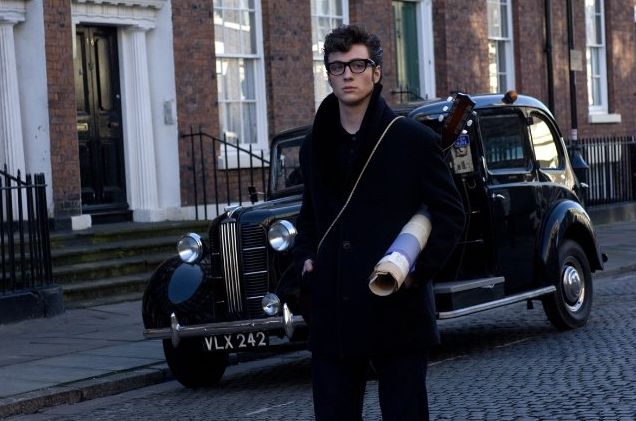 "Nowhere Boy" | a film review by Gary Chew


GARY CHEW/Sacramento
10/12/2010

Having been sufficiently culture-shocked by a Tupelo, Mississippi R&B shooting star, the anonymous British teenager informs his mother he wants to be another Elvis Presley. Effusively, his mum demurs: "God's saving you to be John Lennon!"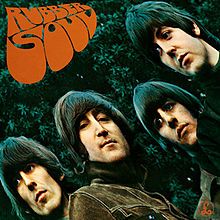 Aaron Johnson portrays John Lennon as all at sea in "Nowhere Boy," but as the lyric to the Lennon/McCartney song has it, John is anything but a "Nowhere Man" (from "Rubber Soul," October 1965). This troubled and latently talented boy poet, as all well know, later acquits himself of ever making "nowhere plans for nobody," no way---especially himself.
Since I'm can't conceive of not having had Lennon and the rest of the Beatles coming into my twentysomething life while I was a rock 'n' roll radio deejay, I'm ill-equipped to say how a lesser-known portion of Lennon's younger days---however accurately or inaccurately they're depicted in this film---will affect younger people in 2010. Read on with that thought in mind, please.
After absorbing the story told in "Nowhere Boy," it seems to me, now, that Lennon's highly developed feminine side was due to his Aunt Mimi (Kristen Scott Thomas) and his mother, Julia (Anne-Marie Duff). Both women, who couldn't be more different, loved John very much. Each, in her way, spoiled Lennon rotten, but not without a familial dissonance playing heavily on his personality.
That Sam Taylor-Wood, who directed "Nowhere Boy," is female could have something to do with the excellent and important roles played by Ms. Scott Thomas and Ms. Duff. Both are memorable.
The script, by Matt Greenhalgh, may lend itself even more to the function of women in John's pre-Beatle life in that it's based on a memoir by Lennon's younger half sister, Julia Baird, titled Imagine This: Growing Up With My Brother, John Lennon.
Oedipal vibes fairly spark between Lennon and his mom: she being a sensuous, outgoing woman to all around her, to the point that John is jealous, although their association remains a proper one. Aunt Mimi is the prim and proper sister, who, in her smug, authoritarian way kicks butt when John is being parented by her at home with husband, George. John has a warm and nurturing relationship with Uncle George (David Threlfall).
The reasons John is brought up by Aunt Mimi are a large part of the film, and I don't want to dwell on them, here. That's for you to absorb and learn more about, watching the picture.
However, the story begins about when hormones are really kicking in on the teenaged Lennon. Problems at school are a big item, his grades sucking; Aunt Mimi demolished by the news as it makes its way home. Another tough row to hoe is Uncle George's sudden death.
| | |
| --- | --- |
| | |
| Aaron Johnson and Kristen Scott Thomas | Aaron Johnson and Anne-Marie Duff |

As John's mum lives quite close in the neighborhood with her husband (not Lennon's father) and their two young girls, the Beatle-to-be uses a back-and-forth method (typical in broken homes) of manipulating Julia and Aunt Mimi to get his way, and, ultimately, too, his first guitar.
John, as many his age, then, is smitten with America's Presley and, of course, Buddy Holly. Lennon receives the rudiments for playing fretted stringed instruments from his mother... on a banjo. It's a great scene with snappy time-lapse photography to keep the narrative apace.
Yet another rich scene shows Lennon in the boys' loo at school "knighting," I guess you could call it, the members of his first band, a skiffle group. The band makes waves and draws the attention of a lad who plays guitar---"backwards." That would be another Liverpool bloke named McCartney (Thomas Sangster). All kinds of interesting dynamics go on between this real "pair-to-draw-to" that, on your part, ought be apprehended cold.
I was shaving at the mirror in my bathroom, soon to go to work at a South Texas public television station when the radio told me that John Lennon had been shot to death in New York City. It came close to being much like another day I recall---this one in late November of 1963---when I was in a radio studio dubbing PSA announcements of the Postmaster General of the United States advising us all to mail early for Christmas. I remember neither of those days as being merry, and such a feeling is perpetuated in "Nowhere Boy," at least for a former rock jock with gray hair.
The film begins with the famously familiar, loud and mighty open guitar chord that indicates you're gonna hear "Hard Day's Night," although the song, itself, doesn't materialize. But we know what it is---and that's enough.
Cause it makes us feel alright. Owwww !


"Nowhere Boy" official site.
Now playing in select cities.
See Yahoo Movies-Tulsa for theaters and times.
Gary Chew can be reached at garychew@comcast.net,
Facebook.com/justin.playfair and Twitter.com/orwellingly.

Copyright © 2010, Gary Chew. All rights reserved.