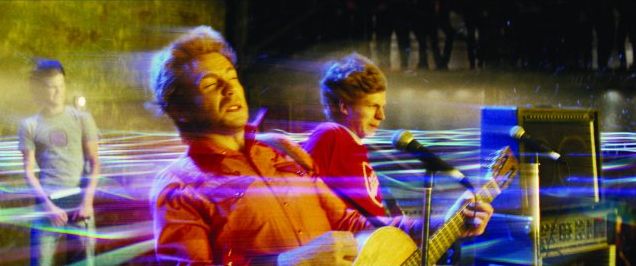 Scott Pilgrim vs. The World | A film review by Gary Chew


GARY CHEW/Sacramento
7/26/2010

This is not a movie about some dude named Scott Pilgrim who has a bone to pick with Tulsa's venerable daily newspaper. What it is...is what I'd call a put-on, teenage-angst, video-game, comic opera. And to get an accolade in at the top of this mini-tome, I said to the studio man, on exiting the screening, that "Scott Pilgrim vs. The World," may rival 'The Rocky Horror Picture Show.'" I know that's sticking my neck out some. But I think I'll go with it, anyway.
(BTW, first time I saw that 1975 smash was at Tulsa's Village Cinema on Garnett Road. If I remember correctly, we rocked that night.)
There was a hellava lot of rocking going on in a Sacramento cinema this evening, too. Michael Cera, in the title role, was doing his hero-geek, deadpan act to perfection to the tune of some zippy CGI and "marvelous" garage band sounds---with babes in blue, green and purple hair throwing their feminine guile around all over the place. Action scenes, which abound---as they say, today---were awesome. Keanu Reeves and Jet Li, need to eat their hearts out, fur shur.
When a comic book reader in my early teens, it was Batman, Superman and Captain Marvel on my block. Had the Scott Pilgrim Oni Press graphic novels of Bryan Lee O'Malley (the first released in 2004) been available to me when I was an annoying pubescent male way back when, I'd've surely read them in lieu of Bruce Wayne, Clark Kent and the Marvel Family. That might be why I had trouble staying awake in "The Dark Knight," not to mention the recent Leonardo DiCaprio vehicle entitled, "Inception."
Sorry, some loved it...some slept.
"Scott Pilgrim," the movie, certainly induced insomnia for me throughout its running time of about an hour and forty minutes. The film, directed by Edgar Wright, ("Shaun of the Dead") is quite a piece of very contemporary opera, too. There are appropriately spaced arias and pretty crappy garage band suites and overtures, greatly staged fights that produce no blood flow (except once on Gideon's cheek) and some really cool geek, er...uh..Greek chorus action during the local duel-of-the-bands-to-the-death stand-off. Furthermore, Scott's band, for which he plays bass, carries a title that sounds like it could come right out of the mind of a genius like Giacomo Puccini ("Madama Butterfly"). How amazing is the Sex Bob-Ombs for the name of a really cool band, I ask.
Scott, our intrepid geek, has been dumped by his recent girl friend, Envy Adams. Envy (played by Brie Larson) is the lead singer of the nemesis band, The Clash at Demonhead. But heck, Scott has just been "struck" by the new gal in town, Ramona Flowers. She's played by Mary Elizabeth Winstead. But in order to date Ramona, Scott must defeat Ramona's seven evil ex-boyfriends.
Too bad the 22-year-old Scott meets Ramona just as he's being given the rush by a 17-year-old high school girl named Knives Chau. Knives is so totally much younger than Scott it becomes embarrassing for him. Ellen Wong, in a refreshing and effervescent debut, plays Knives and shows that she can swoon with the best of them...like teenie-boppers back when the Beatles did the Ed Sullivan Show on CBS.
Other band members include Kim on drums (Alison Pill, "Milk," "In Treatment"), Stephen Stills on guitar (Mark Webber) and Young Neil, the soundman (Johnny Simmons, "Jennifer's Body"). Apparently, nobody went for characters with names like Crosby or Nash.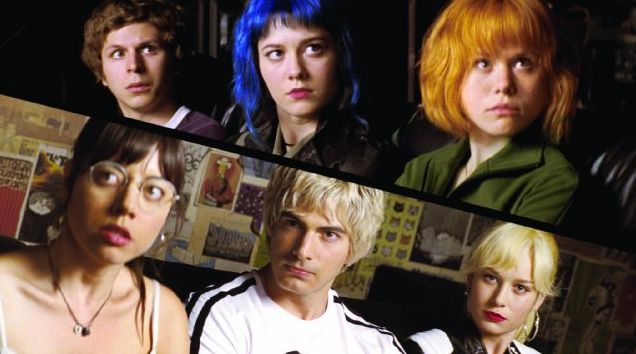 Top: Michael Cera, Mary Elizabeth Winstead, Alison Pill; Bottom: Aubrey Plaza, Brandon Routh, Brie Larson

Others who ought to be mentioned are Anna Kendrick, ("Up in the Air" and Oscar-nominated for it) as Scott's older sis, Stacey; Tulsan and SNL dude, Bill Hader whose character's name isn't listed; as well as Sacramento-born Brie Larson ("Greenberg," "United States of Tara") as Envy Adams that uppity singer chick (mentioned earlier) who kicks the ass of Scott's heart, according to the script.
| | |
| --- | --- |
| | |
| Ellen Wong | Anna Kendrick |

Another villain of this piece is Gideon, a name also dropped above. He's the ultimate evil ex-boy friend whom Scott must finally confront. He's played by Jason Schwartzman, who you'd swear must be Stanley Tucci's son or much younger bro. (Just sayin'.) An insufferable impresario, Gideon refers to his night club (where a big showdown occurs near the close of the movie) as a cathedral of cutting-edge taste. Very cool.
Another thing cool is how this film makes it clear the relaxed way young people, today, are with gays and lesbians. There are no gay or lesbians love scenes except for a quick kiss between Stacey's boy friend and Wallace, who's humorously played by Keiran Culkin ("Igby Goes Down"). Wallace is gay and also Scott's roomie, but they're just friends. Some fun things happen, though, with Wallace and Scott at home when Wallace has another fellow in for a sleepover.
"Pilgrim vs. The World" is rated PG-13. But the dialogue implies one particular word is spoken that would "R" rate the film if the creative graphics and special effects didn't include the bleeping of this f*#iliar expletive, as well as blacking-out the screen just where the mouth is of the foul-speaking young lady who utters it with a certain amount of regularity. It's gets a laugh every time.
Lots of neat graphics are laid into the live action, imbuing "Scott" with a grandiose sense of the Comic Book with humorous segues from this to that. Some of those memorable TV Batman fight-sound words come into view in many places for added amusement; a telephone call always gets a "rrrrrrinnnnggg" splashed on the screen.
Other than Bill Murray and Woody Harrelson not showing up in cameos, my only (slight) issue is that the action/fight scenes might be a bit more plenteous than an old teenager needs, so I add that as only a mild precaution since everyone I saw around me was undergoing very intense entertainment stress. You can probably tell that I was too.
So, let the video games begin, Pilgrim!


"Scott Pilgrim vs. The World" official site.
Opens wide 8/13. See Yahoo Movies-Tulsa for theaters and times.
Gary Chew can be reached at garychew@comcast.net,
Facebook.com/justin.playfair and Twitter.com/orwellingly.

Copyright © 2010, Gary Chew. All rights reserved.