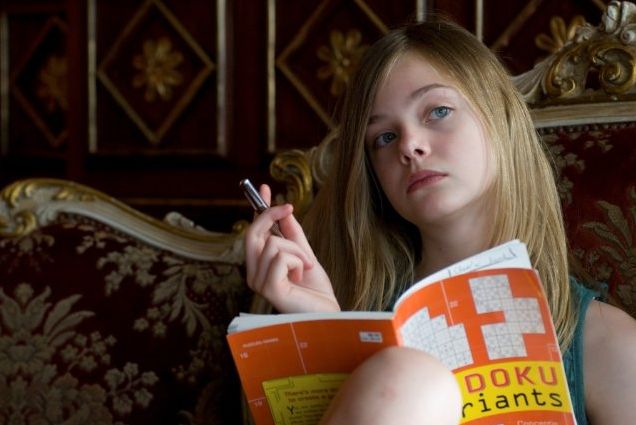 "Somewhere" | a film review by Gary Chew



GARY CHEW/Sacramento
11/29/2010

Johnny Marco isn't a bad man; he's not a bad dad, either. When he sees her, Mr. Marco (Stephen Dorff, "Public Enemies") has nothing but wide smiles and big hugs for his 11-year-old daughter, Cleo (Elle Fanning). And even though he's a world-renowned Hollywood film star, Johnny's never been an asshole to fans, hangers-on, groupies or any of his other people.
But you'd never know that reading some of the text messages he gets from women with whom he's had or is having intimate relations. Some stiffed gal friends can, on their blackberries, say the darnedest things to a cool movie icon. Then there's the reasonable, almost amicable, connection Johnny's got with his ex wife. That's who young Cleo lives with most of the time.
Johnny exists in a life that falls into the cynically-described category of, "Well, someone's gotta do it." Like... residing in a semi-swanky bohemian Hollywood hotel with 24/7 room service and foxy hot-and-cold-running pole dancers, a touchy-feely massage staff and all the other trimmings one might likely find in Southern California.
| | |
| --- | --- |
| | |
| | Stephen Dorff and Elle Fanning |
Smoking cigarettes and weed, drinking too much and doing pills is part of Johnny's regimen, as well, but not that he gets totally strung-out by it; although, he does sleep a lot, loses his, uh, focus, sometimes, when engaged under the sheets with yet another pretty wannabe actress and, generally, doesn't appear to be the most curious of the many big screen thespians who've taken up residence in Hollywood at 8221 Sunset Blvd or else-where in the Los Angeles Basin.
Except for a totally famous, wealthy movie actor for a father, Cleo isn't much different than any other cute, bright 'n' perky girl on her way toward nubility. As her pop is a regular guy, so is she a regular pre-teen. No big problems, but not so happy about her parents being estranged---and so it's always gone and still goes.
Cleo's mother appears only briefly and is also heard on the phone, while much of "Somewhere" offers beautiful and touching moments between Dorff and Fanning. (Being the daddy of two girls made for some serious tugging of these old heart strings.) Very believable performances from both Dorff and Fanning: the meat of this movie.
But more to the point: what we have here is Sofia Coppola, who wrote and directed "Somewhere," working her favorite theme: a young female with a man who's considerably older than she. It happened in a more clunky, parental way in her 1999 movie, "The Virgin Suicides" (with James Woods and Kristen Dunst*) and more subtly with the leading roles Coppola wrote for her award-winning film, "Lost in Translation." Although the man in "Translation," (Bill Murray) isn't the father of the girl (Scarlett Johannson), that association---surely after initially stirring up some moviegoers to wonder if they might have to raise an eyebrow watching Bill's and Scarlett's characters carrying-on in the privacy of a Tokyo hotel room---proves, finally, to be a platonic hooking-up instead of a little May-to-December roll in the hay. That's what worked so well back in 2003 for "Lost in Translation": the beginning---and ending, I guess---of a beautiful friendship.
No such luck for "Somewhere." Other than the dad/daughter takes, there isn't much of anything, on the surface, going forward in "Somewhere," unless you care to re-define the word "anything" as absence of plot, and that this motion picture is a flat, existential, continuous exposition of what kind of person Johnny really is... and how others react to his unremarkable behavior that takes up space in a cushy, privileged life, isolated and empty. We get it early on: Mr. Marco is a burnt-out case.
Nearly every scene is an establishing vignette that only touches the tip of the "iceberg of an untold story" awaiting expression from below the surface... that then sails on for the next sequence, to show, once again, Johnny working another angle to dispel his boredom.
"Somewhere" is a thoughtful study in how wealth and fame can become toxic, and might arrive from the blind side. The guess could be ventured that Sofia Coppola has observed this kind of living, and, thus and through a young woman's filter, can sensitively relate thereto... thereby, carefully and gently expressing it.
| | |
| --- | --- |
| | |
| | Sofia Coppola |
I don't suggest she lays this expression at the feet of her famous director dad, but, rather, understands, now as an adult, how such a lifestyle might affect anyone in any walk of successful life and celebrity. Her work strikes strong chords of a director and screenwriter who's quite serious about what she says with film. That could be attributed to her father's influence and the swath he's cut in filmmaking for himself as well as others taken with crafting memorable motion pictures... and maybe, as well, females who've been significant in Ms. Coppola's early life. It's hard to know, but interesting to contemplate.
Why Sofia Coppola makes this kind of movie is much more interesting to ponder than her latest film, unfortunately. The only thing I can think to ask, if putting a question to her (much like "Somewhere" shows Johnny answering while on a movie premiere junket to Italy) is:
"Ms. Coppola, did you have something "specific" in mind, as you wrote the dialogue for "Lost in Translation," when Bob (also a lonely film icon) whispers words to Charlotte the audience can't hear... or was it your intention people in the theater decide, on their own, what he says to her as the pair prepares to go separate ways on that busy Tokyo thoroughfare?"

Except for Benicio Del Toro in a cameo moment on a Château Marmont elevator with Johnny, and that I'm not sure where "Somewhere" actually "is," other than to say that it's definitely "not over the rainbow," I must reveal no more.
*Dunst also starred in Coppola's 2006 "Marie Antoinette," who, most all know, was rather young when swept off to France to gestate an heir for Louis XIV, albeit the couple was only a year apart in age.


"Somewhere" official site.
Opens wide Dec. 22.
See Yahoo Movies-Tulsa for theaters and times.
Gary Chew can be reached at garychew@comcast.net,
Facebook.com/justin.playfair and Twitter.com/orwellingly.

Copyright © 2010, Gary Chew. All rights reserved.