"La révolte de la jeunesse"; une revue de film par
Chou Chou de la Gare


GARY CHEW/Sacramento
11/17/2009

With an anti-hero named François and a dog called Albert, not to mention black and white photos of Jean-Paul Belmondo plastered on the wall of an intelligent and lovely young female's bedroom, you think you're about to watch a 50s French New Wave film of either Claude Chabrol or Jean-Luc Godard---or maybe, François Truffaut.
Actually, I lied at the top of the page. This movie's title comes only in The English: "Youth in Revolt," and you won't find any authentic, rebelling Frenchman, with or without ennui, in the cast.
There is a Canadian film actor, though, known as Michael Cera who the script calls Nick Twisp. Nick hates the name, Twisp. In the novel, Nick claims that even John Wayne on a horse would look effeminate pronouncing it.
So badly does the kid want to be Jean-Paul Belmondo or Jean-Louis Trintignant, Nick renames himself, François Dillinger. (C'est magnifique, a French/American gangster! Parfait!)
That's because the bookish Sheeni Saunders (Portia Doubleday), a teenaged girl Nick falls for, is totally enraptured by French culture and very much drawn to anti-authoritarian, existentialist guys in the throes of late puberty---although that flies in the face of what kind of dude her current boyfriend is.
He's the very Republican Trent Preston (Jonathan B. Wright), who would only need to wear a red cape over his crewneck sweater to erase any doubt he's made of heroic stuff and could've illegally immigrated from the planet Krypton.
Nick's self-transformation propels the kid into a caper that brings him great travail, not just involving his trashy mom, Estelle (Jean Smart), and her live-in lover, a truck driver named, Jerry (Zack Galifianakis), but, also, Sheeni's fundamentalist-prone parents.
| | |
| --- | --- |
| | |
| | Mary Kay Place |
From the get-go, the hauteur of mom and dad (Tulsa's own Mary Kay Place and M. Emmet Walsh) shows that Nick lacks Trent's burgeoning qualities of the bourgeoisie: traits the Saunders are comfortable with...and therefore, better suited to Sheeni's needs.
Near disaster also ensues for Nick...rather...François, with his ne'er-do-well dad, George Twisp (Steve Buscemi) and his pop's youthful, live-in girl friend Lacy (Ari Graynor).
Nick's troubles are magnified further by a redneck Oakland cop called Lance Wescott (Ray Liotta). Officer Wescott is the guy who moves in with Nick's mom after Jerry blows town and attains a deeper permanence.
But I'm getting ahead of myself.
It all begins in the East Bay near San Francisco with Jerry selling a used Chevy Nova to some sailors. The Chevy croaks shortly after the sale and the seamen are back, pronto, to extract a refund from Jerry. But Jerry, Estelle and Nick have gone on the lam, holing-up at a religious trailer park not far from Ukiah in northern California. That's where Sheeni and her folks reside in their fancy, two-story home on wheels.
And that's how Nick and Sheeni are brought together.
Adapted for the screen by Gustin Nash, "Youth in Revolt" comes from six picaresque stories ("Youth in Revolt: The Journals of Nick Twist") published in four books by C.D. Payne. Mr. Payne, who lives somewhere a couple of counties west of me, not far from Ukiah or the Pacific Ocean, is known in the publishing business as a creator of absurdist novels.
When I read that label given for Payne, it seemed a bit absurd to me because there's really nothing pointless about "Youth," as the film is quite true-to-life depicting the behavior of teenagers and adults in any social class. Payne and Nash merely exaggerate their characters' actions to a point where being able to not laugh at them isn't an option.
Yes, you will experience mirth seeing this movie. And my guess is more merriment is on the way for anyone who reads C.D. Payne on the page. That certainly was the way it was for me.
Miguel Arteta has directed "Youth" swimmingly. His timing and the supplied dialogue are a brilliant mesh. There's a stand out moment in "Youth" when a significant plot point in the picture becomes evident: Mary Kay Place, as Mrs. Saunders under the influence of a psychedelic chemical in a mushroom she's eaten, slumps over, splaying an arm on the keyboard of an electric organ that takes up more than its share of space in the Saunders' mobile home living room. Immediately, I thought, "Eureka*, Ms. Place has found 'The Lost Chord.''' Seeing Mary Kay in this condition took me back to her "joint" appearance with William Hurt during their smokin' sports car ride to Alex's funeral in the memorable movie, "The Big Chill."
Script problems for "Youth" come in the form of the sudden appearance of Sheeni's brother, Paul (Justin Long). Surely, there could've been a smoother, more extended way to introduce this character of medium importance. Paul is already a rebellious guy (some years older than Sheeni) who has no other French traits. But he is the culprit who scores the mushrooms that get his parents and other characters in the movie higher than a freakin' kite. (Shades of Carlos Casteneda.)
Nick's alter-ego, François, is cleverly green-screened into the same scenes when opposite the "other" Michael Cera playing Nick. But another alter-ego, or what might be called Nick's feminine side, shows up on screen simply as Nick in a dress. She---Carlotta---is funny, but I'm thinking "she" could've been handled better if done the same as the François sequences. And there's no doubt about it, repartee between Nick and Sheeni's folks could have been milked for more laughs, as well. Place and Walsh would have played so well given a bit more time on screen. It is very funny stuff.
Giggles are aplenty, too, poking fun at a progressive/liberal type character in "Youth." Zany Fred Willard plays the small part of Judd Ferguson, a labor union leader who has a big place in his heart for immigrants coming into California. Conviction and solidarity are what Ferguson uses to get Nick and his Muslim pal, Adhir (Vijay Joshi) out of a jam. Adhir poses as an "illegal" to finesse Judd into helping the boys out of the fix they're in.
Michael Cera carries on with his marvelous, dead pan, nerdish persona so valued in the "Juno" cast with Ellen Page. Low balling his rampant, puberty-ridden sexual curiosity for all the laughs he can muster, Cera is near perfect as a flawed young man flailing in the clutches of Doubleday's Sheeni: a girl who's not quite up-to-snuff, yet, with her feminine guile---but, boy, is she getting there but fast given all the practice with Nick, the teenaged guinea pig.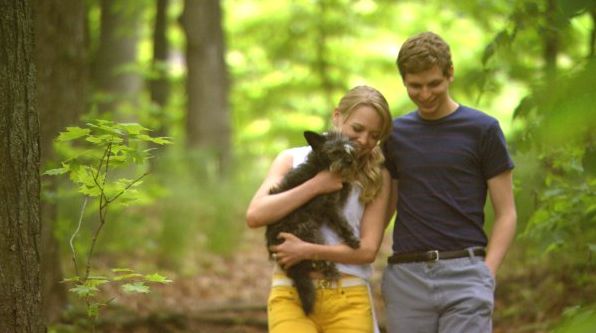 Speaking of animals: forgive me. Up top, I mentioned a canine named Albert. It's another humorous touch loaded onto this spoofy comedy/drama. Early on, Nick, so struck by the atheistic Sheeni, gives her the cute, little, frazzled-looking cur. She gives the mutt the name, Albert (pronounce it: al-BEHR), in honor of the brooding Albert Camus, the late, Algerian-born man of French letters who won a Nobel Prize over a half-century a go. I'm still laughing in my own existential kind of way.
So that's why they've labeled C.D. Payne an absurdist. I guess that brings the fundamental question about living or dying down to: where is Jean-Paul Sartre---now that we really need him?


* Eureka, as Ukiah, is also located in Northern California.

"Youth in Revolt" official site.
Opens wide on January 8, 2010.
Check Yahoo Movies-Tulsa for theaters and times.
Gary Chew can be reached at garychew@comcast.net,
Facebook.com/justin.playfair and Twitter.com/orwellingly.

Copyright © 2010, Gary Chew. All rights reserved.