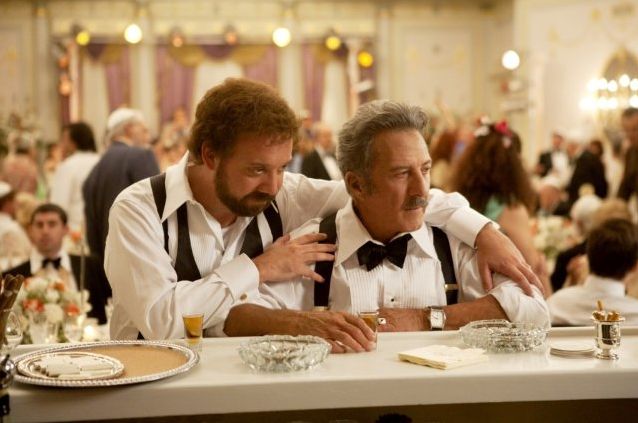 Paul Giamatti and Dustin Hoffman in ...


"Barney's Version" | a film review by Gary Chew


GARY CHEW/Sacramento
2/10/2011
I kept expecting Richard Dreyfuss to make his entrance in "Barney's Version," but had to be satisfied with only seeing cameos of real life film directors David Cronenberg and Atom Egoyan.
Now, if that paragraph is confusing, you may want to see the film, "Barney's Version," yourself, and really get your mind mixed-up a lot about...not so much.
To clarify...
Richard Dreyfuss played the lead in the motion picture, "The Apprenticeship of Duddy Kravitz" (1974). The so-entrepreneurial Duddy also appears in the novel written by Mordecai Richler, titled "Barney's Version," which, in turn, was adapted for the screen by Michael Konyves.
Uh... oh, you still don't understand? Okay...
| | |
| --- | --- |
| | |
| | Paul Giamatti and Minnie Driver |
Well, Barney Panofsky, the hero of "Version," is the very successful Canadian television producer of a show called "O'Malley of the North," for which Mr. Cronenberg and Mr. Egoyan are depicted as directors.
Now, does that clear it up for you? It probably will only if you're a certified film freak. And that's pretty much how, on the whole, "Barney's Version" comes off as a feature-length movie.
Otherwise, it will be (again), pretty much, a rather lugubrious tribute (I guess you could call it) to a guy who has nothing going for him, at all, in ginning up sympathy for his plight as he stomps his way through a trifecta of marriages.
The novel has a lot of material in it, but Barney's three marriages are the film's focus. Unhappily, for me, the movie abbreviates the other matters of the novel, and uses the "wedded bliss" in Barney's life to generate the needed sympathy the character (being himself) can't muster. The product, as I say, is opaque in its meaning for those seeing the film without having more information that, of course, is contained in the novel: not an uncommon oversight to find in a less than effective screen adaptation.
Turns out, Mr. Richler also wrote "The Apprenticeship of Duddy Kravitz," and the acclaimed book, "Solomon Gursky Was Here." But, since "Barney's Version" is actually Paul Giamatti's movie---he plays Barney---let's focus, for a moment, on the talented Mr. Giamatti.
| | |
| --- | --- |
| | |
| | Paul Giamatti as Barney. |
Paul also played Miles, the lead in that great 2004 movie, "Sideways." If you'll remember, Miles's sidekick in that film was Jack, famously done by Thomas Haden Church. If you've seen it, you'll recall, with a most certain clarity, what kind of jerk Jack was in "Sideways." The best way to describe what kind of character (and I mean: character) Barney Panofsky is in "Barney's Version" would be to simply say: he bears great similarity to Thomas Haden Church's Jack... but Jewish.
Yes, Barney is a clever, rude, robust party dog who's been known to tip way more than just a "few"... and way more than just once in a while. Barney also has this unbreakable bond with his father, Izzy Panofsky, played by Dustin Hoffman. (This might be as close to genius in casting as director Robert J. Lewis gets putting Hoffman in the film.) Izzy is a retired Montreal cop and widower who, even at his advanced age, still has eyes for the ladies.
One of Barney's artiste friends, a writer called Boogie, is another party animal with whom Barney consorts. That's Scott Speedman's role in this nutty movie mix-up of Jewish guilt and male bravado. Boogie might be author Richler... thinly disguised. But, then again, so, too, Richler might be Barney.
The first half of "Version" clips along nicely, and allows for laughs that come easily, while the second part of the picture goes into a sudden stall, and loses altitude with schwerke* turns in the story that attempt to make everyone tear up for Barney for what he has, mostly on his own, wrought.
| | |
| --- | --- |
| | |
| | Rosamund Pike reading Herzog, watching Barney run. |
Stand-outs are, of course, Giamatti in the title role and Minnie Driver as the unnamed second wife, who is so entertainingly Jewish you won't believe it. Rosamund Pike makes a steady reading of Barney's very grounded wife number three, Miriam, who might have a crush on Saul Bellow, but we can't be sure. And, in a briefer turn, Rachelle Lefevre is wife one, Clara, a sexy, blue-tongued gal who can linguistically one-up old Barney in the Gross-Out department anytime she wants. (Shades of Larry David up against the rhetoric of Susie Essman in "Curb Your Enthusiasm," I guess.)
It's such a schlecht** thing that "Barney's Version" plays too much to the wings where most of its admirers are surely standing and laughing their tochuses*** off.

* arduous
** bad
*** buttocks


"Barney's Version" official site. Now in limited release.
See Yahoo Movies-Tulsa for theaters and times.
Gary Chew can be reached at garychew@comcast.net,
Facebook.com/justin.playfair and Twitter.com/orwellingly.

Copyright © 2011, Gary Chew. All rights reserved.