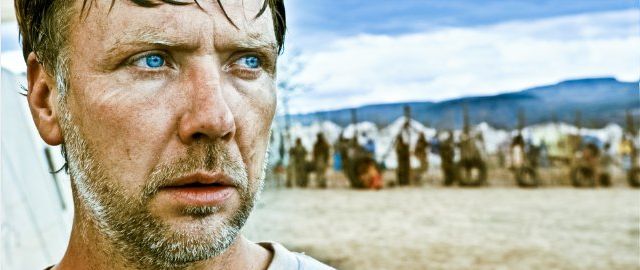 "In A Better World" ("Hævnen") | a film review by Gary Chew


GARY CHEW/Sacramento
4/24/2011

With two of her recent films, Danish director, Susanne Bier has a way about her---with some help from her screenwriter, Anders Thomas Jensen.
Bier's way suggests there's decency afoot without weighing down such Good News being dark, dreary and, I guess, coolly and secularly existential, or for that matter... a kind of holier-than-anyone-else-ism that gets a complementary pass to Heaven for living by strict rules.
Speaking of Heaven, the Danish title for Bier's latest film, "In A Better World" is, "Hævnen," but it doesn't mean heaven. "Hævnen" is Danish for "vengeance."
My first "date" with Ms. Bier was in 2007... alone... . seeing her film, "After the Wedding." Just thinking about it, "After the Wedding" still gets under my skin, and could have just as easily been called, "In A Better World."
Yes, like "Wedding", "Better World" is more of that sensible, grounded, uplifting cinema so good that, this time, it took the Best Foreign Language Oscar for 2011, as well as the Golden Globe in the same category.
Don't let the term, "uplifting," fool you, though. There is strife, anxiety, pain, disillusionment and death in the "Better World" of Bier and Jensen. Maybe the word not used so far in defining this picture, and should be, is "stoicism."
Swedish actor, Mikael Persbrandt, plays Anton. His role parallels Jørgen, the billionaire-entreprenuerial-do-good-family-man seen in Bier's "After the Wedding." But Anton, "In a Better World," is an M.D. who makes extended, routine trips to Kenya to heal and cure the native poor there.
Anton has the same sort of professional calling or sense of duty shown by another "Wedding" character, called Jacob, who operates a children's shelter in India. In a dark alley, you could bump into any of these guys, in either movie, and feel safe. Jacob, Jørgen or Anton: they're just good people.
But "Wedding" and "Better World" neither sermonize nor say, "Oh, look how absurd life is due to ignorance." If you're looking for one of those perspectives as to why these men live their lives as they do, you might do better with an Adam Sandler movie.
Both Bier films focus on families and the connections among their members, doing so with utter honesty and respect.
"Better World" is about two upper-middle class Danish families... the first, just having been stricken with the natural death of the mother... the second, slipping from estrangement into divorce. Each family has a boy about eleven years old.
Christian (William Jøhnk Nielsen), is the son who's just lost his mom. And the other is Elias (Markus Rygaard), who's mother, Marianne (Trine Dyrholm), no longer lives with Elias' dad. Alone, Anton is repentant for his passé affair with another woman. Marianne can't forgive.
Mikael Persbrandt and Trine Dyrholm

Markus Rygaard and William Jøhnk Nielsen





Ulrich Thomsen and William Jøhnk Nielsen

Christian is in a near state of rage with his father, Claus (Ulrich Thomsen). The lad is brittle with emotion and seeks revenge... or hævnen... any way he can for the pain he's feeling. The sober boy broods that his father really wanted Christian's mother to die of the cancer that consumed her brain.
On the other hand, Elias is reasonably well-adjusted, but being bullied by young goons at the school he and Christian attend. After some schoolyard dust ups, Christian begins to lay a plan to get even with the ringleader of the bigger boys ganging up on Elias and him. The strife bonds Elias and Christian in ways not all good.
Furthermore, Christian's drive to even the score crowds the narrative toward a more serious and possibly more injurious way as Anton is innocently drawn into a dispute with a grown man on a city street, not long after returning for a respite from his Kenyan medical duties.
In Kenya, meanwhile, Anton is at risk "thanks" to an even more dangerous problem with a local war lord named, Mand (Geoffrey Ojiambo). Mand takes a culturally dim view of the native females, usually the pregnant ones. And although Anton abhors what Mand and his lackies do to the defenseless women, the physician agrees to care for Mand's serious leg wound. But to set an operational boundary, after Mand asks Anton if the doctor is his friend, Anton answers, "No, I'm not, but I'll do my best to help you."
This decision ultimately pulls Anton, as a physician, into a self-confrontational dilemma that tightens the jumbled emotions that link his son being bullied, the dispute with the grown man that Elias and Christian are party to (all back in Denmark) and, ultimately, having to deal pragmatically with a Kenyan war lord in his medical camp.
Events soon follow that put both boys in their own separate perils, as well, that, to know, would spoil the ending, but surely put in the narrative to keep you on edge, right up to the denouement.
Another plus seeing "In A Better World," is the fine cinematography (by Morten Søborg), and editing (by Pernille Bech Christensen and Morten Egholm), each moving the story ahead at all deliberate, but coherent speed.
Note, particularly, the artful use of sunlight and the framing of live, natural, landscapes that quietly trickle into the flow of the film---with original music (by Johan Söderquist) that fits like a harmonious, yet unobtrusive glove of sound.


"In A Better World" official site.
Now in limited release, coming to the Circle Cinema 5/20.
See Yahoo Movies-Tulsa for theaters and times.
Gary Chew can be reached at garychew@comcast.net,
Facebook.com/justin.playfair and Twitter.com/orwellingly.

Copyright © 2011, Gary Chew. All rights reserved.