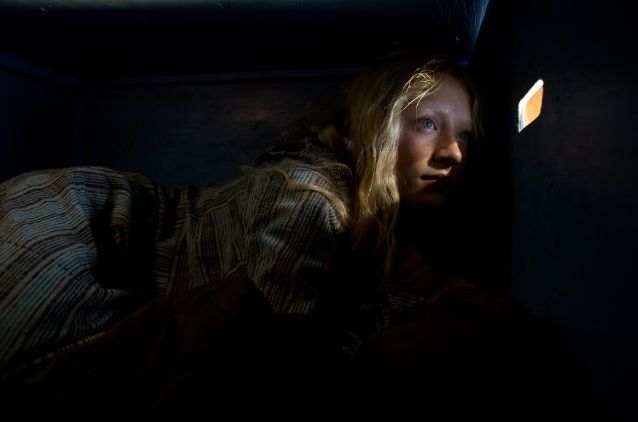 "Hanna" | a film review by Gary Chew


GARY CHEW/Sacramento
3/21/2011

There's a new movie heroine trolling for a franchise. Her name is Hanna Heller. And she just might hook one of those lucrative strings of cinematic sagas since Hanna is played by Saoirse Ronan. She's the stunningly talented American-born/Irish-reared girl who, at age 13, received a nomination for a Best Supporting Actress Oscar for her role as young Briony in Joe "long tracking shot" Wright's "Atonement." And it is Mr. Wright who, again, directs Saoirse in "Hanna," his first action film. Others by the Brit-born Wright are "Pride and Prejudice" and "The Soloist."
(BTW, Ms. Ronan pronounces her first name, SUR-shuh, although the Irish usually sound it: SEER-sha. She was born in New York City, April 12, 1994 and moved to the Emerald Isle with her parents when she was three.)
Ranting about Ronan in my review of "The Lovely Bones," in which she took the leading role, as well, I said Saoirse could replace Meryl Streep... that is, after Streep retires---if that happens. To film lovers, I say again: Saoirse Ronan is that good.
I'd like to be able to say as much about "Hanna," the film. Now, don't hang up on me, it's not a bad movie, by a long shot. I just felt it was trying too hard about 20 minutes out from the ending. Otherwise it's, at least, worth three stars in my film freak book.
| | |
| --- | --- |
| | |
| | Eric Bana |
One could almost imagine that "Hanna" begins where Cormac McCarthy's "The Road" leaves off, except that the child with the father---both, trekking through a post apocalyptic world---is not male, but female. The girl is Hanna. She's about 15. Her father, Erik, played by Eric Bana ("Star Trek"), is, to put it mildly, encouraging his daughter to be totally independent as she attains majority.
Boy, is Hanna already able to handle herself: a master hunter, in top shape, with a fully installed killer instinct and ability to fight like a hungry tiger. Hanna and her dad have lived alone, during the span of her young life, in the wild, northern arctic reaches of a forest in Finland: sort of a frigid boot camp for a teenaged female with her former CIA agent daddy as the unforgiving drill sergeant. If Santa and Rudolph are anywhere in this remote Finnish wood, they're keeping a low profile. This is not a Christmas movie.
To be on the safe side, anything you see in this film, don't try at home, whatever your age. That's important as the fearsome teenager's exploits will surely appeal to those her age and, especially, to kids even younger. Parents, please be advised: you may wish to consider whether to take or let kids go to this one, keeping its PG-13 rating in mind. There are no real dirty words or sex play, except a smidgen of nubile closeness between Hanna and her friend, Sophie. But the routine sanitized violence is quite frightful, even if there's not as much blood as a Tarantino would likely let.
| | |
| --- | --- |
| | |
| | Cate Blanchett |
Assisting in some of the bloodletting, you'll be able to cast your eyes on Cate Blanchett as the meanest damned lady government operative since Lotte Lenya played Rosa Klebb in "To Russia With Love." Blanchett shows great gams in her shorter than usual dressy skirts... and that resonant contralto voice she uses in all her performances is ever so slightly nuanced into a Texas accent.
Musical impetus beefs the soundtrack for "Hanna" with Brit electronica dudes, The Chemical Brothers, Tom Rowlands and Ed Simons. Their works give real sonic drive to the well-shot and edited action/chase scenes employed by Wright. It was only recently that Darren Aronofsky put the Chemical guys to work in "Black Swan," which is also pretty riveting stuff, even for a film about high-toned Tchiakovskian terpsichore.
On another note, check out this internet radio address for some cool electronica streaming out of Ouray, Colorado. Surf yourself to MountainChill.com You can hear the snowflakes smashing into those Rockies.
Not a minute too soon, I've just caught up with the first of the Stieg Larsson trilogies on DVD: "The Girl with the Dragon Tattoo." It's much more complex than "Hanna," and loaded with many more characters to keep track of, while the plot twists and turns even more. But, "Dragon" is much clearer in what it tells than "Hanna." That bothers me, comparing these films.
It might be Joe Wright felt that keeping a quick, well-oiled pace for "Hanna" a top priority... even risking clarity as to what the back story on Hanna and her parents is; and why... and for what... the girl was conceived and nurtured. The story races by those curious reasons and events that form the real fascination for this so serious super girl. Hanna's prowess, focus and tenacity are byproducts of those reasons and events. More was needed for that part: Why Hanna?
Supposing some more, it could be that the "Hanna" script was written to provide future exposition for the 'whys' and 'whats' of Hanna's existence if any sequels bloom for a franchise burgeoning . Maybe, too, Wright's principal scriptwriters, Seth Lochhead and David Farr, are caught up in "shorthand cinema," something directors seem to acquire from worrying about their work not having enough energy keeping those younger demographics tuned-in.
I don't know... although, "Dragon," for me, has oceans of energy, but lapses (if that's the right word) into well-timed ebbs and flows of how the story is paced. "Dragon" is as clear as a crystal cold, icy lake... and, at the same time, you "get" to read the Swedish dialogue in subtitles of English.
So far, "Hanna," is not so clear. Maybe "Hanna II" (the sequel), if there is one, will bring this exciting new character into sharper focus. Whether that's the case or not, Saoirse Ronan will keep you on the edge of your proverbial seat cushion.


"Hanna" official site. Opens April 8.
See Yahoo Movies-Tulsa for theaters and times.
Gary Chew can be reached at garychew@comcast.net,
Facebook.com/justin.playfair and Twitter.com/orwellingly.

Copyright © 2011, Gary Chew. All rights reserved.