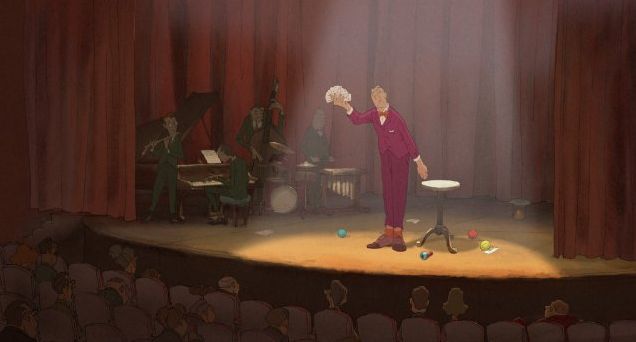 "The Illusionist" ("L'illusionniste") | a film review by Gary Chew


GARY CHEW/Sacramento
2/2/2011

Within but a few revolutions of the DVD or the reel in the projection booth, it's easy to understand that the career of the illusionist or magician in this marvelous, artfully animated feature film is quickly slipping over the horizon and from the blank stares of an ever-dwindling audience. It's 1959. Time to Rock 'n' Roll!
Who wants to buy a ticket to see a rather stuffy, passé guy with a big nose from Paris doing card and rabbit tricks on the stage of an old, dusty, downtown theater? The patrons, the few that there are, have the same lack of interest in the illusionist's stale tricks as the obese stage hand who's just raised and lowered the curtain five times for boisterous encores from the Britoons. They're a nutty rock band that has a bespectacled guitar player resembling (to more than a mere coincidence) a legendary American rockabilly born in Lubbock, Texas whose songs have the good fortune to---not fade away.

Light on plot, minimalist, almost simplistic, yet crammed with nuanced intelligence, "The Illusionist" is what I call a genuine family movie. I would've loved to have had my daughters sitting next to me taking in this quiet, new adventure from Sylvain Chomet, who's also done other magnifique stuff like "The Triplettes of Belleville (2003)" and the "Tour Eiffel" segment of "Paris, Je T'aime (2006)."
| | |
| --- | --- |
| | |
| | Jacques Tati |
Actually, the illusionist is Jacques Tati (1907-1982), the French director, actor, writer and producer, who gave us, among others films, his memorable "Mon Oncle," "Mr. Hulot's Holiday" and "Jour de Fête." All three were made between 1949 and 1958.
With only a dash of dialogue, here and there, "The Illusionist" comes crafted in the usual, well-adjusted French manner: not taking itself too seriously, letting life just happen---or as many of the French would say: with a smidgen of the existential and an occasional unheralded act of decency that expects nothing in return.
Director Chomet's script comes from an earlier creation of the Fifties by Tati, himself. The story is said to be a product of Tati's guilt for abandoning his illegitimate daughter conceived and born when France was under Nazi occupation during WWII.
Interestingly, I've found that Jacques Tati and Sylvain Chomet were born in the same French town, but 56 years apart.
The Tati-esque illusionist of the film happens onto a girl he sees mopping floors in a village bar in Scotland. Alice's shoes are about worn through. The illusionist makes it possible, in his very 'magic' manner, for her to have a new pair. This act of grace on the illusionist's part draws Alice to him, and she follows him to Edinburgh, the next stop on the magician's lackluster tour.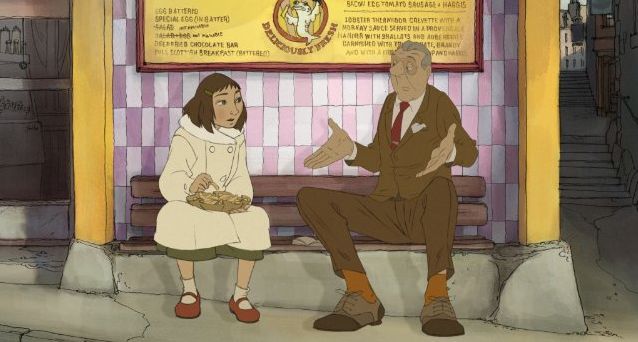 The story makes advances in Edinburgh, but not many, albeit Monsieur Chomet bolds us over with a low-key, yet brilliantly illustrated and animated film. On watching "The Illusionist," one must, all the while, employ laughter with reflection as it pours forth a marvelous predisposition to "live-and-let-live," something known to permeate much of French art and culture.
It's apparent as "The Illusionist" gets closer to finish, that it professes Everyone in the world is quite alone, but can take simple joy in decent, honest associations with others who are, also, really alone, on their own---and responsible for their actions. What a nice, warm family movie, while, for me, a fitting paean to Tati that uses an ode he wrote for the daughter he ignored early on.
Ne manquez pas ce film.


"The Illusionist" official site.
Now showing at the Circle Cinema.
See Yahoo Movies-Tulsa for theaters and times.
Gary Chew can be reached at garychew@comcast.net,
Facebook.com/justin.playfair and Twitter.com/orwellingly.

Copyright © 2011, Gary Chew. All rights reserved.