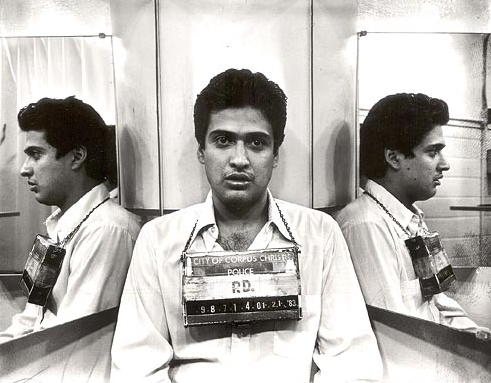 Carlos De Luna
"At the Death House Door"
Gary Chew Reviews an IFC Documentary


GARY CHEW/Sacramento
5/15/2008

None of us needs to be reminded of today's hot-button social issues in America like abortion, same-sex marriage, the high cost of healthcare and prescription drugs---and that longest-suffering of our debates: whether we have the right to kill those who commit heinous crimes.
Soon the Independent Film Channel presents a program that documents effects of the death penalty on those to be executed and their families as well as prison staff who carry out the sentences. Cable or satellite TV viewers can see "At the Death House Door"on IFC, Thursday, May 29th at 9 pm ET/PT.
Above: Rev. Pickett walking the death house graveyard
Reverend Carroll Pickett is a preacher from Huntsville, Texas. Two of his congregants were murdered by convicts at the Huntsville prison in 1974 during the longest prison siege in American history. Carroll Pickett was assigned to console the victim's families. He was solidly in favor of the inmates who killed the members of his church be put to death. Pastor Pickett was then and is, today, a Christian.
In 1979, preacher Pickett became the prison chaplain at Huntsville; about three years after the U.S. Supreme Court reinstated the constitutionality of the death penalty. Texas resumed executions using a new method: lethal injection. Pickett ministered to Charlie Brooks, Jr., the first inmate ever executed by chemicals. That was 1982.
Until 1995, Pastor Pickett subsequently ministered to ninety-four other condemned inmates in Huntsville's "Wall" Unit. Two of those were high-profile convicts: Carlos De Luna, a Mexican-American executed in 1989 and Karla Faye Tucker, a Houston woman put to death in 1998.
Karla Faye Tucker
Tucker was convicted in the hacking death of a Houston woman. Her execution made international headlines as Tucker had become a born-again Christian during her years of incarceration. Then governor of Texas, George W. Bush denied her request for clemency. Tucker is the first woman to receive the death penalty in Texas since the American Civil War.
De Luna was executed at the age of 27 for the murder of a Corpus Christi convenience store clerk. Almost 20 years later, Chicago Tribune reporters Maurice Possley and Steve Mills found evidence that strongly suggests another man closely resembling De Luna committed the crime. De Luna maintained his innocence to the end. Pickett still believes De Luna's story and is greatly troubled by what the pastor calls "De Luna's botched execution."
Steve James and Peter Gilbert ("Hoop Dreams") have taken these tragic threads about people and events and woven a moving documentary film about how Carroll Pickett has come to terms with the loss of two of his own parishioners, then assuming a career consoling and ministering to nearly a hundred perpetrators of crimes in the hours leading up to and including their final moments of life.
Howard Beale: Mad as hell



Unlike the incessant string of prison documentaries of another sort available on MSNBC, "At the Death House Door" won't be seen often or at all on mainstream television. Likely, it will be as "common" on mass media as Sidney Lumet's essential feature film of 1976: "Network." If you want to watch "Network," rent it!"
Both "Network" and "At the Death House Door" are about subjects not made for comfort and, hopefully, not for the entertainment of anyone. Such cinema is researched and crafted to counter our collective "disenlightment."
Back in the first paragraph, some of our hot-button topics are listed. Forgive me. I left out two: Dissension over how the Second Amendment should be interpreted nowadays, and the hottest of all hot-button subjects: Tax cuts versus tax increases.
That should get your attention. I hope "At the Death House Door" does.

"At the Death House Door" preview
Premieres on IFC, Thursday, May 29 at 9 pm ET/PT.
Gary Chew can be reached at garychew@comcast.net.
Copyright © 2008, Gary Chew. All rights reserved.