"Broken Flowers"
A film review by Gary Chew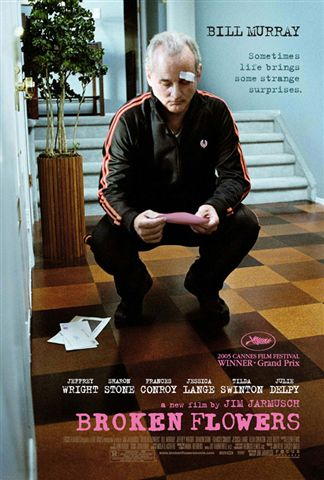 GARY CHEW/Sacramento
8/6/2005
I'll never forget walking out of the Williams Center Cinema in downtown Tulsa back in the mid 80s having just seen Jim Jarmusch's "Stranger Than Paradise." I felt as though I would have better spent my time just outside the theater ice skating.
Little did I know at the time I'd exit another movie house (the Crest, in downtown Sacramento) some two- thousand miles to the west and some twenty years later having just seen another Jim Jarmusch movie without any urge, whatsoever, to ice skate.
For seeing "Broken Flowers" had filled my mind with what really happens to Don Johnston (Bill Murray). Who had sent Don the first pink letter in a pink envelope? Did Don really have, as the unsigned note indicated, a nineteen year old son who was on the road to find his father?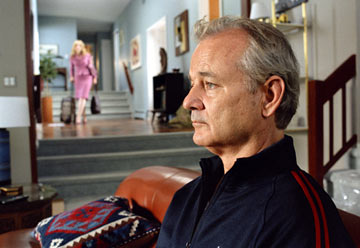 And I had all of those other questions, too, about each of Don's old girlfriends who might have been the mother of his alleged son; and which one of these women might have written Don the letter which comes to him just as his current girlfriend (Julie Delpy) is leaving him because he doesn't seem to want to settle down, get married and have a family.
Don is still a bachelor, retired, already (due to his success in the computer biz) and the next door neighbor of an indefatigable family man named Winston (Jeffrey Wright of "Angels in America"). Besides working three jobs and having five children with his gorgeous wife, Winston is also an amateur detective. If it weren't for Winston, the phlegmatic Don would never go off and visit each of his old flames to find which had sent him the letter about a son he didn't know he might have.
At each meeting with his four former lovers, Don proffers a bouquet of flowers. (He is a smooth if not too demonstrative devil.) And we find that each woman has evolved into a mid-life of her own, although Jarmusch carefully gives us only enough about them to cause us to wonder even more about their life lived since breaking up with Don.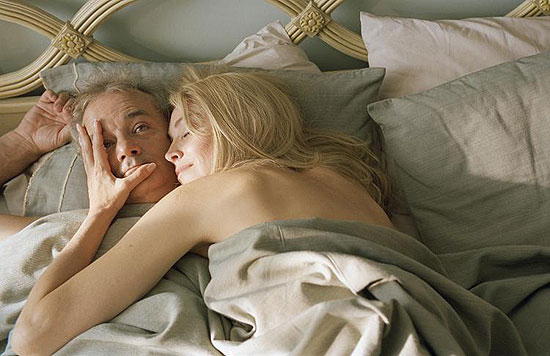 Bill Murray and Sharon Stone

Is the Sharon Stone character just a professional closet organizer? Does Frances Conroy look back with regret redefining her needs from those of a hippie to her current role as a real estate lady? What kind of relationship does Jessica Lange, as a professional animal communicator, have with her office receptionist (Chloe Sevigny)? And finally, does Tilda Swinton have more to hide than just whether she had a child or maybe an abortion?
There are lots of questions. There are lots of answers, but you and I---the moviegoers---supply most them. And despite or because of his droll, laconic persona, Bill Murray, in a very low-key, tender way makes us laugh as Jim Jarmusch allows us to plug ourselves into whatever facet of the film we wish.
For me, "Broken Flowers" is the best movie ever for both Bill Murray and Jim Jarmusch.

Bill Murray and director Jim Jarmusch

More about "Broken Flowers" (and a trailer) at the official site.
Opens Aug 19 at the AMC Southroads 20.

Gary Chew can be reached at garychew@comcast.net.

Copyright © 2005, Gary Chew. All rights reserved.


Back to Chew's Reviews Back to Gary Chew interview Back to main