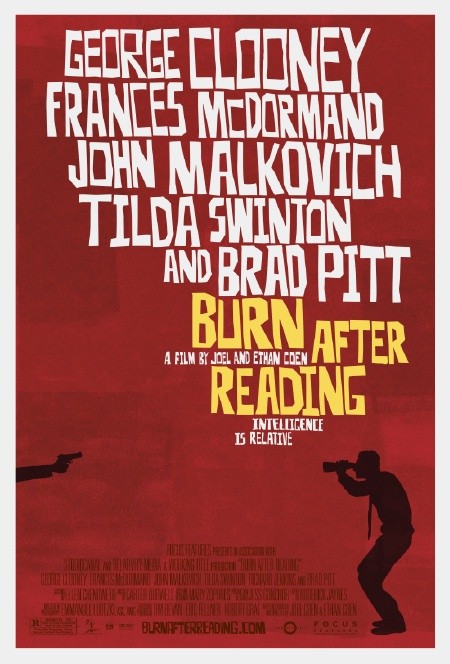 "Burn After Reading"
A film review by Gary Chew


GARY CHEW/Sacramento
9/8/2008
Adding more fuel to the raging 2008 presidential blaze comes another Coen brothers film called "Burn After Reading." Right up front, let's be clear. If you think the past eight years have been an effective, productive duration of time for the USA, you may wish to avoid seeing this speed-of-light black comedy also written by Joel and Ethan Coen. If you're of the persuasion that there's been something lacking or even worse in the way things have gone for our beloved country since the beginning of the 21st century, I highly recommend "Burn After Reading."
If this were a totalitarian state, anyone publicly discussing this movie would be hard pressed to say too much about the self-absorbed idiocy of most of the characters in the film; especially the important, elite, educated people in high places of political power. And there's also the common idiocy of ordinary people like you and me freely displayed. But since the ordinary usually have little clout in the scheme of things, risk for exposing derisive humor about this segment of society comes to the perpetrator at a lesser degree. We should, I suppose though, still need to be careful in front of whom we laugh.

John Malkovich

Things have gone awry for Osbourne Cox (John Malkovich). Drinking has brought Osbourne's career as a CIA analyst to an end. His physican wife, Katie (Tilda Swinton) is conniving to divorce and financially ruin Osbourne with her attorney. He's sort of a cross between Dick Cheney and John Hagee and oleaginously played by J.R. Horne.
Poor Osbourne starts his memoirs and somehow the hard disc of those private reflections on CIA activities gets mixed with the financial files Katie has copied for her divorce plan. With a good deal of complexity, the CIA information disc turns up at a workout gym in the Washington, D.C. area and found there by two attendants who work in the franchise business known as, Hardbodies. They are Chad Feldheimer (Brad Pitt) and Linda Litzke (Frances McDormand). Along with their boss, Ted Treffon (Richard Jenkins), you get more idiotic people but, as you can plainly see, these are the ordinary ones.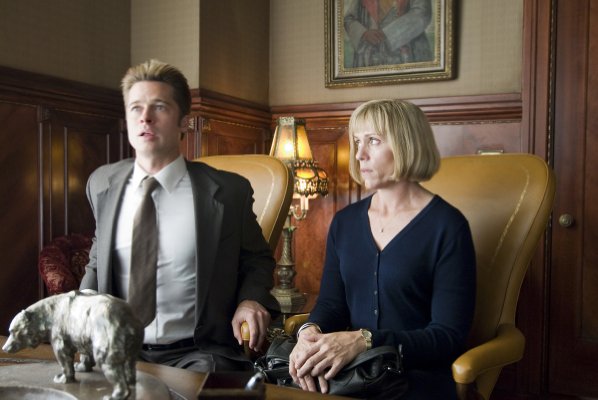 Brad Pitt and Frances McDormand

Chad and cohort, Linda, who is in dire need of various surgeries to get her body back into the shape she wants, try blackmailing Cox for Yankee dollars. After vitriolic resistance from Cox, Chad and Linda cruise on over to the Russian embassy to see if the Ruskies will pay money for the secret CIA information. That's when we get to see the picture of Vladimir Putin hanging on the wall. But that's all I'm going to reveal about what happens.
The Coen brothers and George Clooney
Except to say, snaking through all this dark, nutty spook stuff is a US Treasury agent named Harry Pfarrer (George Clooney). Harry beds more than one of the ladies involved in "Burn," (including Mrs. Cox) while Mrs. Pfarrer is out of town on tour promoting her recently published children's book.
"Burn After Reading" has no resonance with an earlier Clooney film titled, "Syriana," except for one thing: both movies could've run a bit longer. In fact, I was still ready for more as the sky camera began zooming back out into space with the "Burn" credits on the roll; one of which telling me that Carter Burwell composed the excellent music on the soundtrack. It's more often than not that most current movies seem to be overdone by about 20 to 25 minutes, at least.
Three closing observations on exiting the theater after seeing "Burn": (1) A preview of another political film to be in limited release in early December preceded the screening of "Burn": the trailer of Ron Howard's new one, "Frost/Nixon," with Frank Langella as the 37th President of the United States . Ah, Christmas with Nixon. (2) To ponder too deeply about what the implications of "Burn After Reading" suggest might bring a subtle chill to a spine, here and there. And (3) if you don't sense some kind of connection to the fun and cynicism of the film and believe it's just a vanity procedure for the Coens, Clooney and the rest of the cast, you might find yourself merely doing a burn after seeing.