Review by Gary Chew:
"Carnivàle" (a new HBO Series)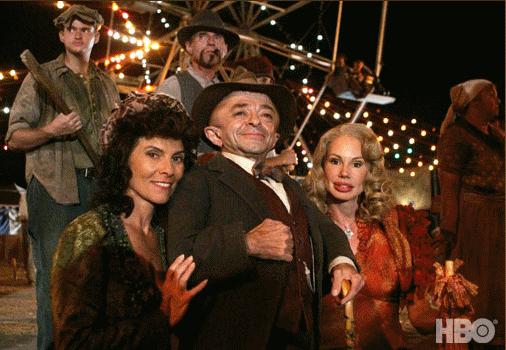 GARY CHEW/Sacramento
9/9/2003
Okies, whether they live in California, like me, or ones who still reside in the Sooner State, should resonate with the new HBO series that premieres Sunday evening, September 14th. It's called "Carnivàle" and the story begins in Oklahoma in 1934. The dust is really thick, jobs aren't to be had and worldwide change looms. And that's sort of what "Carnivàle" does: looms. Looms in the literary mode of Magical Realism, if you replace Jorge Luis Borges and Gabriel Garcia Marquez with a lot of John Steinbeck and a dash of Federico Fellini.

As I said, it's Dust Bowl time in Oklahoma and the troupe of freaks and social outcasts of "Carnivàle" are headed West. On seeing the first episode, it seems that no actor without a gaunt face has been cast in "Carnivàle". Nick Stahl (left), who was quite memorable as the young son dispatched by an angry ex-husband in "In The Bedroom," appears to be the series' protagonist, Ben Hawkins. Ben has a direct connection to supernatural powers the likes of which will be defined, little by little, as the series unfolds. Although Ben's past is troubled, there is good deep down inside him.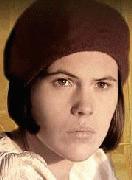 He saves Sofie, (Clea Duvall, right, no relation to Robert) the show's tarot card reader, from being raped by local yokels who think having their way with her is okay because she's just a carney. Another significant character in "Carnivàle" will be a California fire and brimstone preacher called Brother Justin Crowe (Clancy Brown). He, like Ben Hawkins, is tormented by apocalyptic dreams and visions. But unlike Ben , who wants solitude, Brother Justin and his loyal, yet brittle sister, Iris (Amy Madigan) are out to get the world right with God.
And sustaining the enigma, the diminutive actor, Michael J. Anderson ("Twin Peaks", "Mulholland Drive") plays the role of Samson (curious name for a man three and a half feet tall), who runs things for Management: the show's impresario whom we never see.
There's an impressive collection of other characters in "Carnivàle" that includes Adrienne Barbeau ("Maude") who, as the snake charmer Ruthie, plays the maternal figure for this strange, itinerant ensemble.
To conclude, here are some opening lines from the first episode which are spoken in voiceover by Michael J. Anderson: "The final conflict between good and evil is about to begin. The battle will take place in the Heartland of an empire called America. And when it is over, man will forever trade away wonder for reason."
I would only add that, Sunday evening, you may wish to fasten your seat belt.

Gary Chew can be reached via email at garychew@comcast.net.
More about the series, plus a trailer, screen saver, etc. at this HBO link.

Copyright © 2003, Gary Chew. All rights reserved.


Back to Chew's Reviews Back to Gary Chew interview Back to main