"Deadwood"
A new HBO series
Review by Gary Chew



GARY CHEW/Sacramento
3/20/2004
The city of Deadwood is alive with entrepreneurial spirit. It bustles, day and night, with commerce and competition. Everyone comes to this little town in West Central South Dakota to make their fortune. And in no uncertain terms, HBO makes it very clear that "Deadwood" is one hell of a place to get real rich or real poor, real fast, or for that matter, real dead even quicker.
What I'm talking about is a new 12-part series premiering on Home Box Office that vigorously mixes historical fact with outrageous fiction. But before continuing, I must confess something.
It's difficult to write these comments without employing cowboy jargon because there's so much of it in the dialogue of "Deadwood." After watching the first four hours of the series, the ghost of Gabby Hayes overpowered me, compelling me to spout a soliloquy much like one would hear the old-timer deliver to his horse or a coyote. But hold on there just a goldarned minute, Gabby never used all those words George Carlin laments we can't say on TV. Well, "Deadwood" folks talk sort of like Ben Johnson---that great character actor from Osage County Oklahoma---doing a monologue in the vernacular of Lenny Bruce. "Oz," "The Sopranos," "Sex and the City," and "Six Feet Under," as Gabby would put it, "don't hold a candle to 'Deadwood' when it comes to coarse discourse."
Ian McShane

Ian McShane as Al Swearengen, proprietor of the Gem saloon, casino and brothel in "Deadwood," will likely get a Golden Globe Award for Best Dirty Talker by a Male in a Television Drama. Most of the words he uses are the ones usually seen on the stalls of public restrooms. Flippancy shouldn't be inferred here, however, because McShane just may well be the best damned villain to ever walk in front of a camera. Anyone who can upstage Ben Kingsley, in a much smaller movie role, must have something going for him. That film was "Sexy Beast." For my money, McShane, as the cruel London mob boss, came off meaner than any no good polecat I've ever seen in any kind of motion picture.
Winner of the Dirtiest Talker Globe for a Woman will likely be Robin Weigert. She has the historical role of Calamity Jane, who's last resting place is Deadwood, South Dakota, right next to Wild Bill Hickok. Whether they really had a relationship or an acquaintance is not really clear.
Keith Carradine, playing Wild Bill himself, is cast just right as the hard drinking, poker playing, former marshall of Abilene, Kansas who wore his six-shooters with the handles pointed forward. Carradine comes in third for vulgar use of language in "Deadwood." Both he and McShane should win some kind of shiny statue for having such great, deep voices. The woofers on my sound system rattle when these gentlemen speak from the soundtrack.
Less inclined to curse is the supposed hero of "Deadwood." Seth Bullock (Timothy Olyphant), another real life figure of the era, who, in the late 1870's, ultimately became marshall of this town for which there were yet no laws. After marshalling over in Montana, Bullock came to Deadwood to start up a hardware store with his partner Sol Star (John Hawkes).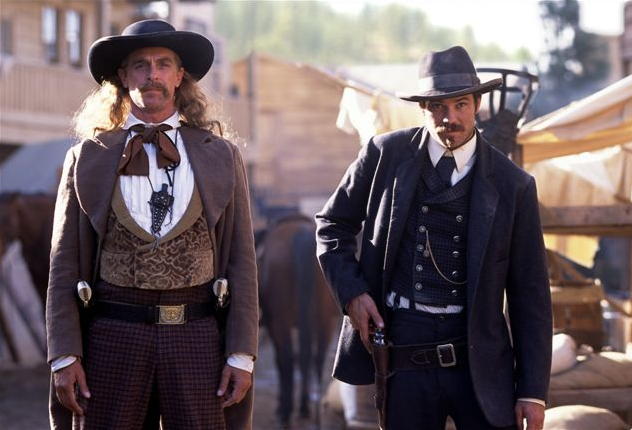 Keith Carradine and Timothy Olyphant

Within the first four episodes, one character has yet to utter anything that comes close to being tacky. That's Alma Garrett (Molly Parker), who is married to a New York dude (The word "dude" is employed here in its pre-Sean Penn meaning).
The dude gets swindled right off by Swearengen over real estate that may hold a fortune in gold. Mrs. Garrett is a well educated, refined woman who shivers at her hotel window as she watches the first signs of an unruly capitalism unfolding below in the muddy streets of Deadwood America.
Just like Dodge, "Deadwood" has a sawbones, too, er I mean, physician. He's Doc Cochran and he's played to eccentric perfection by Brad Dourif whom we all remember in "The Lord of the Rings: The Two Towers."
Paula Malcomson
Molly Parker
Other smarmy cusses to put up with are Swearengen's confidant and hotel owner, E.B. Farnum (William Sanderson) and the new entrepreneur just in town, Cy Tolliver (none other than Powers Boothe) who, something tells me, is going to be a real headache for Swearengen in later episodes.
Tolliver's casino, saloon and brothel is called Bella Union. ( I love the subtleness of that name.) In a real slice-of-life role is Paula Malcomson as Trixie. She works for Swearengen and is a... well, let's just say, she doesn't tend the bar.
"Deadwood" has an A-list of directors and its executive producer and head writer is David Milch who has been involved in the breaking of ground in television serial drama before with titles that have a familiar ring to them: "NYPD Blue" and, one of my favorite old cop shows, "Hill Street Blues."
You can catch the first run of each "Deadwood" episode right after Tony and his boys kick some New Jersey ass Sunday nights on HBO.
The cowboy accent, for me, is easier than the Jersey brogue.


Back to Chew's Reviews Back to Gary Chew interview Back to main