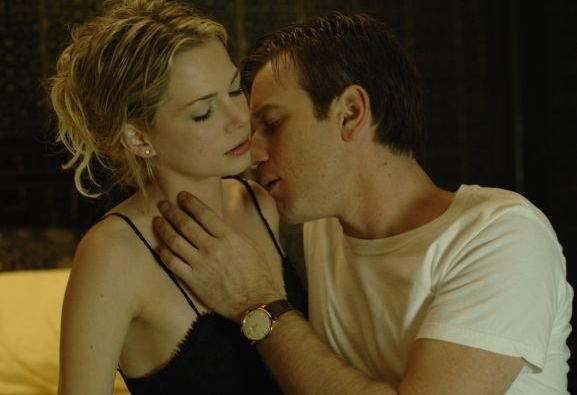 Michelle Williams and Ewan McGregor involved in...

"Deception" --- a film review by Gary Chew


GARY CHEW/Sacramento
4/23/2008

Bracing neo-noir is what you get with "Deception," a new film with three very hot actors: Ewan McGregor, Hugh Jackman and Michelle Williams.
Up front, let me say that I went in feeling a bit dubious about "Deception." I've never really been an avid champion of Mr. McGregor's or Mr. Jackman's. Some films of theirs are less than spectacular. And until "Brokeback Mountain," Ms. Williams hadn't really caught my eye either. But it's fun to be a little bit surprised by getting entertained with a movie that could've very easily been a real turkey.
"Deception" marks the debut of Swiss-born director, Marcel Langenegger, who has had success doing videos and television commercials. He was an art student in Switzerland where he started his career as an art director and graphic designer. With this first feature film, originally to be titled "The Tourist," I'd say Mr. Langenegger knows how to spot a turkey coming down the road from at least a mile away.
Michelle Williams and Hugh Jackman
Mark Bomback has created a good script for Langenegger. With but a few loose ends it will keep you focused.
With a little suspended disbelief (what noir film doesn't require that?), "Deception" deceives the person watching the film to some extent and Jonathan McQuarry (McGregor) to beat hell. As Wyatt Bose (Jackman) says to McQuarry, "You don't get much, do you?" So we can see here Ewan McGregor is playing against type as a low-key, somewhat anti-social bean counter who audits the books of various big businesses around New York City.
But he scores big time after he hooks up with Jackman's Bose, who appears to be a hip, socially-connected attorney that takes a liking to the slightly squirrelly McQuarry. Bose is a member of a covert sex club of high dollar business people whose lives are so filled with making big bucks, they have no time to bother with intricacies when it comes to intimacies. The club is made up of a phone network that requires members (when his or her cell phone rings) to respond 'yes' to the other member's telephonic query, "Are you free tonight?" No names. No history. No getting to know one another.
McGregor's character then spends many un-free nights in posh hotel rooms with attractive, upwardly-mobile women while Bose is away on business in London. Life is good.
But wouldn't you know it: our ardent auditor soon meets up with a wistful-looking lady whose beauty doesn't mask the baggage she carries. You can see it in her face. We only know her as S. Ms. Williams is S, and to say McQuarry falls for her hard would be putting it lightly.
Mr. Bose, however, has his own reasons for seducing Jonathan into the steamy evenings a lonely bean counter can have in a big city sex club. You need to find out exactly why that is on your own, and I should be thanked for that as "Deception" is much more deceptive that way.
Sean Connery and Charlotte Rampling
A sort of metamorphosis occurs in the later frames of the film: McGregor becoming more Bose-like, and Jackman is more like McQuarry. Not to the ridiculous extent of John Woo's 1997 film "Face/Off" with John Travolta and Nicolas Cage, but slightly reminiscent of it. Both McGregor and Jackman convince us how much McQuarry is smitten with S and just what a schmuck Bose is. Ms. Williams takes no prisoners as the vulnerable young woman who says with her face that she hates her life and would really like to "get out of this place" if she just could.
But taking the Oscar as the forever most 'take-no-prisoners' actress in film is the striking, mature Charlotte Rampling (in cameo) as one of young McQuarry's one-night-hotel-stands.
Ms. Rampling is old enough to be McGregor's mother and she's proud of it. She's been well cast for her brief appearance as an older Wall Street tycooness (is that right?) who's quite fond of younger men. Rampling was particularly noticeable in the 2003 French film, "Swimming Pool."
On the other hand, "Deception" (rated R) is really not much of a visual debauchery. Its theme is seductive, though, and so is its tone, accompanied by memorable but non-intrusive music composed by Ramin Djawadi.
One more thing: to allay your wondering why I would suggest that Charlotte Rampling should get an Oscar for the best all time 'take-no-prisoners' film personality, I simply say: it's because she starred with Sean Connery in John Boorman's "Zardoz" (1974)---the coolest freakin' movie ever made.

"Deception" preview
"Deception" official site.
Opens at the AMC Southroads 20 on April 25.
Watch Yahoo Movies for Tulsa theaters & times.
Gary Chew can be reached at garychew@comcast.net.
Copyright © 2008, Gary Chew. All rights reserved.