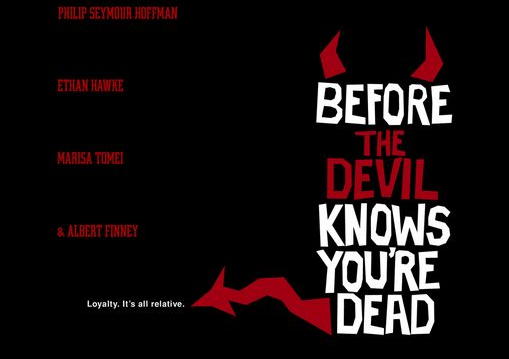 "Before The Devil Knows You're Dead"
A film review by Gary Chew


GARY CHEW/Sacramento
11/11/2007
Deep debt and incompetence, so much a part of our 2007 lives, push and hold the 'accelerator to the floor' in "Before The Devil Knows You're Dead," It's the latest film from the veteran and extraordinary film director, Sidney Lumet. He happens to be in his 80s, but you'd never know that looking at this penetrating work of cinema. The well crafted script is by Kelly Masterson.
Put together much like FX Network's new cable series "Damages," "Devil" plays with the same clarity as some other such structured films today don't. (See "I'm Not There" as an example.)
Philip Seymour Hoffman and Ethan Hawke
A commanding performance (as if there could be anything else) is rendered by Oscar guy, Philip Seymour Hoffman. And if that's not enough to whet a moviegoer's appetite, check out the rest of the principals in the cast: the adroit Ethan Hawke (2 Oscar nominations), Oscar gal Marisa Tomei and veteran actor from across the Pond, Albert Finney (5 Oscar nominations).
Second tier players are also trodding the boards well in this downward-spiraling contemporary tingler about two brothers, Andy and Hank Hanson (Hoffman and Hawke). They're up to their Windsor knots in debt while Andy is the cuckold every Thursday when Hank beds Andy's wife, Gina (Tomei).
Finney is the father, Charles Hanson. Rosemary Harris, in a lesser role, plays mother Nannette Hanson. Yes, like the often-referenced "Sopranos," this is a family picture, but there's not a Wise Guy in sight. (You may take the term wise guy either way in this case.)
Andy and Frank don't well-plan a robbery of their own parent's small business jewelry store in the burb of Westchester, NY. Andy, the ringleader of this dynamic duo, persuades Hank that Hank, masked, can use a toy gun to rob the store on a Saturday morning when part-time help works the shop. They can steal the cash, fence the jewels and come away with about 600 grand. (Such a deal.) Mom and pop will innocently get a hefty pay off from the insurance company and the loving brothers can ease their respective money squeezes with the loot. Hey, win-win. What could be better?
I don't dare tell what happens in this riveter, but there's so much that does, the film should've been called "Bad Day at Black Rock" or "The Revenge of the Peter Principle."
Marisa Tomei
You'll get to see the talented Hoffman operating at every human level of emotion as a keeper of the funds for a real estate firm. He's fairly well-dressed with slicked-back hair and seems to be more than a tick or two above incompetent. Hawke's Hank is less capable and quite the worrywart despite the risks he takes with his covert crossings over to Tomei.
Gina is a lovely woman, who's a lousy cook and dislikes keeping house (as she says in the film) but finds no difficulty in having sexual relations with her, well, relation---the brother-in-law.
Tomei is pretty much in the altogether for a couple of scenes with both Hoffman and Hawke. That would be two separate scenes with just two people in each; Tomei in both, should you misunderstand. Toward the end of the film, Gina tells Andy about her liaison with Hank because her husband doesn't pay her enough attention. I guess that's the price of attention not paid when it must, according to writings of the prophet, Arthur Miller.
Guilt and fear for various reasons stupefy just about every character in "Devil." The film is freighted with anxiety (Hank is always super-tensed) and gives an inside-out, up-close look at two moderately decent guys who hang themselves out to dry due to lack of cool, calculated planning---and simple honesty.
"Before The Devil Knows You're Dead" will keep your undivided attention and might get some of Oscar's as well early in 2008. It should be fun to sit back and see where votes go.
One more thing: Mr. Hoffman is soon to be seen in another slice-of-life family film, "The Savages," with the inestimable Laura Linney (2 Oscar nominations). It's one of those 'light' family films that weighs on one with at least a gazillion tons. I saw a screening of "Savages" earlier in the fall. It took me the better part of a month to get over it. Moreover, PSH can also be seen in Mike Nichols' newest, "Charlie Wilson's War," as a CIA spook in league with Tom Hanks and Julia Roberts to rid 1980s Afghanistan of Soviet helicopters.
So beware! Hoffman strikes not once or twice, but three times in '07-'08.

"Before The Devil Knows You're Dead" preview.


Opens 11/30 at the Circle Cinema.
Check Yahoo Movies for Tulsa theaters & times.
Gary Chew can be reached at garychew@comcast.net.
Copyright © 2007, Gary Chew. All rights reserved.