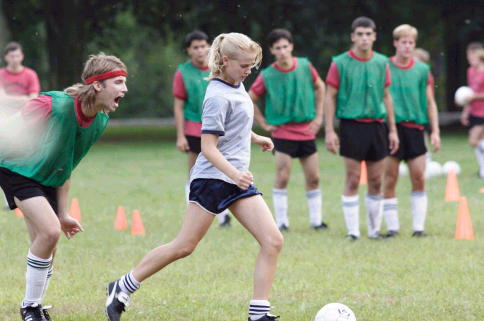 Carly Schroeder as "Gracie"

"Gracie" and "Away from Her"
Two Reviews by Gary Chew


GARY CHEW/Sacramento
5/18/2007

Two new films dealing with major life changes for two females---one a teenage girl, the other an aging wife---wouldn't make for a very good double feature like they used to offer at the local movie theater, but both are well done and just enough out of the ordinary that some attention should be paid.
Westerns notwithstanding, the inspired sports movie about an athlete overcoming great obstacles is the most hackneyed genre found in American motion pictures. I've gotten rather bored with them over the years, what with their obsessive paeans to the rush of competition and the glory of winning. (I'm always reminded of such motivation by the 1969 Paul Newman and Joanne Woodward auto racing film titled, "Winning." Muskogee's Clu Gulager was also in that one.)
But director, Davis Guggenheim ("An Inconvenient Truth") has made everything fresh with "Gracie," even though it has a predictable storyline along with the rebellion of a frustrated athlete and a seemingly ruthless coach expecting miracles from his young men. But Gracie is a young woman, whom the guys call a girl. In real life, the character of Gracie broke the barrier that barred girls from playing soccer. The screenplay is by Karen Janszen and Lisa Marie Petersen.
Carly Schroeder ("Mean Creek") is just right in the title role. Dermot Mulroney ("Georgia Rule"), who---come to think of it---looks a little like Clu Gulager, plays her father. Gracie's dad was a star soccer player in his prime and lives and breathes the game for his children (three boys and Gracie) to excel in the sport. Elisabeth Shue (Oscar-nominated in the Oscar-winning film, "Leaving Las Vegas") is so good in her role as mom. Andrew Shue ("Melrose Place") is cast as one of the soccer coaches. And John Doman ("The Wire") deserves accolades in the film as Columbia High School's head soccer coach. He reminds me of coaches I had the pleasure of sweating blood for as a skinny kid masquerading as an athlete.
I think the power of "Gracie" comes from a genuine sense of familial attachment. It's the tender backstory of this caring film. Elisabeth Shue is the wife of Davis Guggenheim, and Andrew is her brother. In 1988, their brother, William Shue, was killed in a freak accident. Elisabeth played soccer in high school and Andrew is an expert soccer player. The parallels drawn on seeing the film make it quite clear that "Gracie" is a labor of love and everyone in the cast feels it. You will too.
---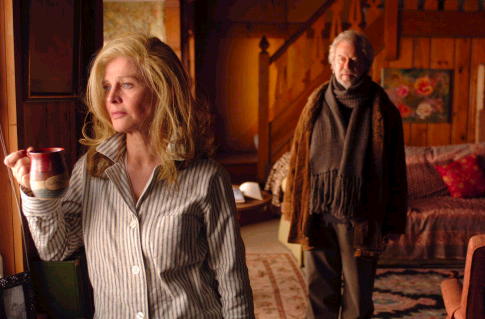 Julie Christie and Gordon Pinsent in "Away From Her"

Meanwhile, on the other end of life we've got the gaming of the onset of Alzheimer's disease in a film called "Away From Her." As an aside, I must say that I keep forgetting the title of this film. I want to use the word, "after" instead of "away" as I type it on the screen. Maybe my word processor wants to tell me something. However, that's what Julie Christie ("Don't Look Now" "Doctor 'Zhivago") is turning in an extraordinary performance with as Fiona. She's an early 60's wife of a retired university professor who's called Grant. He's played by Gordon Pinsent. Two other familiar faces appear in the cast: Olympia Dukakis and Michael Murphy.
"Away from Her" is directed by a woman closer to the age of Gracie in the movie above than the main characters in this one. Sarah Polley is a multi-talented Canadian writer, producer and actress. She's now at the ripe old age of 28, and made a lasting impression on me with an extraordinary performance as Hanna in a film with Tim Robbins called, "The Secret Life of Words." Not so coincidentally, Julie Christie has a cameo in this 2005 film. Polley was also cast in "My Life Without Me," "Dawn of the Dead" and several other films. She assisted writing the script for "Away From Her" with the author of the book from which the film comes. Alice Munro's original title for the piece is, "The Bear Came Over The Mountain."
Fiona is becoming forgetful. One of the first signs we notice is when she puts a skillet, just washed and dried, in the refrigerator. Grant sees the absent mindedness of his wife of some four decades and covertly replaces the skillet in the cabinet. The expression that comes over his face is repeated many times throughout the film as Fiona's dementia progresses. Grant's character is caught in this emotional corner except for his moments of denial or when he's not able to contain his dread for losing the woman he loves as she takes up residence in an assisted living facility.
More complications are on the way. House rules require that Grant not see Fiona for thirty days following her admission. After that long month, Grant's first visit brings further disappointment. Fiona has already taken a deep interest in giving help and comfort to another resident of the home: Aubrey, played by Michael Murphy. Aubrey is close to helplessness and can only show his need for Fiona's aid. That would seem to be enough for a loving husband to endure, but there's a further change in Fiona. She's not able to remember Grant!
Olympia Dukakis is cast as Aubrey's wife, Marian. She's healthy, lucid and, like Grant, still lives in the family home. Her sassy, blunt personality gives "Away From Her" needed grit and quiet comic relief. Another character named Kristy is well-played by Kristen Thomson. Kristy is an aide at the retirement home. My guess is that Kristy is the character through whom much of director Polley's sensitivity and focus are channeled. The conversations Grant and Kristy have about Fiona are some of the best moments of dialogue in the film. Grant and Marian's connection also gives the movie variety and forward motion. Michael Murphy's Aubrey may be the only significant role in a film that requires the actor not to speak any lines; just like Lee Woodward's brother Morgan's mute turn as the menacing Boss Godfrey in 1967's "Cool Hand Luke."
"Away From Her" is not what I could call a crowd pleaser. The subject matter can't be called entertainment, but it certainly is something for important consideration in modern life. It became clear to me in regard to my own mother just two years ago when, as an only child, I had to be the "bad guy" motivating her to realize her move to assisted living was in her best interest in spite of the fact she had to live the rest of her life away from home. I'm glad there are those in the film business, like Sarah Polley and her crew, who know why movies like "Away From Her" are a requirement to excel in the art of cinema.


"Gracie" official site.
"Away From Her" official site.
Watch Yahoo Movies for Tulsa theaters & times.
Gary Chew can be reached at garychew@comcast.net.
Copyright © 2007, Gary Chew. All rights reserved.