Another dimension closely related to space might be the final frontier, ultimately, because it is to space what music is to art.
Time, like music, is usually measured, carefully. It can be perceived by using an instrument and represented on a page or computer. Time's "passage" is observed by change, and music is knowable without ever having to open one's eyes because there's nothing to see. Both seem real to us but each is abstract, unlike space.

Adrien Brody

The concept of time is taken head-on in an oblique, yet intense new opus titled, "The Jacket," starring Adrien Brody.
The Oscar winner has the role of a Persian Gulf War Marine suffering from a near-fatal gunshot wound to the head. The trauma leaves Sergeant Jack Starks with shock-related amnesia. It plays heavily upon him following his 1991 release from combat in the Middle East.
The early period of Starks' return to the U.S. is glossed over in the script to make time for his predicament. However, we see the hapless ex-Marine wandering down a wintry rural road in Vermont as he comes upon a pick-up that's been run into the ditch.
A woman in a drunken stupor is vomiting alongside the truck as her young daughter looks on. Starks tries to help them and even gets their stalled vehicle running, but the alcoholic mother is abusive and he continues walking down the road after making an indelible mark on the small girl. She knows the stranger has really helped her and the mother. He gives her the dog tags he's worn since becoming a U.S. Marine.
That sets up the story to follow as Starks is found along the road a short time later with another gunshot wound, lying unconscious in the snow next to a murdered highway patrolman. A pistol is also in the snow next to Starks.
The story moves quickly to show that the emotionally disturbed man is tried and found not guilty due to insanity and committed to an asylum for the criminally insane. His treatment in the mental hospital is cruel and, hopefully, unusual.

Dr. Becker (Kris Kristofferson), the chief psychiatrist at the mental hospital, "treats" Starks with heavy doses of drugs, cinches him in a jacket and locks him away for long hours on a corpse drawer in the asylum's basement morgue. In the dark, claustrophobic confinement, the Gulf War vet begins flashing back on the horrors he's seen in the war, and later, the incident with the young girl and her mother, as well as flashes of the roadside shooting of the patrolman. The scenes approach the excruciating.
Once again we have Adrien Brody as victim, but this time the culprits aren't Nazis, necessarily.
As the "treatments" continue, Sergeant Starks' hallucinations, if they are hallucinations, move forward in time to 2007 where he meets the little girl he found on the road. But she is a troubled and beautiful young woman named Jackie (Keira Knightley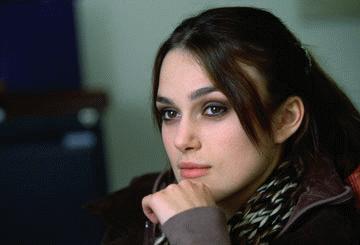 ). He knows because she has his dog tags hanging from a hook in her living room wall.
I'm tempted to tell you more, but I won't. You'll just have to see it for yourself, if you understand that "The Jacket" is a very intense motion picture done in a creative, yet raw cinematic style by director, John Maybury.
The film brings to mind three others: "They Might Be Giants" (1971), "Slaughterhouse-Five" (1972) and "Fearless" (1993). Go online for synopses of these movies for further details, if you like. I recommend them all.
I would just say they resonate with "The Jacket" in that all four address to a lesser or greater degree: death, reality, grace and movement in an out of what we call the Present. There's also a subtle spiritual component to each film. And despite the gravity of their themes, the pay-offs are positive. I will give you that.
Time for me, after seeing "The Jacket," appears to be even more of a puzzle than all the vastness of space and how even it is warped by speed and time across the universe.
To borrow a line from Sir Paul McCartney, "We're so sorry, Uncle Albert."
Yes, Dr. Einstein we are so sorry you weren't able to give us more on that.
You'll just have to give us Time.




Watch a trailer at Warner Bros.
Gary Chew can be reached at garychew@comcast.net.
Copyright © 2005, Gary Chew. All rights reserved.


Back to Chew's Reviews Who is Gary Chew? Back to main