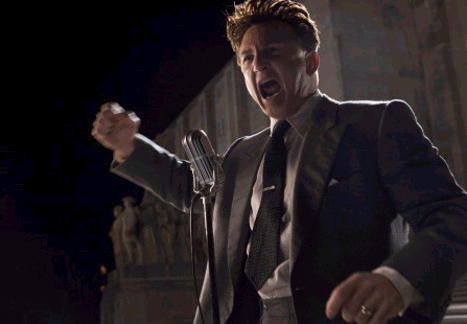 "All The King's Men"
A film review by Gary Chew



GARY CHEW/Sacramento
9/21/2006
It makes good sense to craft a film with an important message to appeal to as wide an audience as possible. I'm guessing that's why the remake of "All The Kings Men" is PG-13. Selling more tickets might be part of that decision, too. But whatever the reasons, a compelling story such as this---about passionate and desperate people struggling to gain and hold power---should be told with as few euphemisms as possible. As someone surely must have said at least once: real politics, up close, have no euphemisms.
Neither Louisiana Governor and U.S. Senator Huey Long, nor Willie Stark knew much about euphemisms, whether it was in a life lived for real or on the pages of a 1946 Pulitizer Prize-winning novel by Robert Penn Warren. "All The King's Men" is, on film and on the page, much about the factual Long fictionalized through Stark. The novel is Robert Penn Warren's finest and Robert Rossen's 1949 movie of the same name took three Oscars despite Columbia Pictures president, Harry Cohn, not being too keen on the product. Even Duke Wayne was pejorative of the earlier film, turning down the role of Willie which allowed "Highway Patrol's" Broderick Crawford to nab the Best Actor Oscar.
I found the 2006 version, written and directed by Steven Zaillian, to be like most big movies taken from great literature: t'would've been better if it had been an original screenplay. When a big novel is sardined into a can holding two running hours of film, it's probably impossible to do it really right. The screenwriter either has to remove large hunks from the written pages and try smoothing over those incisions using his or her writing talent; or leave more of the novel in the script, still truncated of course, making the characterization slighter than he or she wants, or chiseling the expository material in order to get the film in at a reasonable running time. It's a big order only for talented writers who know the novel they're rewriting in their sleep.
That's how, I imagine, we get some characters in this "All The King's Men" who are hardly given any introduction, but play a rather large part in how the plot turns. An example of that would be Patricia Clarkson's role as Sadie Burke, Willie's secretary and main squeeze. A second and third example would be Kate Winslet as the winsome Anne Stanton and her brother, Adam. He's played by Mark Ruffalo. Both of these characters weigh in quite heavily on the story, but folks sitting in the cinema hardly know them, even as the film ends. Although I love James Gandolfini as T in "The Sopranos," I think he's miscast here. He plays Stark's Lieutenant Governor, Tiny Duffy, like Tony Soprano would play him, not James Gandolfini. His southern accent gets a tad New Jersian in places.
Jude Law, Kate Winslet and Mark Ruffalo
Sean Penn, as Governor Willie Stark and Jude Law as newspaperman, Jack Burden (Willie's aide-de-camp and in-house intellectual) become very familiar to us. In Warren's novel, Burden is more prominent than Stark, but alterations to the story have ocurred through the years. The first two-thirds of the film are mostly Penn's, with part of the final third giving way to Law's character. Both are excellent, with, I believe, Jude Law getting a slight nod for a better performance. Penn's Willie Stark is powerful. Maybe too powerful. I like Penn very much. I thought he was absolutely astounding in "Mystic River" (reviewed here by Chew). Here, as an upstart, hick-populist from down south during the Korean days of "conflict" (actual setting early to mid 30's), Penn has his heart and soul submerged in the character. However, at times his southern accent seems too thick, almost unintelligible, and his speechifying gyrations on the stump are almost a burlesque. Law's role, however, makes it easy for this very in-demand Brit actor to quietly, smoothly glide through his lines as the smart, wordwise, slightly uppercrust southern journalist who, in the novel, is Robert Penn Warren's way of finding out more about himself. (The word "himself" can either modify Warren or Burden.)
Anthony Hopkins and Jude Law
Jack Burden is also the enigma in the narrative: a pretty nice guy, seemingly, doing some pretty dirty work for Governor Stark. Anthony Hopkins, playing himself, is a southern conservative, business-connected judge on whom some of the dirty tricks are being played.
But the transformation of Willie Stark (or Huey Long, I guess) is the message of "All The King's Men." It's not unlike the transformation that's suggested will likely occur for a "hero" in another movie, but a bit beyond where it concludes: Robert Redford's 1972 film called "The Candidate." (My review of it was one of my first.) Willie's social conscience was in overdrive through most of his adolescence and into manhood. It came from what Albert Camus refers to as the "importance of living in poverty." Stark's obsession to right the wrongs he saw around him in Louisiana didn't justify the means he employed to eradicate them. Stir in some real power with that and...whoops, up jumped the Devil. And that metaphor for Evil or Wrongdoing arises just as swiftly for one political party as it does another. This would be your non-partisan movie for politicos.
Since politics are strong throughout "All The Kings Men," comparing them with those of today is tempting. Now, it seems, everyone in front of a microphone or camera is calling someone else a fascist. Some write that Huey Long was proto-fascist as he came to power in parallel with Adolf Hitler. I would suggest while watching the new "All The King's Men" that moviegoers superimpose the early social conscience seen in Willie Stark (especially during his moving "hick speech" that brings the cracker crowd alive) onto the education, culture and intelligence of Willie's aide-de-camp, Jack Burden. With that sense of humanity now within Mr. Burden, move his place of birth to the next continent south of Louisiana, write a novel about it and you've got a story about someone very much like Che Guevara. Che Guervara was no fascist. And neither was Huey Long. They also had in common a sudden and violent end.
(From the excellent Old Time Radio Moments of the Century by broadcast historian Elizabeth McLeod)

#64: Flood Tide for Demagogues, 1935

Senator Huey P. Long, Father Charles E. Coughlin, The Reverend Gerald L. K. Smith, Dr. Francis Townsend. Names that may not mean much today, but to radio listeners in the spring of 1935, they represent the thundering voice of political extremism. Promoting a weird blend of free-silver populism, anti-Semitism, and what can only be described as an Americanized "national socialism," Long, Coughlin, Smith and Townsend are all over the airwaves -- both the mainstream networks, and in Coughlin's case over a coast-to-coast private hookup -- and millions of Depression-weary listeners are paying close attention to what they have to say. The assassination of Long removes the movement's most popular speaker from the scene -- but his colleagues carry on, sponsoring a third-party presidential candidate in 1936. Pressure from this radio-driven movement has a lasting effect, as the Roosevelt administration defuses one of its most potent weapons -- the Townsend Revolving Old Age Pension Plan -- by promoting an alternative: the Social Security Act. One is left to ponder -- with a shudder -- what might have happened had Long been alive to head the "Union Party" ticket in 1936.


"All The King's Men" official site.
Opens 9/22; showtimes at Yahoo Movies-Tulsa.
Gary Chew can be reached at garychew@comcast.net.
Copyright © 2006, Gary Chew. All rights reserved.