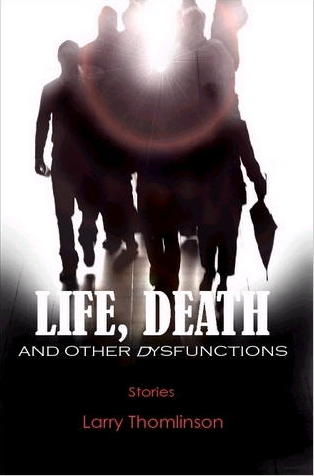 A book review by Gary Chew


GARY CHEW/Sacramento
4/13/2007

In some curious way, ever since I read The Plague by Albert Camus, stories that confront death in a natural, unflinching manner have interested me. Please let me quickly follow in this second sentence to say that I'm not morbid by nature. I've even been given occasional compliments throughout my life for having a good sense of humor. I think I have a good sense of humor, too. I laugh quite a bit.
Still, writers who have the courage to look human expiration straight in the eye without "benefit" of action, adventure and revenge are incorporating in their work one of the most fundamental components of life. For me, that implies something of a writer's sense of integrity when creating a story. Whether what the writer has put down on the page is merely morbid or not is something to argue another day.
Native Tulsan Larry Thomlinson, who knows a thing or two about death, has written a series of short stories in a recent publication titled, Life, Death and Other Dysfunctions.
Larry worked in the funeral business in Tulsa as a young man and was also well-known in media circles as a news reporter for KOTV, Channel Six. I had the pleasure of working with Larry when I was the second banana weather person and the recorded evening voice at what is still, today, Tulsa's CBS-TV affiliate.
When I say I had the pleasure of working with Larry, I mean exactly that. Back then, he was one of the most humorous persons on the KOTV payroll, but then Gailard Sartain came along, while Larry moved to Los Angeles . Part of Larry's life since landing in La La Land has been to continue meeting the needs and wishes of those just departed and their loved ones who mourn.
It seems only natural that Larry Thomlinson should write stories that look death straight in the eye much like the ones we've experienced watching HBO's memorable series, "Six Feet Under." I don't believe I ever laugh and cry so much (at the same time) than when I see an episode of this series, created by Academy Award winning screenwriter, Alan Ball. The film, "American Beauty" (1999) was what brought Ball to everyone's attention.
There are stories in Life, Death and Other Dysfunctions that would neatly fit into an episode of "Six Feet Under," or if Kevin Spacey's "American Beauty" character (Lester Burnham) had a cousin back in Tulsa who had a somewhat dark, ironic little twist going on that would make you chuckle and think about how important life really is. That seems to me to be the purpose of such literature, theater and cinema. And that's what I get from reading Larry's short stories.
There are nine of them. The one with the best title is "The Bevis Incident." Knowing Larry, I was sure that Butthead would turn up in this one. Another, titled "The Writer," leaves the reader with a very big question on his/her mind with its closing sentences. Then there's Larry with another name conversing with a cranky old man over coffee and tea at the venerable Crosstown Grill that sat for so long on the northwest corner of 15th and Peoria, just across 15th from Ray's Café. In fact, I spent many leisurely hours in the booths of the Crosstown with my broadcast buds and friends discussing the important issues of the day. There's a Thomlinson tribute to one of Larry's mentors: a Miss Ronan, who taught Larry (right there in Tulsa, America ) to breathe correctly as he recited and learned to love Shakespeare. Miss Ronan reminds me of my Mrs. Bryant, who did her gracious but firm work up in Kay County Oklahoma not too far south of Wichita. She caused me to love to sing and appreciate music.
But my favorite story in Life, Death and Other Dysfunctions is the one Larry and his publisher leave for last. "Allie" is just about all genuine Thomlinson history according to Larry. Allie is the black maid who comes to Thomlinson's Tulsa household. Among other things, she makes sure Larry arises in time to get to school. That may have been her most difficult task. She was also witness to the race riot that occurred in Tulsa in 1921.
You'll find happiness, loneliness and an appreciation for life in these stories. I'd say Larry Thomlinson ought to be working on another story or two as I write this.

Order Life, Death and Other Dysfunctions directly from the publisher, Lulu.com.
Order Life, Death and Other Dysfunctions from Amazon.com.

Larry's comments about the book on this site.
Gary Chew can be reached at garychew@comcast.net.
Copyright © 2007, Gary Chew. All rights reserved.