"The Lives of Others" ("Das Leben Der Anderen")


GARY CHEW/Sacramento
3/6/2007
It's 1984. No, not "1984," but the year, in East Berlin. You'd swear the German Democratic Republic eavesdroppers depicted in this motion picture haven't been allowed to read Orwell's novel. The film, called "The Lives of Others," is the first of writer and director, Florian Henckel von Donnersmarck. With this film, Donnersmarck can only be painted brilliant. And seeing it should require cineplex seatbelts as it tells the somber tale of manifest corruption of the GDR and the absolute loss of civil liberties of that nation's citizens.
Artists, actors, writers, musicians and intellectuals always have difficulty living their lives within a totalitarian society like the East German Communists put in place after WWII. But it's hardly different from an authoritarian government run by a man called Hitler about three decades earlier in the same city. Watching "The Lives of Others" shows how the Communists do it a little differently, though. They claim to love art, and support it; so long as the people who create it do it for the State. The Nazis were a little more blatant with their "support." They damned near ran every great artist in the Fatherland onto California .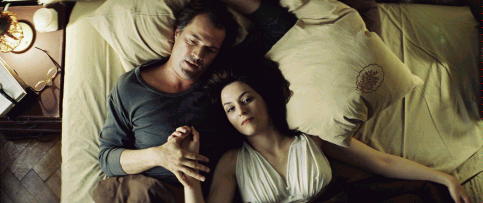 Sebastien Koch, Martina Gedick

A government-approved socialist playwright comes under scrutiny of the Stasi (East German secret police). It's because the playwright, played by Sebastien Koch, seems so agreeable with the system that he arouses the suspicion of the Minister of Culture (Thomas Thieme). The Minister also is attracted to Koch's roommate. Martina Gedick has that role. She also happens to be the leading stage actress in this 1984 East Berlin . The Stasi wire the couple's apartment for 24/7 surveillance.
Ulrich Mühe is the man wearing the headset, and he's not a disc jockey for Deutsche Welle either. Far from it. He could well be the coldest (not cool) character to come along in the movies in a long time (Hannibal Lecter smiled, at least). It's almost Mr. Mühe's movie. But not quite. There's another brilliant part played in "The Lives of Others." So done by Ulrich Tukur, who makes one think of James Bond's nemesis, Goldfinger (Gert "No Mister Bond, I expect you to DIE!" Fröbe). Tukur plays the Stasi Oberstleutnant.
Lenin is quoted in the film as saying, "If I had listened to Beethoven's Appassionata Sonata more, I might not have finished the Revolution." The submerged humanity in this story is that the chilly eavesdropper listens so much to the playwright and the actress in their private residence, that he becomes "involved" in such a way as to suggest that their intimate discussions (and otherwise) may be having a Beethoven-effect on him. Let's hear it for Ludwig!
Short on action, "The Lives of Others" is long (2 hours, 17 minutes), heavy on dialogue, subtle, complex, utterly fascinating and thrilling, yet an abiding love story with a unforgettable ending. I hope it doesn't play in a limited fashion around the country. It's Oscar's Best Foreign Language Film of the Year and couldn't come at a more propitious time. Habeas this!


"The Lives of Others" official site.
Coming soon: watch Yahoo Movies-Tulsa.
Gary Chew can be reached at garychew@comcast.net
Copyright © 2007, Gary Chew. All rights reserved.