"Little Miss Sunshine"; review by Gary Chew


GARY CHEW/Sacramento
8/2/2006
"Little Miss Sunshine" begins with music (Score by Mychael Danna; songs with Nick Urata and the Denver band, DeVotchKa) that immediately sounded a chord in me reminiscent of what I used to hear in Alan Ball's HBO series, "Six Feet Under." I thought: could this be a feature film that looks life straight in the eye like "6 Ft" did; a well-written comedy of very serious stuff depicting a dysfunctional family about to self-destruct with teenage alienation, attempted suicide, homosexuality, drug use, marital discord, death and most grueling and surreal of all: competing in this American life? Yip, that would be "Six Feet Under" and it would also be---would you believe---"Little Miss Sunshine." Titles can be ironic, you know.
Debuting screenwriter, Michael Arndt, does take a few of the sharp edges off his script since it's not on HBO, but the big screens, mostly, of indie-type theaters. Don't be surprised, though, if "Sunshine" swings into more conventional houses of cinema.
It's the Hoover family here (not the Fishers) that resides in the Land of Enchantment; more specifically, Albuquerque, NM. There's dad (Greg Kinnear), mom (Toni Collette), dad's dad (Alan Arkin), mom's brother (Steve Carell), son (Paul Dano) and daughter (Abigail Breslin).
Here's the list of what's wrong at the Hoover house. Dad: overbearing, Dr. Phil type; dad's dad: raunchy heroine snorter; mom's brother: literary intellectual who's just tried to kill himself over losing his male lover; and the son: withdrawn teenaged Nietzsche freak maintaining a vow of silence until he becomes a jet fighter pilot.
Abigail Breslin
The Hoover females (shall I say?) trod a firmer ground of being. Collette is nothing short of superb as mom, and Breslin is a breath of fresh air; that is, a truly lovely seven year-old who spares us any sugary stiffness while disarming all with her believability. Her name is Olive. And Olive has been working on a dance routine with the help of her grandfather. By a fluke, Olive is invited to participate in the "Little Miss Sunshine" beauty competition in Redondo Beach, CA. Now, you've got yourself another road movie, but one that's laced, a bit, with the flavor of the Fisher family which puts people six feet under where it's not television.
I must add here that the male actors in this picture are all just great, as well. Thanks to the written dialogue, Arkin walks away with every scene he's in. Kinnear is perfect as the picky, positive pop and Steve Carell, whom I've always enjoyed either as an absurdist "news"man on "The Daily Show with Jon Stewart" or "The Forty Year Old Virgin," is in the pocket. Carell, as the suicidal brother of Collette, plays it just about straight as a gay Proust expert (no pun intended) and, if he's got any sense at all, should go on to work with some dramatic roles. He can do it. Paul Dano is also just really fine as the existentialistic, mute (most of the time), big brother of sweet Olive.
Volks/Conestoga wagon
Another character to list here would be the Volkswagen bus which acts as transportation for the Hoover trek from Albuquerque to Redondo Beach--- bad clutch, erratically honking horn and all. This vehicle conjures up images of the hippies who, back in the 20th century, traveled by such conveyance, much as the pioneers did, earlier, in Conestoga wagons.
Despite what's indicated here (a comedy of familial dysfunction) the dialogue is right down coarse at times; thanks, primarily, to Mr. Arkin's character. Grandfather also has a twenty-pound monkey on his back, although the drug sniffing is written and played somewhat lightly. "Sunshine" is rated R.
What's substantive about this movie---excellently directed, in debut, by husband and wife team, Jonathan Dayton and Valerie Faris---is the transcendence of some characters from their sense of meaninglessness to---yip, you guessed it again----meaningfulness. And little Olive, in all her childlike wisdom, makes it happen with grace and fortitude.
It's seldom a jaded, longtime moviegoer like myself can be caught actually applauding in a cinema anymore, but last night, I was.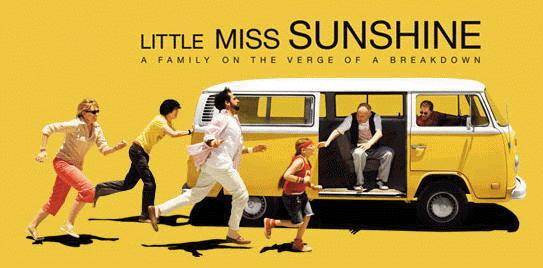 "Little Miss Sunshine" official site.
Opens 8/18 at the AMC Southroads 20.
See Yahoo Movies for Tulsa theaters & times.
Gary Chew can be reached at garychew@comcast.net.
Copyright © 2006, Gary Chew. All rights reserved.