Film review by Gary Chew
GARY CHEW/Sacramento
9/26/2008
There've been a series of good military-political films over the recent past, "In the Valley of Elah," being one of the best examples. But there've been more such movies about current world politics and war not so good. Robert Redford's "Lions for Lambs" getting an obvious nod for that accolade.
Now comes more of a feel-good, down-to-earth film about military people---caught up in the whirl of war---going home. It's sure to satisfy; especially younger people.
"The Lucky Ones," tells the story of three Army vets of the Iraq War and Occupation who return to the US; two of them on thirty-day leave, the other coming home for good. Neil Burger ("The Illusionist," 2006) directed and wrote the screenplay along with Dirk Wittenborn.
Cheever (Tim Robbins, "Mystic River") is a sergeant who's fulfilled his obligation and looking forward to getting back to St. Louis to his wife and college-aged son. Collee (Rachel McAdams, "The Notebook") and TK (Michael Peña, "Babel") are young and less-seasoned than Cheever. Collee is returning a funky guitar to the family of the guy who owned it, and died saving her life in Iraq . TK is going to spend time with his fiancé and try to give her the news about the injury he's recently sustained in the war that may affect the physical aspect of their relationship.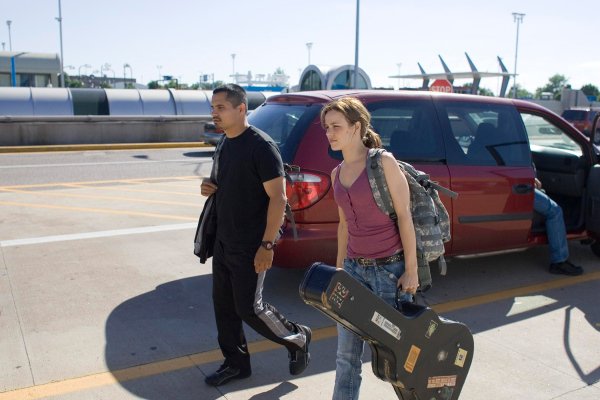 Michael Peña and Rachel McAdams

Cheever, Collee and TK happen onto one another on the flight back to the states and get stalled at JFK due to mass flight cancellations stemming from power outages in the New York area. They can get where they want to go quicker renting an SUV and driving to St. Louis , where they'll split-up and go their separate ways. How's that for segueing into another road movie in this jet age?
It's not exactly Crosby, Hope and Lamour in "Road to Morocco ," but remember, it's 2008 not 1942. Things are much nuttier now than when WW II was just getting a full head of steam. I can remember.
On the stops along the way, the trio of veterans finds that life has moved on for most Americans back home, and, although most are grateful for the service they've given in Iraq , Cheever, Collee and TK really don't fit in much, if they ever did before going off to war. It is here "The Lucky Ones" unfolds an abiding subtext about the ordinary GI Joes and Janes under the gun, literally, in the Mesopotamia .
So stateside bonding begins. It's not unlike the bonds that develop between buddies trying to keep each other alive in the wake of suicide bombers or IEDs hidden along sandy roadways outside Baghdad . They cajole. They bicker. They laugh. They reminisce. They help each other as they grow.
Characterization is a large part of "The Lucky Ones." Robbins gives his great, stoic, sensitive, sort of blue-collar best. Michael Peña is a slightly speeded-up young dude out to hone his skills and become a better soldier and future husband. With her bum leg war wound, pretty Collee is the foundation of what's good and positive among this unlikely threesome at sea in the middle of their own nation. McAdams all but glows with the role. She's disarming and just about irresistible in her character's simple innocence, concern and loyalty. All three are fine, but McAdams shines, having the most good lines.
Paul Newman
Like many road movies, "The Lucky Ones" is a realistic fable. By that I mean, not all of the loose ends are tied all of the way down and the sequence of happenings on the road West don't always ring completely real and played out. It's the three main characters and their forward movement (in more ways than one) that fuel this very satisfying, patriotic motion picture.
(A footnote) Little did I know when I began this review it would be written on the day of Paul Newman's death. Gulp! What a guy! What an example! What a day to mourn Fast Eddie Felson breaking his last rack!

"The Lucky Ones" preview

"The Lucky Ones" official site.

Opened September 26 in some cities. Coming soon to Tulsa.

Check Yahoo Movies for Tulsa theaters & times.

Gary Chew can be reached at garychew@comcast.net.

Copyright © 2008, Gary Chew. All rights reserved.