"Matchstick Men"
A Review by Gary Chew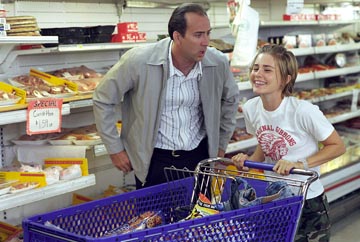 GARY CHEW/Sacramento
9/12/2003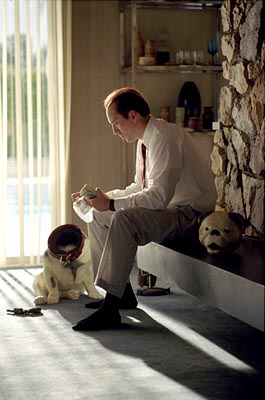 Thirty years ago there were two great confidence game films that hit the big screen. One of them won seven Oscars, "The Sting," and the other still reverberates in my heart today: "Paper Moon." So maybe we should celebrate by heading out to see "Matchstick Men," a brand new movie about a flim flam man and a teenaged girl. No, Ryan and Tatum O'Neal are sitting this one out. So, enter Nicolas Cage (Roy), as the dad and young Alison Lohman (Angela) as the…well, you know. Sam Rockwell (Frank) is also along for this clever Ridley Scott ride as Cage's partner in the gentle, subtle art of grift.
Unfortunately, Nicolas is not as cagey in "Matchstick Men" as he is neurotic. His Roy character is just about as wigged-out as we find Tony Shaloub is in his role as "Monk." In fact, Cage may not be quite as smooth in his obsessive-compulsive agoraphobia as Shaloub is on the acclaimed cable series. But "Matchstick Men," is after all, a family movie about people who swindle money from unsuspecting victims? ("It's only a paper moon.") No, it really isn't because the Peter Bogdonovich film had that "winky-tink lady," Madeline Kahn in the cast. (I digress by saying that the late, great Ms. Kahn was as good in "Moon" as she was in Mr. Brooks' "Young Frankenstein." Focus, focus!)
Roy has been divorced for years, knowing that his ex-wife was pregnant when they split, but he doesn't know whether she had the child or not; rather unlikely, but this is how Nicholas and Ted Griffin wrote it. After Roy accidentally runs out of tranquilizer meds and learns his shrink has blown town, Frank helps him find a new doctor who does, what is called, a prescription stabilization on Roy. But the new M.D. also makes Roy talk about his troubled past. To make a long review short, the doctor, on Roy's instructions, calls the ex-wife to learn that Roy has a fourteen year old daughter. Helloooo, Angela.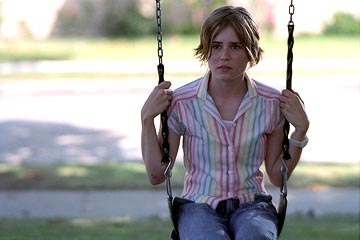 You'll never guess in a million years that Angela not only wants to spend time with her newly found dad, but is really keen on having him teach her to be a con artist. ( "…hangin' over a cardboard sea…") Angela is so damned cute and charming, you'll hardly be able to stand it. And that's why Ms. Lohman just about runs away with the movie. But Cage is a fine, seasoned actor with the banter flowing between him and Rockwell slick and fun. And Bruce Altman plays the kind of psychoanalyst anyone would want to pay at least two-hundred dollars an hour for purposes of venting.
After "Blackhawk Down" and "Gladiator," director Scott has donned a completely different hat for "Matchstick Men." He tugs at the dad 'n daughter strings of a person's heart, but still offers up some snazzy cinematic jump cuts and other well-placed visuals to go with several minutes of suspense and rather dark turns of plot.
Although I don't want to state the obvious, there are some holes here and there in the crafty script, and everyone knows that grifters in real life aren't nearly as lovable as Roy and Frank and Angela are, or Ryan and Tatum O'Neal for that matter. Just let all of it slip by and allow these 21st Century matchstick men entertain you. But, for heavens sakes, don't let them con you. Cause then, as Mazeppa would say in his best evangelical voice, "The joke is on you."
Rated: PG-13 Running time: 120 mintues

Here is the official "Matchstick Men" site.
Gary Chew can be reached via email at garychew@comcast.net.

Copyright © 2003, Gary Chew. All rights reserved.

Back to Chew's Reviews Back to Gary Chew interview Back to main