"Million Dollar Baby"
A review by Gary Chew



GARY CHEW/Sacramento
1/26/2005
Clint Eastwood has something in common with one of my favorite composers: Maurice Ravel.
Ravel's goal in composition was technical perfection even though he knew for certain he'd never attain it. But that didn't keep the early 20th Century French icon of music from trying to get as close as he could.
With "Million Dollar Baby," director/actor Clint Eastwood has gotten yet closer to perfection, and it comes on the heels of his astounding "Mystic River" of 2003 (reviewed by Chew on this site).
I suggest when you're reading any other comments about "Million Dollar Baby," that you avoid the paragraphs describing any close detail of the story. You really need to see this "baby" with as little prior information as possible. That's the way I saw it and am I ever glad I did.
This is a film without complexity. It's simple and straightforward. The good characters and the bad characters in the story are easily discernible. Although true to life and contemporary, I believe Eastwood's 25th movie is a story unto itself, some way not connected to this frenetic world we find ourselves in here in the 21st Century.
The film has some predictability to it. Clint as Frankie the trainer/manager keeps saying, "I don't train girlies!" to Maggie, a 31 year-old, poverty-stricken woman who's goal is to be a successful boxer. We know Frankie will train Maggie, ultimately, but there's so much more to follow that's not--- to use a pugilistic term---telegraphed. And the film's punch catches you, flat-footed---right on the "chin."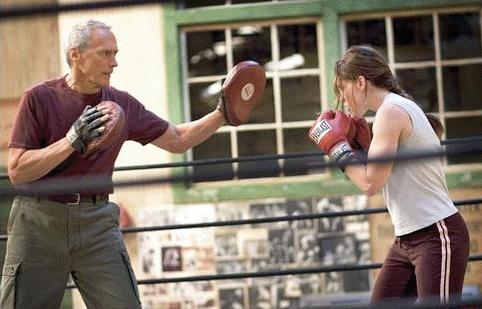 Clint Eastwood and Hilary Swank

Hilary Swank as Maggie is just so damned good, it's really hard to say it any other way. Both she and Clint are so submerged in their characters, it's really a sight to see.
Morgan Freeman


Then add masterful Morgan Freeman, as Scrap, an over-the-hill boxer who didn't make the cut in his prime. Scrap sweeps up, empties the trash and gives encouragement to the good, the bad and the ugly who train in Frankie's L.A. gym. Scrap also gets scrappy with Frankie now and then.
Frankie is, of course, the paragon of the what we'd call a cranky, old codger.
It's just about as solid a cast as one could ever expect after seeing Eastwood's "Unforgiven" and "Mystic River."
Some are saying "Million Dollar Baby" is his best. I'm not quite so quick to make that assessment. How 'bout all three are really superb motion pictures that are must-sees for anyone who takes film-going seriously?
What I can say about "Million Dollar Baby" is that it's the best movie I've seen this year, with "Sideways" merely a nose behind. "The Aviator" (reviewed by Chew on this site) is back a bit in the pack. But it looks like the Hollywood pols are ready to give Mr. Scorcese the walk up to get the Golden Guy this year. He should've gotten it a long time ago for "Raging Bull," another movie about boxing. Oh well, it's not "A Perfect World," a rather less than perfect film also by Mr. Eastwood from 1993.
When you get right down to it, "Million Dollar Baby" is about having the heart and the guts to go and keeping going for what one wants out of life. And, even more important: being there for someone who is loved and respected. I don't think there's anything else better a film can offer.
Thank you, Mr. Eastwood.
"Million Dollar Baby" official site.
Gary Chew can be reached at garychew@comcast.net.
Copyright © 2005, Gary Chew. All rights reserved.


Back to Chew's Reviews Back to Gary Chew interview Back to main