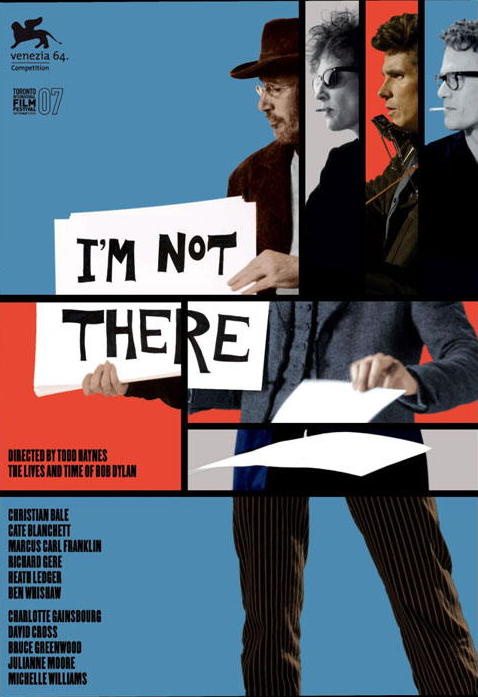 "I'm Not There"; a film review by Gary Chew


GARY CHEW/Sacramento
11/18/2007
Like a rolling stone, Todd Haynes' cinematic insinuations of Bob Dylan gather no moss, moving through nearly two and a half hours running time with seven characters who artistically profile no one bearing the name of the iconic pop legend who still does his thing. Six actors are cast for the task.
For clarity's sake, listing the characters seen in "I'm Not There" can aid the less familiar with Mercurial Bob.

1961 - Dylan arrives in New York with his Guthriesque backstory. Played by young, black actor Marcus Carl Franklin, who is definitely bound for glory.

1965 - In a standout performance, an androgynous Cate Blanchett is Jude, the film's only look-alike Dylan, during the "Blonde on Blonde" period. He's/She's hanging with Ginsberg and John, Paul, George and Ringo.

1965 - Ben Whishaw as Arthur is Dylan on the grill in L.A. for why protest composing has ceased; all in black in white.
| | | |
| --- | --- | --- |
| | | |
| Marcus Carl Franklin | Cate Blanchett | Ben Whishaw |

1973-A Fellini-inspired segment hooks up with "The Basement Tapes," "John Wesley Hardin" and Sam Peckinpah's "Pat Garrett and the Billy the Kid." Richard Gere does Billy in a town full of circus people with a giraffe in the back pasture. (My fave.) Gere is great.

1975- "Brokeback's" Heath Ledger is Robbie, an absorbed hunk of a film actor who has starred as Jack in a Dylanian movie. (Got that?) Robbie suffers the weight of his of fame and marriage slippage that allude to Dylan's "Blood on the Tracks." Charlotte Gainsbourg is a pleasure to behold as the aggrieved spouse.

1979-Christian Bale also plays Jack, but a before-Hollywood protest singer. Bale is seen as Pastor John, as well. He's in the pulpit revealing to Stockton, California folks they gotta serve somebody.
| | |
| --- | --- |
| | |
| Richard Gere | Heath Ledger |

Since this is an art film about Bob Dylan, none of us can expect a logically ordered narrative. You're on your own.
The more you love Dylan the clearer it becomes. But stay tuned for the solid scenes and fine acting as well, especially Ms. Blanchett. Gere comes in second as a mellowed and older, wiser Billy whose death was really staged. He lives!
"I'm Not There" is full of music voiced by Dylan (on the soundtrack), sung by actors or lip-synced to other singers who've recorded new tracks of familiar Dylan material.
Todd Haynes is an innovative director. Check out his superb, "Far From Heaven" from 2002 with Julianne Moore, Dennis Quaid, Dennis Haysbert and Patricia Clarkson. And if you haven't seen his '87 mock doc ('starring' Ken and Barbie) "Superstar: The Karen Carpenter Story," you've got a treat (not to mention a trick) in store. The only thing that could be further out would be if Haynes were to create clips that show Bob Dylan and Karen Carpenter singing a duet.
So bad.

"I'm Not There" preview.
Steve Baker interviewed Gary about this movie on KVMR in Nevada City, California, 11/19.
"I'm Not There" official site.
Played at Tulsa's Circle Cinema in early December.
Watch Yahoo Movies for other Tulsa theaters & times.
Gary Chew can be reached at garychew@comcast.net.
Copyright © 2007, Gary Chew. All rights reserved.