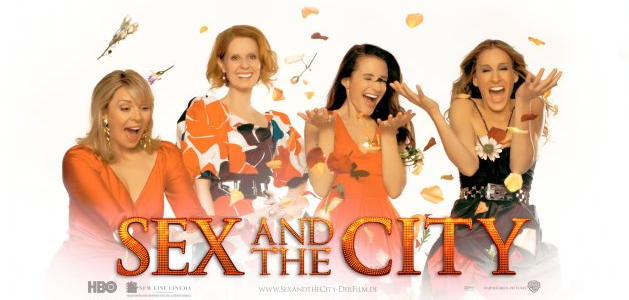 a film review by Gary Chew


GARY CHEW/Sacramento
5/26/2008
Let us enter Sarah Jessica Parker's oyster once again---no, not on your plasma TV but in gobs of wide screen cinemas across the nation. Yes, the "Sex and the City" franchise goes big and seems headed for home as it chronicles the transitions of four vivacious New York party dolls to separate but equal mid life crises. Michael Patrick King did the script and directed the characters from the book by Candace Bushnell.
Of course, crises have always been in abundance for Carrie (Parker), Samantha (Kim Cattrall), Charlotte (Kristin Davis) and Miranda (Cynthia Nixon). These are just more mature confrontations to surmount. All the while, during SATC's 2 hour, 25 minute run, the camera---to paraphrase Dan Rather---never blinks once in its close-ups of these fair ladies. That's as subtle as I can say it.
Chris Noth
Main topic for discussion is, finally, that Carrie and Mr. Big (Chris Noth) agree to marry. Making plans is plainly inevitable. Gotham is in a celebratory tizzy to find an appropriate NY skyline apartment for the couple to make their love nest which must include a very large closet to contain the myriad clothes and shoes Carrie surely acquires and wears in quick-change fashion over the course of the film. Then there's the right place for that New York City wedding. And don't forget about the guest list. Can they keep it under 200? It goes on and on, but someone has to do it---at least in between taking mandatory lunches and frequent bacchanals.
In a sort of descending order of importance, we find the bi-coastal Samantha may be growing tired of her young, live-in L.A. stud. Samantha also has a window-peeking issue with the hunk who lives next door to her ocean front pad. In plain sight, he entertains female guests at all hours of the day and night. (If you'll remember, Sam holds a black belt in voyeurism.) Samantha also acquires a cute, little pet dog with which she has much in common: one of the funniest bits in the movie.
Charlotte looks to be the youngest of the four, but seems to have a better hold on her life than the other three. She and her husband move more toward maturity being pregnant and mostly spilling happiness all over Lower Manhattan.
Miranda and her mate, who already have a child, are swept up in his fleeting moment of infidelity which Miranda cannot forgive. It's the divorced parents-with-child segment of the big screen version of "Sex and the City." Miranda's consternation opens the door to Mr. Big wondering whether or not he should really I-Do-It with Carrie.
Like the HBO series, this newest "Sex and the City" gives a few quick takes of some principles in the altogether with partner although it's clear Ms. Parker doesn't have it in her contract to make such a display. (She is one of the producers, you know) Apparently, it is in her contract that she gets to make the most costumes changes.
Gilles Marini
Also particularly for the gals in the audience, Samantha's next door neighbor guy (Gilles Marini as Dante) doesn't zig when the camera zags during his outdoor shower scene being closely scrutinized by Sam. Ladies in the theater will have to look fast, however.
Series regular and stand up gay comic, Mario Cantone (Anthony) makes many giggles for the non-homophobic and there's even scatological 'humor' rolled into SATC's zany scenario. It's their trip to Mexico in the film that brings to mind the title of Woody Allen's late 60's play, "Don't Drink the Water."
A third of the way in, Jennifer Hudson (2007 Oscar-winner from "Dreamgirls") pops up playing Carrie's personal assistant, Louise. And look for Candace Bergen doing a cameo as Enid Frick. Dan Quayle might want to avoid the picture since the "Murphy Brown" star is in the cast.
What's special about "Sex in the City" is the amazing friendships these woman have with one another. Their loyalty and common decency for the team is really neat. And notice this, too: despite the acquisitive and material tendencies of these gals, which play up front most of all, there is a realization of the more important things to live a life for. That's a nice touch to write into such a very good piece of entertainment.
Euphemistically yours, I recommend this movie.

"Sex and the City" preview