"Sky Captain and the World of Tomorrow"
A Movie Review by Gary Chew



GARY CHEW/Sacramento
9/14/2004

No doubt about it. The surreal has become what's normal in the presidential election year of 2004. Batman just scaled Buckingham Palace. CNN covered it live. And now, Jude Law and Gwyneth Paltrow are on the trail of Dr. Totenkopf, played by, yes, Laurence Olivier in "Sky Captain and the World of Tomorrow." It opens September 17th. (Whoops, there's one of those controversial superscript t-h's.) But, back to facts.
The great Olivier has passed on, as we know, but Kerry Conran, who conceived, wrote and directed this whiz-bang retro-futuristic action-packed sci-fi saga, a la Fritz Lang, used actual images of Olivier, placing the screen idol in the role of Dr. Totenkopf (which loosely translated from the German means "deadhead".) The film is very serious, but it doesn't take itself that way.

Gwyneth Paltrow and Jude Law

It's 1939 and several famous scientists across the world have been vanishing, so Gotham Chronicle reporter, Polly Perkins (Paltrow) and ace aviator Joe "Sky Captain" Sullivan (Law) selflessly go on patrol around the globe to find out why. Taking them where they must go, Sky Captain pilots the same kind of craft John Wayne flew in "Flying Tigers," only Sky's Curtiss P-40 does so much more. You'll just have to see it to "believe" it.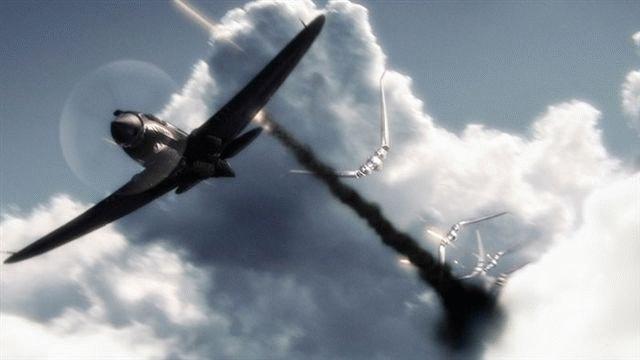 Sky Captain's boat

Giant, mechanical monster-robots, strange, metallic aircraft with flapping wings and other incredibly scary retro-tech stuff have been remotely programmed by Dr. Totenkopf to foil our noble aviator and reporter. And when all seems lost in "The World of Tomorrow," Angelina Jolie (in English accent) comes to Sky's and Polly's aid. Jolie, in a cameo role as Captain Francesca "Franky" Cook, navigates a humongous high-altitude aircraft carrier proudly sporting a Union Jack insignia, but the garb in which she and her all-female air force militarize is strictly Leni Riefenstahl.

Angelina Jolie

As a classical music buff, I sat waiting to hear either some Prokofiev or Stravinsky who were composing furiously at that time, but what was on the soundtrack was a lavish, splashy Hollywood score written by Edward Shearmur, who, I think has heard music composed by John Williams before…somewhere.
The real deal here in this movie, though, are the special effects.
I smell an Oscar, at least, in this regard for "Sky Captain." Creator Conran shot all the live actor scenes in front of what the movie industry calls a "blue screen." (It's sort of what we used to call Chroma Key at KOTV, in the days of yore when Clayton's neck would disappear on camera if he wore a blue shirt. Remember?) Conran put everything else in the frame digitally, after the fact, around the flesh and bone actors, including some great slices of old movies that many will recognize. "We aren't in Kansas anymore, Toto," from girl star Judy Garland is one example. Conran has also put his film in that dreary, noirish, black/white/sepia/washed-out color that's so in.
Making deft, short appearances are Michael Gambon, as Chronicle Editor, Morris Paley (CBS-connected?) and Giovanni Ribisi as Sky's indefatigable sidekick tech-guy (get this), Dex Dearborn.
Ah-ha, now we know! A character given the name, Dearborn, must have been created by a person from Michigan. Yes, Kerry Conran is from…dare I say it?…Flint!
Did I mention that "Sky Captain and the World of Tomorrow" is not a political film?


Watch a trailer and more at SkyCaptain.com.
Gary Chew can be reached at garychew@comcast.net.
Copyright © 2004, Gary Chew. All rights reserved.


Back to Chew's Reviews Who is Gary Chew? Back to main