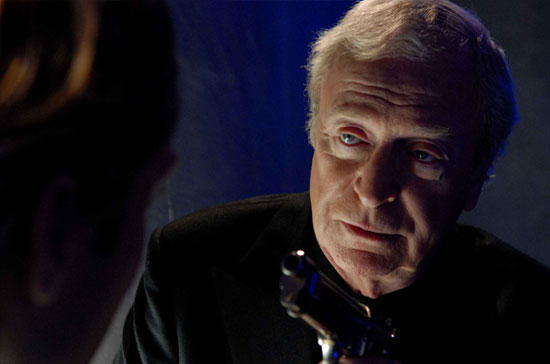 "Sleuth"; a film review by Gary Chew


GARY CHEW/Sacramento
11/9/2007
Just keep telling yourself, "It's not only a movie but more so, a movie that was first a stage play."
Since I saw this one late, I've read through a few reviews by others who live in the largest of markets and have lambasted this latest "Sleuth" with all the egotistical coldness and lack of care permeating the film.
Michael Caine now plays opposite the character he took in Joseph Mankiewicz's 1972 picture of the same name which boasted Sir Laurence Olivier in the role now played so well by Caine. He's Andrew Wycke, a filthy rich author of nasty thrillers. (How reflexive.)
In Caine's old spot as Milo Tindle (sounds like a name in a play), we've got young Jude Law. Wow, two Alfies in one film---alone together. Law is also one of the producers, while working more as a second banana in this remake than Caine did in the same role 35 years ago.
The celebrated playwright Harold Pinter has pared down the original script of '72 and pulled much of the 'fun' from the earlier work. Pinter's script is pregnant with subtext to such an extent that listening to the dialogue gets in the way of following the story: two men, one older, the other rather young, who do their damnedest to one-up the other to a lethal degree.
Jude Law
It's because the younger man is boinking the older man's wife, who is never seen except for an Emma Peel-like portrait on a wall in Andrew's stately and technologically to-die-for rural estate outside London.
If you've seen the older film or play, written by Anthony Shaffer, you have the gist of it. But some Pinter variations on the theme are brought forth that will likely amuse those on their second or third time around with this thriller of testosterononic gamesmanship layered by homoeroticism.
"Sleuth" is a perfect target for erudite critics to put in their crosshairs. It's directed by an English film and stage actor (Kenneth Branagh) who loves and knows his Shakespeare, having been there and done that for cinema as well. The film would have to be as perfect as a Beethoven symphony performed by the Berlin Philharmonic under Wilhelm Furtwängler before any kudos were trumpeted.
I'm coming from a 'place' where I've been inured by so many formulaic Hollywood films over the years, I'm really excited when I can say to myself , "Hey dude, this isn't just another ticket seller starring Adam Sandler." It's actually a smart script written by an intelligent man with two talented actors going at each other for about ninety minutes or so.
That said, "Sleuth" doesn't give us anyone to care for. Both characters are nasty-asses of the first order. The film is a play. It's static and talky, but talky with marvelous, acerbic lines written by a master. The stage is a completely different animal from the screen as to how each is written for, and the degree to which suspension of disbelief is required.
With technology, director Branagh works to take some of the play-ness from his film. On the inside, Andrew's quaint looking mansion is a chilly maze of post-modern (shall I say?) masculine minimalism.
The film moves forward visually with occasional usage of TV monitors hooked to cameras searching the interior of the home as well as its grounds. For instance, we see Caine in his study while the monitor in the room shows Law about the grounds or on the roof. Locked cameras continue to roll while the actors move out of frame speaking their lines.
The sets are rich, yet sparse, metallic and plain. I thought of Ingmar Bergman when such sequences flashed by. And as Bergman would, Branagh makes his film dark, maybe a bit too dark especially in terms of lighting. Still, the tone he wants is well-conveyed and fitting with Pinter's script.
My suggestion is: if you enjoy verbal combat well-written and delivered with slashing relish, "Sleuth" is for you. All you have to do is ignore those bloody esoteric flaws the big city folks mention.

"Sleuth" preview


"Sleuth" official site.
Coming soon to a theater near you.
Check Yahoo Movies for Tulsa theaters & times.
Gary Chew can be reached at garychew@comcast.net.
Copyright © 2007, Gary Chew. All rights reserved.