---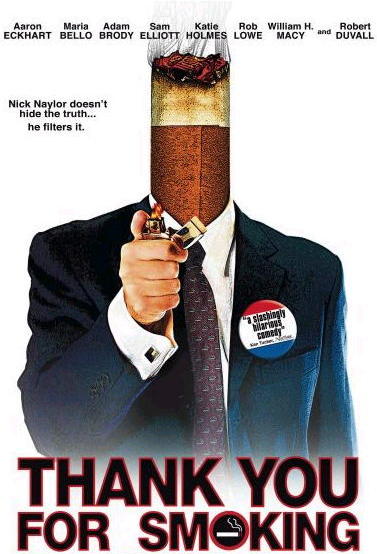 a film review by Gary Chew

GARY CHEW/Sacramento
4/7/2006

There's a satirical film just out now that's creating quite a few giggles. I certainly did some giggling when I saw it. It's called, "Thank You For Smoking" and comes to the big screen at a nearly perfect moment in that it takes us into the world of information spin and the manifest works of corporate lobbyists.
The dashing Aaron Eckhart plays a smooth and articulate tobacco lobbyist (Nick Naylor) who never loses arguments and, therefore, is seldom perceived as being wrong when defending the interests of the tobacco corporations. He commiserates with comrades who also are, in turn, staunch mouthpieces of the alcohol and firearms industries: Maria Bello, brilliant and brittle as the lady lobbyist (Polly Bailey) who drinks anyone under any table; and David Koechner, a spokesman for the gun lobby. He's (Bobby Jay Bliss) always packin'.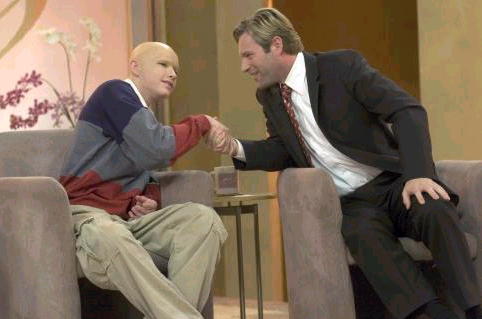 Aaron Eckhart acquits himself well on a TV talk show

There's also Nick's young son Joey, played by Cameron Bright. The son is bright, indeed, and keeps asking his father all kinds of questions about why he works and does what he does for the tobacco companies. Dad's response tends to nearly always fall into the "to pay the mortgage" niche.
Nick makes it onto big television talk shows to spin his companies' story about how big tobacco has become victimized by society. The film opens with him on a panel talk show hosted by Joan Lunden, as herself. He also guests on another quasi-news program anchored by Dennis Miller, as himself. Mr. Naylor takes no prisoners as he kicks butt and takes names. Giggles ensue across and through the darkened cinema, especially when Nick attacks Senator Ortolan K. Finistirre (William H. Macy), an anti-tobacco liberal from Vermont. The cheddar cheese produced in Vermont is just as lethal as cigarettes, Nick asserts. The liberal flails flaccidly in the heat of Naylor's rhetoric.
Other amusements in "Thank You For Smoking" include Katie Holmes (soon to be Mrs. Tom Cruise) as an amorous and ambitious reporter who employs the F-word frequently. Her newspaper is The Washington Probe. Sam Elliott is the terminal Lorne Lutch, a Marlboro Kind of Man/TV actor who's paid a suitcase full of money to ease his tensions about having to (aw, shucks!) die soon of lung cancer. He seldom smiles in his scenes. The pay off for Lorne comes from Robert Duvall as Doak Boykin, a crusty old, julep-sippin' bastard whose best friend had to be Strom Thurmond. Yes, Doak's the one with the big tobacco holdings and private jet with Mile High Club private hostess.

Katie Holmes probes Aaron Eckhart

Now, the movie is directed by the man who wrote the script: Jason Reitman. After making some short films and lots of television commercials, Mr. Reitman smartly debuts in long form with "Thank You For Smoking." The movie is taken from the novel by Christopher Buckley, who is the son of the venerable William F. Buckley, Jr.
I'd like to suggest to Mr. Reitman and Mr. Buckley that this movie would have elicited more guffaws than giggles if there had been a couple of changes in the cast. First, Stephen Colbert should've played Nick and the role of Dennis Miller still as Dennis Miller would have been more effectively rendered by Tucker Carlson. It's more plausible then when Nick tells a congressional panel that as his son reaches adulthood and should want to smoke, Nick will buy the boy his first pack.
Real sympathy is attempted in the script for Aaron Eckhart as Nick, but no one would ever sympathize with Stephen Colbert in the lead. And, oh my God, wouldn't all of us laugh, yes, even guffaw much more. I rest my case with: anyone who plays Dennis Miller has to be better than Dennis Miller, even Tucker Carlson.
4/14: Now playing at the AMC Southroads 20
Gary Chew can be reached at garychew@comcast.net.
Copyright © 2006, Gary Chew. All rights reserved.