"Stop-Loss" a film review by Gary Chew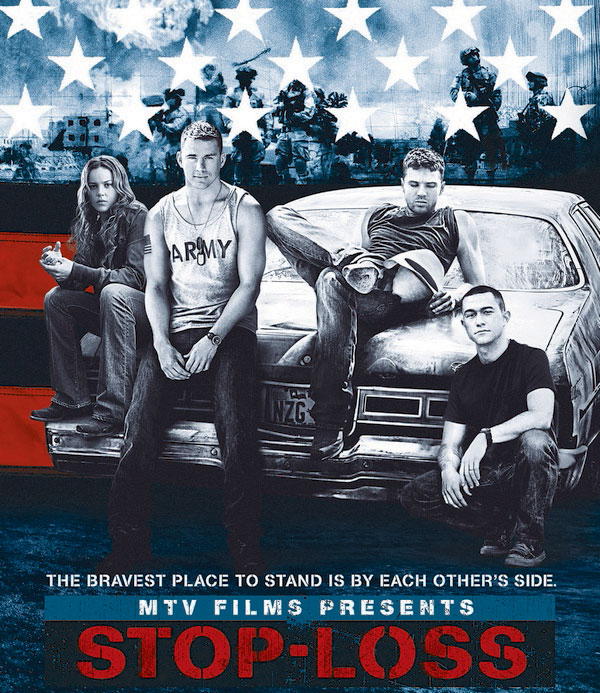 GARY CHEW/Sacramento
3/26/2008
"Stop-Loss" has the testosterone of "In The Valley of Elah" but not the balls. That's not to diminish the efforts and perspective of Kimberly Peirce ("Boys Don't Cry), the woman who co-wrote (with Mark Richard) and directed this new film about the Bush Administration's "Backdoor Draft" of approximately 81,000 U.S. citizens who've volunteered for duty in Iraq.
Ryan Phillippe and Channing Tatum
Peirce adheres pretty much to the concept of the extinct broadcast Fairness Doctrine: giving the victims of "Stop-Loss" a fair hearing for their plight and grievances, but not going (what some might call) overboard with any 'loud' political statement. "In The Valley of Elah" concludes with "Old Glory" being hoisted on a high school flag pole upside down---expressing distress and thus cajones.
Although "Stop-Loss" suffers some from MFF or Motivational Flip Flop, it does have a good cast. Ryan Phillippe has the lead as Brandon, the stop-lossed young Texan who's had enough of the killing and chaos over in Messopotamia. Channing Tatum stalks the set as Brandon's gung-ho boyhood bud, Steve.He's thinking about re-upping and going to Sniper School. Abbie Cornish takes the solid back-home role of Michelle, Steve's clear-headed girl friend who just happens to fall into the task of helping Brandon go AWOL to avoid a forced return to Iraq. Joseph Gordon-Levitt gives one of the best performances of these PTSD stricken soliders. He's Tommy. But there's not enough of the blossoming Mamie Gummer, who plays his wife in the film .
As the violence (at this writing) surges yet again in Iraq, what's best to be found about "Stop-Loss" is its intended appeal to less mature audiences while staying the course with its adult theme of what happens to young men and women blind-sided by the global politics of the moment (nothing new here). If there were a draft in the U.S. now, this picture would not seem such an imperative project because throngs of young people would have been long in the streets protesting.
Joseph Gordon-Levitt and Mamie Gummer
This is particularly heartening in that most recent films connected to the Middle East turmoil of the 21st century are couched in more abstract concepts of values and politics. For example, "Rendition," "Syriana," "Lions for Lambs," and "In The Valley of Elah" have failed gaining much word-of-mouth attention and thus a wider audience.
I was surprised, however, that Tommy Lee Jones got an Oscar nomination recently for the role he plays in "Valley of Elah" since this excellent picture---also depicting Post-Traumatic Stress Disorder---was criticized for its strong take on the Iraqi predicament even while showing genuine and poignant appreciation for our military personnel. Paul Haggis's "Elah" is one of the best films of 2007---and for motion pictures, it was a very good year.
"Stop-Loss" begins with a superbly staged combat scene to establish just what these guys are up against in Iraq. The principals are soon whisked home to Texas as their tours expire. Back home, they meet up with their personal PTSD demons who start to haunt them. The guys are slipping into some decompression after being cut loose from the daily threat of street ambushes or IED suicide bombers who approach the checkpoints soldiers guard.
Peirce give us what I feel is a real sense of the relentless tension combat troops must feel in such circumstances. The director may have had some help as her younger brother, Brian, stayed in close contact with Peirce while he pulled a tour in Iraq. He gave her a daily play-by-play of his experience. (Thank you for your service, Brian.)
Abbie Cornish
When Brandon gets word he's stopped-lossed and must return to combat, he rebels and says he's through with war. He goes AWOL in Michelle's car as the narrative gets a bit uneven and the pacing ragged while continuing to message the viewer about Brandon's and fellow veterans' grim situations. One moving scene shows a black man, his wife and their sick little boy who've been running for 14 months to avoid the wrath of Stop-Loss.
Brandon's motivation is strong. He may go to Canada. Hell, since Mexico is closer, he may even slip over the Rio Grande to start his life over. But he's ruthlessly reminded of his attitude by Steve who isn't really too happy, either, about Brandon going on the lam with Michelle.
The film stays safe with no sex play between Brandon and Michelle. But be ready for plenty of army barracks chatter, bloody combat scenes, brawls with buddies in bars, street fighting with a trio of stateside thugs, suicide and good old boys shootin' up inanimate stuff deep in the heart of the Texas boondocks. Rated R for rough and ready.
Yet, "Stop-Loss" still doesn't carry the clout of two of our most memorable anti-war movies about WWI: Stanley Kubrick's classic, "Paths of Glory," and Dalton Trumbo's "Johnny Got His Gun." But then again there aren't any other films---pro or anti-war---that do.

"Stop-Loss" preview
"Stop-Loss" official site.
Opens 3/28 at the AMC Southroads 20 and the Cinemark.
Check Yahoo Movies for Tulsa theaters & times.
Gary Chew can be reached at garychew@comcast.net.
Copyright © 2008, Gary Chew. All rights reserved.