"True Blood - Thou Shalt Not Crave Thy Neighbor"
A review by Gary Chew of a new HBO series


GARY CHEW/Sacramento
8/30/2008

In watching the very first scene of the very first episode of a new cable television series that shows "Real Time" host, Bill Maher interviewing a woman who is identified as a vampire defending the rights of vampires, you may think you're (A) dreaming, (B) high, or (C) watching "True Blood," an HBO series created by the venerated director and screenwriter, Alan Ball. I'll have the correct answer on the pop quiz after you're totally scrolled-down. But first, please read on.
This fantasy may also have a long subtitle: "Thou Shalt Not Crave Thy Neighbor," and suggest vampires have almost become acceptable citizens among non-blood sucking human beings in present-day rural Louisiana .
Anna Paquin
"True Blood" is made more believable at its center with a young, pretty, virginal woman named Sookie Stackhouse (played by Anna Paquin who won an Oscar for her role in "The Piano"). Sookie (or Anna), who is quite a stacked house these days, is an extraordinary gal. She can hear what other people are thinking---but not vampires. Since it's just the debut episode of "True Blood," with a title of "Strange Love," what all this portends is anybody's guess, but the exposition did sustain my attention.
The series is based on the Sookie Stackhouse Southern Vampire books by Charlaine Harris, the first of which is titled, "Dead Until Dark."
Working nights at Merlotte's Bar and Grill (a roadhouse probably not far from either Lafayette or Opelousas but closer to fictitious Bon Temps, Louisiana ), Sookie and her waitress buds harkened me back some to "Cheers" with Ted Danson and his motley bunch. Of course, influence from that killer, Buffy is apparent, but more so with TV's 1999 spin off vampire series, "Angel." "True Blood" wants to go, if you'll excuse the expression, even more for the throat with plain old edgy, prurient darkness. (You know how these cable networks are with their dimly lit sex and dirty talk, yes?)
Furthermore, there are a few laughs in the script: smart-ass black girl (Rutina Wesley) talkin' trash to her white boss she quits her job on right off; good ol' redneck boy at the bar wearing Big-Mac bib overalls and no shirt (gulp); Sookie's doting grandmother (Lois Smith) and her funky, neat house redolent, I'm sure, with the smell of fresh biscuits in the pan; and a pickup truck-driving stud of a brother (Aussie, Ryan Kwanten) who's got a hot lady friend with a video camera while he sweats being a person of interest in connection with the demise of a local Bon Temps citizen.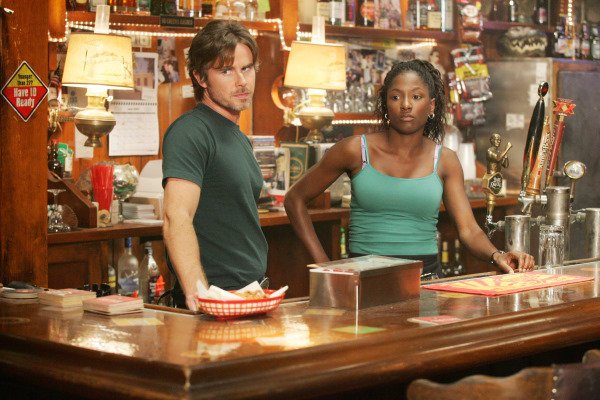 Sam Trammell and Rutina Wesley
Then there's 173 year-old Bill Compton (played by Stephen Moyer; "Quills"). Compton looks to be about thirty-something, but appearances can be deceiving when you're a vampire. And Sookie spots that immediately as he enters Merlotte's. She can't perceive anything going on in his head. Sookie is entranced. Bill, though his stare is gaunt, seems to take to Sookie, as well.
Stephen Moyer
A nighttime altercation outside Merlotte's with another couple that affects both Sookie and Bill adds darkness and violence to the first chorus of "True Blood." The intensity of the man and woman seems to be setting off ominous reverberations that will be better defined in later episodes.
As with other contemporary television writing, "True Blood" can go in just about any vein Alan Ball wants. (Sorry) It probably will, too. I offer this because of Ball's extraordinary script for the Oscar-winning film of 1999, "American Beauty," and his 2001-2005 championship HBO creation, the long-running, award-winning, "Six Feet Under."
Alan Ball is an openly gay man and, for more than one season of "Six Feet," made gayness in a Pasadena family funeral home a water cooler topic. He might be at something about discrimination again with "True Blood." This time without Michael C. Hall.
Earlier, I mentioned Bill Maher interrogating a woman who, with TV graphics, is identified as a vampire in the series' first scene. She's defending the rights of vampires since they've found another way to sustain themselves without using the blood of humans. Maher does not go easy on his guest. And does HBO know how to cross-plug its schedule.
Characters in downtown Bon Temps (hopefully unscathed by Hurricane Gustav) casually discuss vampires as creatures who do exist among regular earthlings and have for a long time. At times, "True Blood" takes the tact that vampires, "today," in Alan Ball's Louisiana strive to disencumber the discrimination that shackles them.
I know this suggests a darkly comedic element, and I would guess that Ball and his staff of writers will exploit any opportunity---while at the same time drawing a fantasy parallel between vampires vs. an intractable non-vampire community and gays and lesbians against the homophobes who exist in real-time now in the United States .
"True Blood" might have some interesting and comedic rhetoric. We'll just have to see---which is also the answer to the question in the first paragraph.

"True Blood" preview