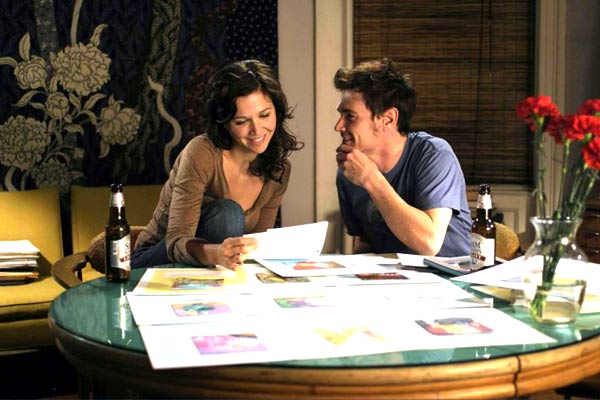 "Trust The Man"; review by Gary Chew


GARY CHEW/Sacramento
8/24/2006
I've always had a secret desire to be a casting director. For sometime, one of my casting fantasies has been to put Julianne Moore and Gillian Anderson as sisters in a movie. Both are extremely attractive, very talented, have glorious red hair and look quite a bit alike.
So far, Moore and Anderson haven't been sisters in any movies I've seen. But the next best thing is now on the screen as a new film, set in New York City, called "Trust The Man." The two leads are Julianne Moore and David Duchovny. If you can't have Agent Scully and Julianne Moore as sisters, how about Agent Mulder and Julianne Moore as husband and wife? (Only Chris Carter and I remember "The X-Files"!)
Moore and Duchovny
Moore (Rebecca) plays a successful stage actress and Duchovny (Tom) is her stay-at-home-and-watch-the-kids former ad man husband. Rebecca's brother, Tobey (Billy Crudup) shows all the ambition and motivation of Jay and Silent Bob of "Clerks" fame. Tobey's long-suffering girl friend is Elaine (Maggie Gyllenhaal). Poor Elaine is at the end of her (what is it?) rope, since Tobey's been stalling her for eight years to get married and have a family. Elaine writes children's books (hint, hint) and Tobey likes to park his car.
If this all sounds a bit like a Woody Allen movie to you, you'd not be too far off track. But since Woody has slipped over the edge again after "Match Point" with his incredibly blah "Scoop," "Trust The Man" is likely to make you think you're seeing a pretty good movie. And you'd be right again. It is just that: a pretty good movie.
It's written and directed by Bart Freundlich who just happens to be Julianne Moore's hubby in real life. Mr. Freundlich is also responsible for a 1997 movie called, "The Myth of Fingerprints," which I remember as being much in the same genre as "Trust The Man," but "Fingerprints" is not pretty good, it's just not good. But that's another motion picture.
Anyway, many of the words to describe "Trust The Man" are probably like those that would be used for a romantic serio-comedy by Woody Allen: humor, tragedy, exploration of modern relationships of young, upwardly mobile "mature" New Yorkers who are challenged by love, marriage, career and infidelity. Then, throw in Garry Shandling as Rebecca and Tom's shrink and you're gonna get as close to it being a Woody Allen movie as you can with out it being one.
However, the charisma of all four main characters helps to bring this film along and keep it reasonably interesting. Each actor is well-known or on the rise, as is the case with one of my favorite new film stars: Ms. Gyllenhaal, who knocked me out with her singing during the last frames of Don Roos' "Happy Endings." She may well be making the big crossover to full-blown big studio flicks in "World Trade Center." She certainly has the talent. See her in 2002's "Secretary" with James Spader if you haven't already.
But, I must remind myself these words are about "Trust The Man." Sorry. And so, sort of sorry is the ending of the film being reviewed here. It gets a little grandiose at the close and tends to pull itself away from the indie genre that it's so trying to maintain. Sort of like there isn't another really good way to finish off the film.
A cameo character played by the indefatigable Ellen Barkin should have had more face time. She's briefly seen in "Trust The Man" as a powerful publishing lady whom Elaine is schmoozing in order to get her children's book published. Ellen's character, in subtle comedic fashion, doesn't really care about Elaine's book; she does care about hitting on Elaine, though. Development of what could be a very funny secondary thread to this movie is dropped almost immediately by Freundlich.
"Trust The Man" has been on the shelf for some time now, premiering at the September 2005 Montreal Film Festival. It's rated R for language and sexual content just like lots of Woody Allen movies.

Coming soon.
"Trust The Man" official site.
See Yahoo Movies for Tulsa theaters & times.
Gary Chew can be reached at garychew@comcast.net.
Copyright © 2006, Gary Chew. All rights reserved.