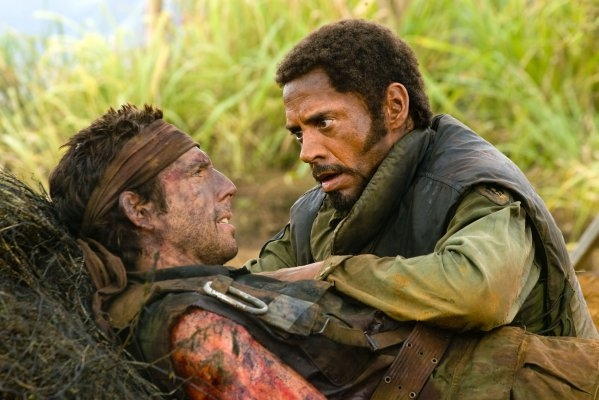 Ben Stiller and Robert Downey, Jr.

"Tropic Thunder"; a film review by Gary Chew


GARY CHEW/Sacramento
8/12/2008
During a scene in "Tropic Thunder," Ben Stiller, writer, director and lead player of the film, is shown watching an old "Star Trek" episode on his iPhone. It would have been closer to the mark if Ben had been viewing one of the many reruns of "M*A*S*H."
Even though "Tropic Thunder's" underlying theme is not about the absurdity of combat, like Robert Altman's classic feature and Larry Gelbart's stellar TV series, Ben Stiller's and Justin Theroux's thundering script did churn-out some pretty deep-throated guffaws in a bunch of youngish first-nighters at a local cineplex screening.
Jack Black
Just to draw a finer bead on it, if you'd mix some "M*A*S*H" with several parts of "Apocalypse Now" and two or three parts "Platoon," you'd be on target as to how "Thunder" tastes. It is a risky amalgam of big-screen Hollywood lampoon, cruel action, blood-n-guts and , for me, too freakin' many gross-out scenes---mostly by benefit of the talents of Jack Black. (I'm still working on developing a taste for Mr. Black's work.)
"Tropic Thunder" is a satirical movie about making an historical Vietnam war film in the jungles of modern-day Vietnam with all the Tinsel Town baggage that can be thrown aboard a satirical script: self-absorbed director and actors, a crazy special effects expert, an even crazier author (Nick Nolte, YES!) and a greedy L.A. producer with attending toadies. (You get to guess who plays the greedy, kick-butt producer.)
A chopper drops the cast and crew into a dense jungle where the director has planted lots of robot cameras to record the scenes of the movie. Clueless, the Hollywood people are being stalked by a contemporary contingent of armed Vietnam grower/dealers who think these uniformed California dipshits are DEA. All the while, some of the actors never drop character, even when they think the cameras aren't rolling. Such is the artist.
The best example of this is the part Robert Downey, Jr. has. He plays a fair-haired, blue-eyed Aussie actor who's already won an Oscar. His name is Kirk Lazarus. Mr. Lazarus takes a large artistic step for a role in the Vietnam film by surgically altering his skin color to that of a black man in order to do the character of an African-American soldier.
Downey has to be almost as funny as when I first saw Dave Chappelle do his acclaimed honky schtick on Comedy Central's "Dave Chappelle Show." Chappelle does a great white accent, and Downey does a great, if not sometimes too thick, black dialect for "Thunder." Downey is one of those stretchy actors who doesn't back down to any part.
The muscular Stiller plays the Rocky-ish Tugg Speedman, an actor who has come into his own by starring in an earlier film about a retarded boy. Jack Black is at his in-your-face "best" as Jeff Portnoy, a comic, drug-addicted thespian who's claim to cinematic fame are films about flatulence. My complaint about Mr. Black is, quite simply, that he's not a gas. Brandon T. Jackson, who really is African-American plays the other black man in this small Hollywood platoon all at sea in the jungle. His character's name should win some kind of an Oscar. Would you believe: Alpa Chino ? (Sounds like the feminine name for a dog food and a town in California , huh?) Steve Coogan, soon to be seen in another dizzy flick, "Hamlet 2," plays the explosive director, named Damien Cockburn.
Grizzily Nick Nolte, as the author of the novel from which the historic Vietnam film is taken, plays Four Leaf Tayback. I've heard tell that this is the first comedy Mr. Nolte has done in the last 30 years. Reports have it that Nick hasn't appeared in any since because he hasn't found any that are funny. And you thought Nick Nolte laughed.

Steve Coogan and Nick Nolte

It's not clear if Nick Nolte believes "Tropic Thunder" is funny or not. But he is just being what you can well imagine he plays in this nutty, outrageous movie. It's a toss-up.
Nolte's Tayback is but a tick or two from being as crazy as Colonel Kurtz (Brando) or Lt. Colonel Kilgore (Duvall) in Coppola's "Apocalypse Now."
However, what we got here with "Tropic Thunder" is an arc problem. Its lampooning satire and in-the-wings humor are best left to sketch comedy, the likes of which are usually seen on the small screen. The arc of "Thunder" sags more often that it should. It's what must be called the real formidable challenge for creating a high-dollar, full-featured motion picture packed with action, gore, suspense, coarse laughter and language, good acting (sometimes overacting) and fart jokes. Suicide is painless, but probably not odorless.
Most of all: be sure you get to your seat a bit early for "Tropic Thunder." Don't miss the trailers (really a part of the movie) which precede it.
Webmaster sidebar: Also in the cast of "Tropic Thunder" is Tulsa Cascia Hall grad Bill Hader, who has been a "Saturday Night Live" regular for the last three years. He's on the right in this "Taco Town" bogus TV commercial (recommended!)

Read more about Bill in a New York Times article from last year: A 'Superbad' Geek's Progress.

Bill's uncle is 'Myron Noodleman' (Wikipedia), aka Rick Hader, former Union High math teacher. 'Myron' was crowned the new Clown Prince of Baseball, stepping into the cleats of Max Patkin, who entertained at minor league stadiums including Oiler Park from the 1940s into the 90s. (photo and article at GTRNews)

'Funny' runs in the family.
Bill Hader Online Tulsa World article plus audio/slideshow interview with Bill Hader from 8/17/2007: "Super glad"