"UnCounted: The New Math
of American Elections"
GARY CHEW/Sacramento
1/16/2008

David Earnhardt's documentary film "UnCounted" makes a mighty effort to spread democracy right here, smack-dab in the good old USA. It takes up the slack we've been seeing (or maybe not) on television news programs about the accuracy of vote counts in this cyber-savvy democracy of ours.
The Nashville filmmaker takes us back to what happened to the vote count of the 2000 election, especially in Ohio, Florida and New Mexico as well as what seems to be a near-repeat in the 2004 elections. Earnhardt reminds us that the 2006 election, although with some change in outcome, would likely have been more successful for Democrats if more careful vote auditing had been in place.
| | |
| --- | --- |
| | |
| Filmmaker David Earnhardt with Rep. John Conyers, who chaired the House Judiciary Committee investigation into 2004 election irregularities | Whistleblower Clint Curtis testifying before U.S. House Judiciary Committee |

During its running time of only 80 minutes, "UnCounted" profiles some interesting men who've also been attempting to spread a little domestic democracy. It gave me a good feeling to see the efforts of whistle blower Steven Heller; columnist, Robert Koehler; reputable Republican Utah voting official, Bruce Funk; former voting machine programmer Clint Curtis and the late voting machine inventor and entrepreneur, Athan Gibbs.
These four men, each in his way, demonstrate "Network" anchorman Howard Beale's attitude: When it comes to election fraud, "I'm mad as hell, and I'm not gonna take it anymore." In each man's case, the film shows there's been a price to pay for the stands they've taken to insure integrity in the future of American elections.
Earnhardt's documentary is well-constructed. It's very easy to follow with good editing, effective music and crystal clear graphics that relate important election statistics as well as definitions to underused words like "undervote."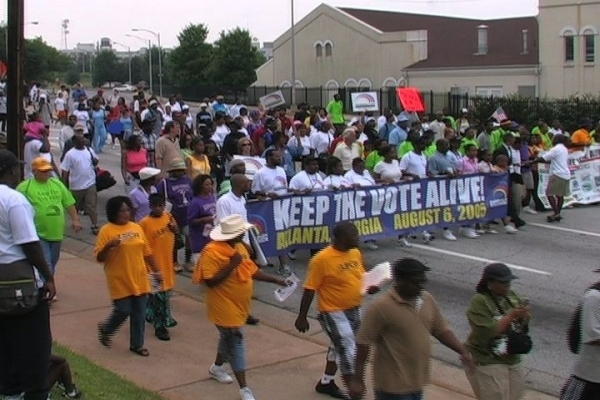 Protesters at Atlanta voting rights rally in August 2005

Obviously, "UnCounted" is designed to undermine voter apathy, but Earnhardt has put other notions in the mix, such as the begging of a rather large question: Would you rather have American citizens in control of elections…or would you prefer they're handled by corporations that build and sell voting machines? What would be your answer?
And as important as that question may be, "UnCounted" also lobbies the viewer to consider that the problem of election fraud is surely a bipartisan concern. I think the film is right about that. When honest Democrats and honest Republicans, alike, give it serious thought, having trust in the integrity of their democracy is what makes it work best.
Don't miss "UnCounted: The New Math for American Elections." And for anyone who says paper trails won't really audit votes well, remind them of how "far off" the bank gets tracking the balance in their ATM account. To be accurate, it takes not more than one penny - or one vote.



Preview "UnCounted: The New Math of American Elections"