"Vicky Cristina Barcelona"
a film review by Gary Chew


GARY CHEW/Sacramento
8/7/2008
Woody Allen takes a look back at what his best movies are about: sex, love and relationships (usually in that order) with his latest and first film to be shot in Spain. "Vicky Cristina Barcelona" is the title. Rebecca Hall ("Wide Sargasso Sea") plays Vicky. Scarlett Johansson ("The Man Who Wasn't There") is Cristina. And in all its art and beauty, Barcelona appears as itself. To make it clear, if it weren't for the interplay of Allen's neurotic characters, VCB would be a travelogue of this amazing city which lies on Spain 's eastern coast southwest of Marseille and nearly due west across the warm waters of the Mediterranean from Roma. Holy Toledo, could it get more romantic?
The matchless Penélope Cruz
Well, Si. It could. And it does. Penélope Cruz ("Volver") and Javier Bardem ("No Country for Old Men") are also in the cast. Señorita Cruz (as Maria Elena) and Señor Bardem (as Juan Antonio) put the spice to VCB. Both play blunt, honest, self-absorbed artists who've been married and now divorced. Their past relationship has been more than replete with passion and storm.
Juan Antonio hits on Vicky and Cristina in a Barcelona restaurant after the young women show up on the Iberian Peninsula for some Spanish sun. And Juan Antonio doesn't beat around el arbusto. He bluntly invites them to fly with him in a private plane to Oviedo for the weekend as he scouts some sculpture there to inspire his current painting project. He remarks that they'll sightsee, eat great food, drink fine wine and make love.
Vicky (who's engaged to Doug back in New York ) is more the Republican. Cristina leans toward the Democratic side of the aisle. Vicky is appalled with Juan Antonio's overture. Cristina says, "Yes, I'll go, but you'll have to seduce me." If you'd guess that Vicky flies to Oviedo with Cristina and Juan Antonio, you'd be right. But Vicky, unlike Cristina, isn't under Juan Antonio's Catalonian spell.
That is, not until Cristina's ulcer flares up from too much drink, making her bedfast for a couple of days for recovery. So, it happens that Vicky is the first to sample the pleasures of a warm Spanish night under the star---er, stars. Woody Allen's sense of irony can be comforting, sometimes.
Not long after Cristina moves in with Juan Antonio and Vicky's fiancé flies over from New York to wed Vicky in Barcelona does Maria Elena (Cruz) enter the story. She's just attempted suicide and has no one to care for her except Juan Antonio. They still love one another, it's just that they aren't able to keep the peace when together. Not until the three of them (that's Cristina, Juan Antonio and Maria Elena) begin living and loving together. It balances Juan's and Maria's relationship to have Cristina in the (so to speak) mix. How do you spell 'ménage a trois' in Spanish?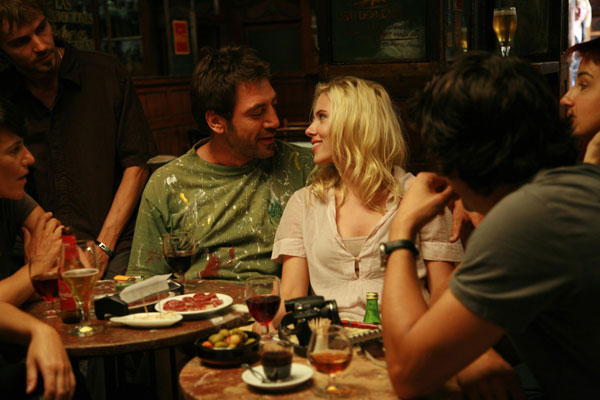 "Oh gee Mr. Chigurh, I think you've got a swell haircut, now."


Now, don't get your serape in a knot. VCB is rated PG-13. No nudity. No dirty words. Just nice love scenes with some of these attractive women striking fetching poses from time to time. Woody is---for him---on his best behavior here.
What's most fun in the film is the back 'n' forth of Bardem and Cruz. Both are excellent actors and do that Spanish trash-talk mucho bueno. Their fight scenes in Español are a true Woody Allen movie type treat. Obviously, the pair must be practicing for real life, as the word is out that Javier will soon be popping the question to Penelope. Oh yes, as the couple feud onscreen, Woody gives great subtitles.
Farther down the cast list find one of my favorite actors who shows up, usually, in small parts, but always in good stories. Solidly, Patricia Clarkson appears as an American expatriot in Barcelona who supplies a shoulder for Vicky to cry on, as well as shedding some tears on Vicky's. Chris Messina (soon to be seen in "Humboldt County," I hope) is cast as Vicky's fiancé. There's humor here reminiscent of those days when Woody, himself, was in front of the camera doing, as always, his slightly befuddled act as a randy little Jewish guy who has a way with hot women---all taller than he. But the Doug character is written rather clueless. I think Allen might've gotten a few more laughs by stretching Messina's role a bit.
You should enjoy the striking footage of Spain . And the lovely Spanish guitar music, throughout, made me think about programming the Romeros (on the radio) strumming great Spanish music by Joaquin Rodrigo. No American dance band music (circa 1937) can be heard on this Woody Allen soundtrack.
My only problem with "Vicky Cristina Barcelona" is how the film concludes. Not that I don't necessarily like what happens, it's just that there's little flourish nor any twist to go with the rest of what seemed to be a pleasantly entertaining, sort of naughty, date-film about artistic upper-middle-class men and women who never have to worry about the economy. It could be Woody's way of having that existential last laugh at his neurotic but amusing ensemble of players.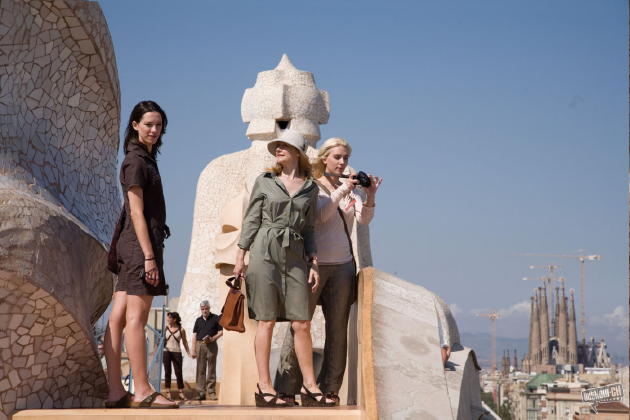 Rebecca Hunt, Patricia Clarkson and Scarlett Johansson doing Barcelona.

"Vicky Cristina Barcelona" preview