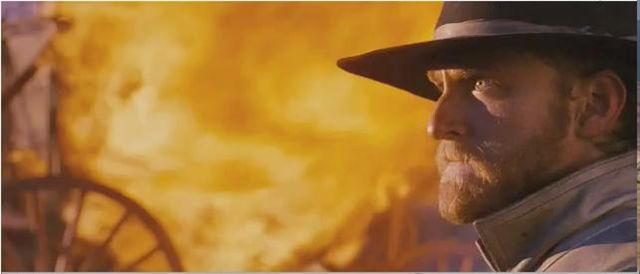 "3:10 To Yuma", a film review by Gary Chew


GARY CHEW/Sacramento
8/20/2007
It's been a half century and one month since the first "3:10 to Yuma" was released. Now, here early in the 21st century, comes the redo of that tale of the American West by Elmore Leonard. Instead of Delmer Daves directing, James Mangold does it this time. Mangold casts the saga in color and cuts the haunting and soupy minor-keyed cowboy song sung by Frankie Laine. Glenn Ford whistles it more times than he should in Van Heflin's ear during some not-so-pregnant stretches of the '57 film. (Shades of: "Do Not Forsake Me, Oh My Darlin.'")
Indeed, "High Noon" (1952) had a lot of influence on the way "Yuma '57" was made: black and white, lamenting cowboy song and a train that's a-comin' to town with outlaws aboard dead set on puttin' daylight in Gary Cooper. "Yuma '57's" train was gonna take a bad guy away from Contention City to Yuma Prison. Tick, tock, tick, tock goes the hotel clock. Daves' movie didn't get close to the Cooper/Kelly award-winner from producer Stanley Kramer and director Fred Zinnemann.
Russell Crowe


The new script for "Yuma" is beefed-up some from the original by co-writers, Halsted Welles and Michael Brandt. (Welles wrote the first screenplay, also.) "Yuma 2007" is more action-packed, too, with lots of gritty acting and language, all fully engaged in the foreground of the badlands of arid Arizona (actually shot in New Mexico).
A sturdy cast has been brought to this " 3:10 To Yuma" set. Genre-hopping Russell Crowe is very solid as the bad guy with a one-way ticket to Yuma (Ford's role) while Christian Bale gets the nod for the Heflin character: sort of the well-meaning sodbuster family man, just a few ticks from the great role Heflin had in the fine Western, "Shane," with Alan Ladd and Jack Palance. And for old times sake, director Mangold has added a little bit of Peter Fonda as the crabby old Pinkerton agent who's really got it in for the bad ass bandit played by Crowe.
Ben Foster


Interestingly though, the movie comes close to being stolen by young Ben Foster, who plays Crowe's intensely mean and loyal sidekick. That bad guy was originally done by the famous and craggy character actor, Richard Jaeckel who died in 1997 and was cast in lots of WWII motion pictures. Foster was seen occasionally as the Fisher family daughter's boyfriend in "Six Feet Under." Both Foster and Jaeckel are easy to spot on the screen with their penetrating gazes at other people in the cast who annoy them.
The biggest difference between each version of "Yuma" is how they end. Daves' movie finishes on a note of lame motivation as Ford hops on the train with Heflin who is waving joyously at his wife seated in the buckboard alongside the railroad track. The update has Crowe in some really heavy gunplay on the dusty streets of Contention City as he jumps aboard, but without any grandiose hand-waving to anybody.
As the 3:10 chugs out of Contention with Crowe, it's not clear what happens to the bandit as we hear him whistle to his horse that gallops after the 3:10's caboose. What the close seems to allude to is that Crowe's bad guy is doing a good, but unknown big favor for the Bale character and family. A nice touch to underscore the male bonding at the root of this pretty darned good shoot 'em up that dares to not end on a silly, upbeat note.
It was fun to see a good, fresh Western agin.



"3:10 To Yuma" official site.

In theatres September 7.

Watch for showtimes at Yahoo Movies-Tulsa.


Gary Chew can be reached at garychew@comcast.net
Copyright © 2007, Gary Chew. All rights reserved.