Chris Lane Memory Book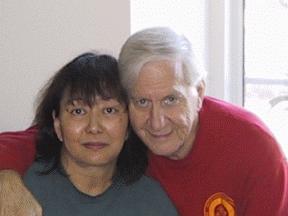 8/6/2006: Here is Lorna's own site with all the Memory Book material and more.
(received 3/3/2000)
Dear Lorna,
Thank you for the e-mail. I so enjoyed reading all the wonderful things that were written about Chris. I've racked my brain to come up with something profound, but nothing I can think of is as colorful as those responses you received, and I think it's because I knew Chris in an unprofessional capacity. He was a neighbor and a subsequent life-long friend. I played bridge with him and Cheri, and Dawn and April baby-sat my kids. We laughed together, cried together, but his notoriety had nothing to do with our friendship. We just liked each other. Chris and his family moved into their new home in San Jose at the same time we did, and the first time we met him, he came to our door in a sort of panic because there was a broken water pipe in his front yard, and water was gushing from it like a geyser. I don't remember exactly what was done, but I do know that it was decided that the cement truck that had delivered the cement for our patio had driven across the pipe and had apparently broken it. Anyway, that was the beginning of a wonderful friendship.
Chris, at that time, was a dj for KEGL, one one the first country stations here in San Jose that I can remember. We had never paid any attention to country music before we met Chris, but with his guidance, we quickly became fans. He often spoke of various artists that he knew, and one in particular, Kris Kristoferson. We fell in love with Kristoferson's music, and much to our delight, Chris took us to San Francisco to hear him at a night club, and of course, he joined us at our table after the show. That was really a treat, and one of the only times that Chris allowed us to see the "show business" side of him. Usually, he was just Chris, kind, caring, and tremendously entertaining. His sense of humor kept us laughing whenever he was around.
He often talked about the people in the neighborhood on radio, telling of our weekend work in the yards or what I cooked (he loved my Italian cooking), and he even spoke directly one to my sixth grade class. The kids had me record them singing "For He's a Jolly Good DJ." I gave him the recording, and he played it on his program for the kids. They loved it!
It's hard for me to believe he's gone now. I haven't seen him for about eight years, but we did speak on the phone once or twice. I know that I will never forget him, his friendship, his support when I needed it, and I am so sorry, Lorna, that you had him for such a short time. I can tell that you loved him very much, and I know that love was returned. Losing a husband is very difficult. I know because I lost mine when he was just thirty-eight years old. It takes time to mend, but you will. The one bit of advice I can give you is, take your time. Don't let anyone rush you. I hope that some day we might meet.
Love,
Jan Lee
---
Lorna,
Please allow me to offer my condolences to you and your family at this time of loss.
Paul Gallis phoned me yesterday with the news that Chris had passed.
Chris was a lion in media's forest. I will always remember Chris as an endearing gentleman, a great broadcaster, and a gifted, exemplary business professional. When I landed a job in Chicago radio, Paul Gallis and Bill Gavin both urged me to get to know Chris. Paul ended up providing the introduction saying "Chris is a class act and a real pro" (high praise coming from Gallis, himself a Chicago legend, known for his unvarnished, no-nonsense candor). Chris made me feel welcome at my first job in the intimidating big city and provided me with many valuable and cogent insights which would later serve me well. "Chicago is really a big little town" I can still hear Chris say as I recall his sage counsel to a then young broadcaster. Many years later, when Bill Gavin honored me as one of the 25 folks named to his final GAVIN HONOR ROLL, on the occasion of his retirement, Chris took time to pen a note saying "Congratulations...a long way since Tulsa and our first get together in Chicago."
Lorna, let me add my voice to the many others and pay tribute to this great man. Chris had the rare ability, keen intellect, and unusual self confidence required to understand that helping others, including so-called competitors, would serve to help better the broadcasting business. I remember calling Bill Gavin to thank him for suggesting a meeting with Chris, I told Bill how impressed I was with Chris and related some of the wisdom Chris had offered. "We can all learn something from Chris" Bill said. As always, Bill and Paul were right on the mark. I, and countless others, owe much to Chris. He showed us all it is possible to be a strong competitor, an industry leader and a true gentleman all at the same time.
All the best,
Dave Martin
Dallas
---
"Farewell, Silver Fox" is what I thought of as I sadly read of Chris Lane's passing.
I worked with Chris at KGBS/KHTZ for several years and a more delightful, gentle man you could not imagine. He was passionate about the country music at our station, and would be the first one the major country artists would ask to present them, when they played the Palomino -- with Chris always graciously complying when I relayed each request. He intertwined fabulous stories into his on-air delivery, and his voice booth soothed & seduced listeners. He was an exceptionally gracious man, and we loved him as "the Silver Fox" of KGBS/KHTZ. It reminded me that if you care about someone you worked with, no matter how long ago -- find them & tell them. It is later than we think. My heartfelt condolences to his wife and family.
- Denise Madden
---
Sorry to hear about the death of Chris Lane. FYI, here's an anecdote related in the [if I may say so] thorough, well researched and incisive liner notes to The Best of Sammi Smith, released by Varese Vintage a few years ago, quoting Jim Malloy, her producer:
"We finished the album and the label didn't want to release Help Me Make It Through the Night as a single. I was used to a lot of strings and had [arranger] Bill Walker make it sound like an L.A. record. The people at Mega Records didn't think it sounded `country' enough [note: this was 1970 -- how times have changed]. Also, they were worried about the way people in the Bible Belt would react to the rather intimate lyrics. Mega released He's Everywhere because it had a steel guitar on it and sounded like a country record. Then Chris Lane, a disc jockey in California, called me and told me that we had a smash -- he played Help Me Make It Through the Night and his phone lines lit up. Mega was so small that they didn't have a sales manager or national promotion man, and the receptionist was taking orders for 65,000 records a day.
"While the 65,000 a day figure sounds like record-biz hype, the single subsequently hit No. 1 on Billboard's country chart, and No. 8, pop, and became the first of numerous hits for the smoky-voiced chanteuse."
- Todd Everett
---
Hello Lorna,
I'm writing you from Seattle, to express my sadness on Chris passing away. Many years ago, while I was a student at the University, Chris hired me to do weekend air work for him.
My name is Gary Taylor, and I've been in the broadcasting business for over twenty five years. I started out as a jock/PD and worked my way through the ranks becoming a GM in 1980, and a network VP in 84' Transtar/Unistar), which was the last time Chris and I spoke. I left to be a station GM in San Francisco, and then Seattle, where I remain today. But I didn't write to talk about me. I wanted you to know my memories of Chris.
In the early sixties, when he was the PD of KAYO, I worked the Saturday night shift playing R&B to a market with only a couple of people who related to the music, and both of them were neurosurgeons (just kidding).
During that time the decision was made to go "country," and Chris asked me to make the on-air transition. I remember it like yesterday. Chris was going to be "out of town," - Bellingham I think. But he left clear instructions on the formatics and everything that I was supposed to do, along with the message that he'd "call" - which he did, several times, commenting that I sounded great and the music flow was great, etc., etc., etc.
This made me feel pretty good. Chris Lane was a big name in the business. Mpls/St. Paul, Seattle, San Francisco, and so on. I had attached myself to a star.
Unfortunately, the listeners didn't agree with Chris. When the final Platters song (or was it James Brown?) ended, and George Jones, followed by Hank and Bobby Bare and, and, and . . .my phone lit up like a Christmas tree.
Remember those couple of people who related to the music? Well they called, and so did hundreds of their friends. I can't really share what they said to me, my wife and mother would have a fit, but it was highly descriptive.
To sum it all up - Chris kept calling, he kept saying don't worry, however he really didn't have any advise on how I was to sneak out of the station, get into my car and avoid those "couple of people" who had driven down to the station and were sharing their thoughts with me and what they would do to my body.
All in all, I got out of the building . . . rapidly. Country KAYO went on to be incredibly successful, and Chris began a career as one of the preeminent programmers in Country radio.
I fondly remember Chris Lane. He taught me a great deal. He was a special person, and always will be in my mind.
My prayers are with you during this difficult time. Please know that Chris is no longer in pain, and he left knowing of your heartfelt love, as well as the care and concern of so many others he touched along the way. I was one of them.
Sincerely,
Gary Taylor Bruno
---
E-mail may not be the proper way to send condolences for the loss of Chris.
I was hired by Chris in 1959 in Portland, Oregon and then two years later at KAYO in Seattle.
I just got word by email today from Bob Moomey of Chris' passing and wanted to express my sympathy to you and the family.
In all my years of radio (I'm now retired) I never worked for a more talented and also a gentler man. It was a pleasure to know and work with him.
Love to you all,
Harold Nettleship, York, PA. (Air name : Hal Raymond)
---
'Samazing what and who you come up with when you delve into cyberspace!!!!!
Yo Chris---- what's it been???? 40 plus years since our last shake n howdy in San Francisco? I suppose we both have poor memories of that event! I still try to explain to people that Chris Lane invented/or improved on that format! Amazing how our/their memories are faulty. Oh, well, time does seem to take care of things! I remember coming across your name in a variety of 'biz magazines over the years.....I kept thinking that I should take a moment and say "Hi!", yeah, well here it is, the year 2000 and I'm not gonna wait for anybody! So---"Hi!!!" I stayed with KJR till '65....moved/transferred to KXL, Portland....met Steve Brown of the Starr stations....and he conned/bought me for Indianapolis, Indiana!!! Did a year there!! (GREAT station, goddawful town) I didn't know how spoiled I had become with stupendous views, Seattle and Portland! Took a job at KOL and moved back to Seattle, did a couple years there and decided to get myself out of that damnable business....Got on with Pacific Telephone, selling Yellow Pages, worked the Spokane book, the Olympia book, Bellevue book and the Tacoma book.....called on Chuck Ellsworth at KTAC in Tacoma.....he had just become chief engineer, he introduced me to the new manager and they caused/conned me into getting back into radio!!!! I became the Sales Manager and we turned a Tacoma station into a TACOMA STATION.....Worked the hell out of local and created a distinctive and fun local station! Had a good crew, good jocks and a cupple of good years....the manager/part owner gave up his piece and moved on and the majority owner brought in one of the biggest jokes in broadcasting as manager.....we, the crew managed to overcome our heavy load and continued the good stuff for a few more years. I began teaching broadcasting at Tacoma Vocational School and discovered that it was fun polishing a few gems that came along.....and working the less-gifted into hireable radio people!! Had some wonderful times. It was while teaching, that Rosie got tired of my independent lifestyle, and decided that I should live alone! (it was amazing that she had put up with my stuff for that long) I moved onto a boat and re-made my life...met another of the instructors at school that had gone thru a divorce(for different reasons) and we dated, moved in together and got married! We invested in a 41 foot ketch, moved aboard and lived on the water in Tacoma for four years! We had intended to sail off into the Pacific------then reality set in! We started looking at radio stations that were for sale....Raymond, Wa---Colfax,Wa., and I called an old friend from San Rafael and he suggested that I look at the little station in Enterprise, Oregon.....in the northeast corner of the state of Oregon, 30 miles west of Idaho, 45 miles south of Washington....and a long way from any umbrella situation!!! (hard to find these days) Looked at a few other stations in a few other towns and realized that I/we had fallen in love with the town of Enterprise! Came back to Enterprise, had interviews with the owner and conversed with our broker friend in Cal., made an offer and bought the 1Kw AM here in Enterprise and the FM building permit! In September of '84 we signed the papers and Carol-Lee and I became radio entrepreneurs!!! Put the FM on the air in the spring of '86.....and we've been localizing like crazy ever since!!! The AM is news/sports/talk, 'Rush, Dr Toni, Michael Reagan, and good old Art Bell!! The FM is country from Jones, out of Colorado. We cover the Wallowa County area of NorthEast Oregon! And have a marvelous lifestyle (that means we don't make much money) We have a young man who's been with the station since before we purchased, we made him station manager two years ago, he does a wonderful job for us! I do local sports......volleyball, football, basketball, an occasional baseball game, sometimes even a wrestling tournament!!! We have 3 different school district in the county, and each has its own high school....Enterprise, Joseph and Wallowa! I still can't believe I'm doing sports!!!!
Lots of water under these bridges-----and loaded with great memories of outstanding individuals....along with a few folks we don't really want to keep in mind! Now that I've got an e-mail address let's progress to snail-mail....I need an address! I get to run around this marvelous country of ours quite a bit, perhaps we can make our paths cross.......'n we can trade more lies and good times! 'Cuz the first ones were so damned good!!!
Lee Perkins KWVR
So, I'm lookin for some kind of response from this.....and I'm gonna sign off for now---
Really glad to have had your attention for a cupple minutes....let's do it again!!!
Soon-----
Lee P
---
Dear Chris:
As I reminisce about our friendship, what comes to mind is the fact that your were by far the best dressed air personality in Seattle, or anywhere for that matter. It seems that you always had a suit and tie on.
Once upon a time...
A thousand years ago, the great November wind storm of the early 60's, one of the worst in the Northwest. The Lane's and the Niles', boarded a train at Union station in Seattle along with other happy footballers and descended on Portland to see the Washington-Oregon State game at Multnomah stadium. The train left on time but due to the storm the trip was slow and thirsty and by the time we arrived, it was the second half of the game. There is really nothing out of the ordinary about this story except that you wore a suit and tie throughout the whole trip. With all the partying and liquid cheer that was flowing, you never stained a lapel. Here you were, dressed to the "nines" with Husky fever going on all around you. I can only remember two times in the almost 40 years I have known you, to be seen without a suit and tie or string tie, as in the days of WJJD.
The first was an over night New Years eve party at your house of charades (don't ask me what year). Daughters Dawn and April couldn't have been more than five or six years old, we stayed up most of the night celebrating. As I recall, you even made it to pajamas. The second was a barbeque in your backyard. I brought the booze and Sash Rubenstein, with RCA, brought the steaks. It was a better dinner than Andy's Diner. You were always the perfect host. My spies tell me that you haven't changed a bit, still the suave, debonair gentleman that you have always been. There are legions of air personalities that have come through the radio business who can say "I worked with Chris Lane". They call you a friend because of your allegiance to them. You were always their leader and forever protective of "your guys".
You have set many high standards in the profession, Chris. Tough ones to live up to but we will keep trying.
I am honored to be a part of your celebration and I salute you, good friend. Lead on.
Dan Niles
---
I've been out of touch with Chris since he was in Chicago and I was in San Diego. I did hear him, however, a few times when he was on a country music FM'er in the L.A. area. We traveled the same path, to a degree (i.e., both in Tulsa TV, both on KAKC). I for a short time. And what amuses me most, both spending many years with country music. When were hip-slick-and cool in Tulsa, that was probably the last thing we thought would happen. I wish you both well.
Noel Confer
---
Lorna,
Remember me. I spoke to you on the phone about a week ago. Please pass this along to Chris:
* * * * *
Chris,
Friendship is not often you see each other, It's how deep the connection that you have is.
We have a connection that goes way back (29 years). When I think of you Chris, to me you were always a poet. I shall never, ever forget you reading to me "Ole Sip Lip." What a beautiful poem.
And remember when you discovered that great album of the San Francisco Symphony Orchestra with the Siegal Schwall Blues Band and the soulful harmonica sound? The music was compelling. Beneath that "cowboy" exterior, you have always been the gentle poet at heart. There was always the sensitive little boy there.
I first met you when I was 24. I'm 53 now. When I think of you, I think of your sassy, energetic, twinkling spirit. I have always loved you as my friend and I always will. You are the best!
Love life,
Ron Ball
---
Lorna, Chris is an old friend and I understand he's having some health problems.
Please let him know you heard from me and that I'm thinking of him and wishing him a very speedy recovery.
He's one of the really good ones.
Bo Donovan
San Diego, CA
slvrtre@san.rr.com
---
And, once while we were driving to Utah, a light went on, on the dashboard of his car. We both went into a panic. Thought the car was going to blow up (we were hauling a trailer) until I discovered it was the seatbelt or turn signal sign---something stupid.
He once asked me to return something I borrowed---I in turn called him an "Indian Giver". I should have known better. He finally got me a Choctaw Tribe sign to carry in my car. I still have and cherish it.
Oh, back then, we would go to St. George, Utah, just to stop at Teds, have some coffee, watch the buses pull in and out, and smoke cigs (back then we all smoked--but not now.)
Hell, I could go on and on and on.
Ron Glaessner
---
I met Chris Alexander in the early '50's, when we were announcers/talent on competing TV stations.We ran into each other around town, at parties and clubs and had some mutual friends. Due to a conflict with the name Alexander, Chris had become Chris Lane, not only taking a new name but also making quite a name for himself in broadcasting. Chris was one of the pioneers of Tulsa top-40 radio, leaving TV to go with KAKC. Many of us thought he'd flipped out ("Elvis who???") However, I also worked for a short time on that station. Time passes. I hear Chris is program director of a powerhouse Country music station in Chicago and also had a very popular TV C/W show..I , in the meantime, had moved to San Diego, ending up on KSON, a flagship station for C/W out west. It has not escaped me that though my path has not crossed often with that of Chris', our paths have certainly paralleled. I'll always be grateful to Chris for one good turn. He had visited my home in California. Some time later, he offfered me a job in Chicago, that paid much more than I was making. He did, however, caution me that it would take much more money to duplicate the life I shared with my family in California, i.e., country living, horses, etc. I very well could have been tempted to make a move for the money, but I am sure, today, that Chris did me a big favor with his counsel.
Noel Confer aka Noel Kelly
---
Dear Mrs. Alexander,
Growing up in Burien in the 50s, I was just another fan of KJR when Chris was there, and did not realize until recently -- through my conversations with Lee Perkins -- what a pivotal role Chris played not only in positioning KJR for many years of success, but for establishing a standard of professionalism that other stations and personalities emulated and admired for years to come.
I was Lee's newsman at KOL in the mid 60s...one of the real class-acts in the business. His glowing comments about Chris Lane came as much from the heart as from a professional perspective, and leave me wishing I'd had the privilege of knowing Chris -- both the voice behind the microphone... and the gentleman who elicited such loyalty, friendship and praise from his colleagues.
Please accept my sympathy.
Bill Taylor
---
Dear Lorna,
I want you to know how sorry I am about Chris' passing. I really enjoyed him, even though he gave my Cleveland Browns a tough time.
I've spoken to his oldest daughter. I offered my help in any way you need.
I consider Chris a dear friend...I will miss him.
Joe Reiling
---
Tell Chris Sempe Fi, Mac. (old Marine thing). Our prayers are with him.
Gene Plunkett
---
I'm sorry to hear that you're in the hospital. I think it's the food. If they could fix that, it might just be a cool place to vacation. Being pampered. Hmmm, pampering. I could use some of that myself.
I was thinking of the Chris Lane Show a few weeks ago. We had a retirement luncheon for Wes Ystesund (he was that little guy who was in charge of getting us the money to run the Broadcast Center and pay you those exorbitant sums of money for just talking) and Jim Smick and Denny DeWinter and others from the Hollywood days even were there. And the subject of the record library came up and then your name popped up. It seems you were just about the only guy who knew where to find records in the library. I finally found out why they were fussing about that too. It seems the producers were responsible for keeping the record library in order and up to date. Being government employees, they hated to actually work. So, when you needed records, you forced those lazy ba----- (I'm sure their parents were married) to actually DO something. Well, good on you. See, we DO remember. A couple of times, your name has come up and I've always been proud to say, Oh yeah, I used to work with him back in the 'old' days. (anything beyond 6-months is known as "the old days". (It has helped elevate MY stature, so thanks, even if you didn't know about it)
I hope you are comfortable and doing well. I send you my best wishes for a speedy recovery.
Take care now!
Ric Crawford
Just in case, I was one of the News and Sports on-air announcers who worked for Bill Houck and George Balamaci. I am now running the radio operation.
---
Hi Chris, you monster:
Have you heard from Lee Perkins as yet. He is living somewhere in Oregon.......but just barely. He has a little teapot of a radio station and it's the pride of his life. He will tell you all about it I'm sure. It was good to find him on the internet, he ranks right up there with the greatest. You know, we did have a lot of fun in the old days. I remember Donny Woodland (Chapman). What a mad man he was. I was going to New York for a record meeting and I stopped off in Chicago to spend the night with Donny and see the studios at JJD. You were there and we went to a remote together at some night club that I swear was run by the Mafia. Anyway, Donny met me at the plane and on the way to his house in Des Plaines, said that he couldn't remember what I drank, so he stopped by the booze store and bought one bottle of everything. When we got to his apt. there they were lined up on the kitchen counter. No, we couldn't possibly have drunk them all but we tried.
There are a lot of guys in the business that owe their careers to one Chris Lane. There are a lot of guys in the record business that fall into that same catagory. I happen to be one of them. Many times you made me a hero in the eyes of Lou Lavinthal, Stan Jaffe and Stan Sulman by "breaking" a record for us. You knew if it was "in the grooves" and you didn't hesitate to get it on the air. Incidentally, my record collection still boasts that WJJD Country Gentlemen album. What a coup for you.
You should be getting a little sleepy about now and have heard enough of these "moments from the past". When you are feeling better and you get out of that bed, I want you and Lorna to plop in the road wagon and come to Seattle to visit us. I will have a bottle of bourbon burning in the window.
More later. Take care good guy, everything I've got is riding on your recovery. Nothing can stop us now.
Dan Niles
---
Good buddy:
I know it can't be easy for you right now, but, knowing you, you'll get thru this with flying colors. You have your family & a lot of good friends wishing you well, on the road to recovery. Besides, I want you around in July of next year, because it will be 50 years of friendship between us & I intend to throw you a party you won't forget!!!
Can you remember GTMO in the summer of 1951? You, me, Bob Carper, Soc Scandalis, George Darlington. Stan Brick and all the local gang at RECNAVSTA! You on loanout from the hospital, me on tdy from NAS at Corinaso Point up the hill. What a routine!
Christopher...you & Cherie, bless her, we're my lifeline here in LA during the early '80's when I was alone on the coast. And you & Lorna remain good friends thru the years after our AFRTS days.
So, I expect to visit you poolside this summer in your backyard when you can meet my new lady friend, Lois. I'm counting on you to get up & out of the hospital soon.
If love and the affection of all your friends counts....buddy, y o u ' v e g o t i t m a d e!
I love you, Chris.
George Balamaci
---
Hi, Lorna.
My name is Suzi Balamaci, I am George Balamaci's daughter. I talked to my father this morning and he had told me about Chris' news. I know my father and Chris have been friends for such a long time, I think before they were even married. My dad stayed with Chris and Cherie when he first moved out to California about 20 years ago, and I know both of them were a godsend to my father at the time, very supportive and really showed him the ropes. I remember when my mother, brother and I first moved out to California to live with my father, we we would go over to the Alexander's all of the time, and go swimming (that was the coolest to us), that's when I was introduced to artichokes and dip, Chris taught me how dip an artichoke leaf in butter eat it. I guess there was sort of an art to it, and I just remember sitting on his living room floor and him explaining to me that you can't bite too far down the artichoke leaves or it doesn't taste that good. Chris was always so happy and laughing, he goofed around a bunch with my brother and me, I was about 14 and my brother 12 at that time.
I am now 30 and my brother is 28. I was so sorry to hear the news about Chris, and I was wondering if you could let him know that I am thinking about him and his good sense of humor and hoping that he gets better. My father says you are a wonderful woman and have been great for Chris. I know you will be his strength and support right now, you are both in my thoughts.
All my love,
Suzi Balamaci
---
Back to Chris Lane page 1 Back to Dance Party Back to main