Tulsa TV Memories Guestbook 123

TTM main | What's new on TTM? | GB Archive




February 19 2003 at 10:52:50
Name: Erick
Email: ericktul@yahoo.com
Location: Tulsa
Comments: Mark, I think that Scott Higgins is still the assistant Athletic Director at Oral Roberts University. That's where he went immediately after leaving KOTV.
Diane White has done some on-air work for KOKI, but I haven't seen her in that capacity recently. As far as I know, she's still in Tulsa.
Valerie Sukavoty is someone I haven't thought about in awhile. I met her once while jogging. Very nice person!
We just learned in Guestbook 124 that Diane White has been on maternity leave and will be back on Tulsa TV news soon.
---

February 19 2003 at 00:16:39
Name: J.M. Madrid
Email: jmmadrid@yahoo.com
Location: Midwest City, USA
Comments: Anyone remember the neighborhood where 'The Outsiders' was filmed? I think I remember accidentally making a wrong turn and seeing the house while driving on the North Side, I did a double take before actually that it was the house but I couldn't remember what the street was. I've recognized a lot of other locations from throughout the film. Makes one proud to see Oklahoma on the big screen.
I believe a lot of it was shot around Greenwood and Archer. See the links at the top of the TTM Gift Shop for more locations.
---

February 18 2003 at 22:09:19
Name: Mark
Email: msosu@hotmail.com
Location: Stillwater
Comments: I remember the "Dare Bob" segments. He came to my high school to do a segment. Didn't "Zig" try to do something similar that flopped? I think it was called "Zap Zig."
In response to the Kids Club show on KOKI, now that I think about it, there was a guy and a girl.
I have a few more people that I'm wondering about. I heard that Williams' "Energy News Live" folded because of budget cuts. What is Jay Rickerts doing now? From a personal point of view, I think KJRH made a big mistake by getting rid of him and Denise Brewer. No, they didn't fire Jay, but I guess you could say they demoted him to make way for John Walls.
Denise's "dismissal" hit me personally because she did a story for Ch. 2 back in 1992 about my aunt who was in a car accident that involved a drunk driver. She cried after she heard the story first-hand and apologized for "Not being professional." She was a very sweet lady, and I'm sure she still is. I'm glad to see her back in the business at Ch. 8.
Some other people I'm wondering about are Steve Knight (from KTUL in the early '90s), Scott Higgins (from KOTV sports around '96), Valerie Sukavoty (KTUL) and Diane White (KOTV).
Thanks for your help.

---

February 18 2003 at 18:18:35
Name: Mike Bruchas
Comments: Anyone know what happened to Lesi Nelson - who was a newscast producer at both KOCO then later at KTUL? BTW Lesi Nelson's name was pronounced LISA but folks were forever calling her Lesli or changing the spelling till they knew who she was....
Ditto Jody Gilkey who was an assoc. producer at KOCO then went on to a job at one of the Tulsa TV stations in the mid-80's?
Discovered that former KOCO anchor Mary Ruth Carleton is now on the Alumni board at Univ. of California:
"Mary Ruth Carleton '70, M.J. '77, was born in Sacramento and grew up in Sutter Creek. She arrived at Berkeley in time to become "immune to tear gas" and found the campus an exciting place--inside and outside the classroom. A political science major, she remembers "huge debates" in class, taking part in demonstrations, the conflict over People's Park, and the reaction to the killings at Kent State. After earning a master's in journalism at Berkeley, she was a television reporter and anchor for 15 years, winning the UPI Investigative Reporting Award, a Los Angeles Press Club Reporting Award for feature reporting, and an Emmy as the lead reporter of a plane crash in Los Angeles. A decade ago she switched careers to fundraising, and is now assistant vice president of advancement for the University of San Francisco."
BTW deux - spoke to former broadcaster turned TV gear supersalesman Tommy Roberts. He is "retired" from systems integrator MCSI as regional VP after several years at a youngish 55. He's watching his kids and rust grow. Said after 35 years in TV - he's stayin' out of it and may start buyin' up strip malls for the heck of it. His sister Kitty runs the American Theatre Company. Both worked in front of mic's - he gravitated to the tech side. She was at KMOD in the golden years - later KXXO. He worked at KWGS doing "Subterrania" in the late 60's then at KWEN-FM and finally at KTUL-TV.

---

February 18 2003 at 17:44:49
Name: Si Hawk
Email: siborg54@msn.com
Location: Tulsa

Comments: Regarding comments about Beth Rengel at KTUL: I didn't get to know Beth until she joined the staff at KJRH in about 1984. I found her to be among the most professional and really nice people in the business. She was also extremely careful about what she said when the microphone was 'off'.
Dalinda Jeffers became one of our news producers during the same timeframe and was another really good person. Her family used to own (and I believe still does) Discoveryland west of Tulsa where they do the great live performances of "Oklahoma". Dalinda was studying law and eventually became an attorney.
It was always an honor to work with both Beth and Dalinda! They are good people!!

---

February 18 2003 at 15:28:27
Name: Emily Webb
Email: tv6lady@yahoo.com
Location: Tulsa
Comments: Yes, Jack Bunds is the assistant news director at KTUL. He's also a nice guy.
I saw a videotape a while back where Teri Bowers was tossing to the GMO sports package and she tossed to it as "Jack's Buns." It caused her to have a bit of the giggles.
Oops!

---

February 18 2003 at 13:56:59
Name: Erick
Email: ericktul@yahoo.com
Location: Tulsa
Comments: Last I heard, Jack Bunds was the assistant News Director at KTUL.
Not sure about Bob Healey, after Tulsa he was in Fresno, CA for awhile and then onto Springfield. Does anyone remember is "Dare Bob" segments during his sportscasts?
I do recall the kids show on Fox 23 that Mark mentioned. I don't recall the name of it, but I went to high school with the girl on it. From what I remember, there was a girl and a guy, but I could be wrong.

---

February 18 2003 at 12:00:05
Name: Mark
Email: msosu@hotmail.com
Location: Stillwater - OSU!!
Comments: I'm 23 years old, so my memories of Tulsa TV are somewhat limited compared to some of the other people who have posted comments to this site. I love your site, by the way. I have learned a lot about Tulsa TV that I had no clue about, including KGCT-41!
One thing I vaguely remember is when Beth Rengel blurted out the expletive on KTUL. My mom had a tape of that for some reason but I'm sure it's long gone by now. Why did she quit Channel 6, anyway?
I was hoping maybe you could help me with something. I found this VCR tape of "The Love Bug" that my mom taped off of KOKI (before it was affiliated with FOX). During the commercials, the station did a news update entitled "NewsCheck" that lasted only about 30 seconds with a lady bringing the big stories of the day. If I had to guess, I would say the tape is from 1988 or 89. The woman looked very familiar to me and I finally realized it resembled the "Attorney on Call" on Channel 6. I believe her name is Dalinda Jeffers. Is this the same woman or is it just my imagination???
Now, I CERTAINLY remember Jack Bunds doing the news for that station for a few years before he went to channel 8. He was always on during the 'FOX Kids Club' cartoons after school reporting news and it usually pissed me off when they'd put that on instead of getting back to cartoons. That reminds me, didn't they do a kids show locally in the early 90's? I remember the set was a treehouse and this girl that looked 19 or 20 did the show and would cut in while the cartoon was showing closing credits. It bothered me when they did that on "Chip n' Dale Rescue Rangers" because I really liked the song. :( Anyway, I remember at 5 o' clock (the end of the show) they would show the girl climbing out of the "tree" and either skipping down the road or riding her bike away. Ah, memories. That was my plan each day after school, watch "FOX Kids Club." Then after that, time for "Small Wonder" at 5.
Anyway, I remember one day I was at the mall with my mom and we saw Jack Bunds with his wife (I guess) looking at women's clothing. My sister saw him first and yelled, "HEY, mom it's the BUNS guy!!!" My mother was somewhat embarassed. Jack gave her a weird look as she was dragging us off. LOL.
Jack was doing weekend sports for Channel 8 and all of the sudden he was gone. Could you tell me what happened to him? Also, where's Bob Healey?!?! I checked on the CBS station's website in Springfield (KOLR-TV) and he's not there!
Again, great site. Keep up the good work. Thanks.
Yes, Dalinda Jeffers was a TV person before she was a law person.
---

February 18 2003 at 10:14:03
Name: David Bagsby
Email: david_bagsby@hotmail.com
Location: Lawrence KS
Comments: In regards to the Frank's Country Inn music...sounded to me like it was either Tommy Crook or Chet Atkins or maybe even Merle Travis. Definitely a fingerstyle electric guitar song.

---

February 18 2003 at 00:51:44
Name: Jon Cummins
Email: STUDIEMAN@aol.com
Location: Terlton
Comments: There is an annual "Birthday" party for guitarists Tommy Crook & Buddy Bruce on Feb. 25. They usually start this thing playing tunes people recognize and get into, then they start turning it up in difficulty/tempo, and everyone has to hang on. Both of them have been at the top for many years and I've been lucky to play with them on different bands over the years. It will be at Greenwood Jazz Hall of Fame about 7:00 pm and that is a Tuesday evening.
I saw Tommy at Lanna Thai South recently...he played with a trio there, and also has a new CD out.
---

February 17 2003 at 20:00:36
Name: Bob DeMers
Email: demers.r@worldnet.att.net
Location: Portland, Maine
Comments: I just wanted to add an aside to John Hillis's remarks on the President's day snowstorm in 1979...
At that time, I was living in Washington D.C., looking for my first job as a meteorologist in TV. I remember the NWS forecasts well in the DC area before the storm: Sunday morning...a chance for snow flurries, Sunday noon, with an inch of snow on the ground, the forecast changed to 1-2 inches, 4 pm Sunday, with 4 inches on the ground, the forecast changed to 4-6 inches by Monday morning....at midnight, 6 inches on the ground, the forecast changed to 6 to 8 inches, at 4 am with about 10 inches on the ground, the forecast changed to up to a foot, at 7 am, after picking up 6 inches in one hour, and 18 inches on the ground, the forecast changed to 12 to 18 inches, and at 8 am, with 4 more inches in an hour, and 22 inches on the ground at my house, the forecast changed to 1 to 2 feet. Final total at my house, 26 inches.
The plows arrived at my house 4 days later, and the phone call from KTEW in Tulsa for a job interview for weather during this same week. I told them that I could do a better job than the folks in DC, and I think that got me the job... :-)

---

February 17 2003 at 01:32:53
Name: Chris Starr
Email: mrspeed@dellepro.com
Location: Mannford
Comments: Can anyone tell me the name of the instrumental that plays under the local commercials for Frank's Country Inn (home of the bodacious salad bar)?

---

February 16 2003 at 22:19:09
Name: John Hillis
Email: mail@equinox-media.com
Location: At home in Fairfax, Va.
Comments: Well, another President's Day Storm. About 19" here at the ranchette, drifts up to the car hood, and dire forecasts tonight. This storm, the mets on the teevee say, will be historic--and they show the list of deepest snow ever to hit Washington National Airport. #3, which we surpassed today, was President's Day, 1979, 18". And there hangs a Tulsa TV Memory tale.
I remember that storm well, because I was in it, trying to get out of Tulsa TV. A job interview in Raleigh, N.C., and a flight arranged, TWA Tulsa-St. Louis, Eastern St. Louis-Raleigh. Depart on Sunday noon, Interview Monday, back Tuesday. Vacation all arranged, I left Tulsa on a TWA 707 on time Sunday noon. That was the last thing to go right for nearly a week.
At St. Louis, the news that snow in Raleigh had caused Eastern to cancel the Raleigh flight, but if you go to Washington, there are flights leaving nearly every hour, you can probably get in late Sunday night after the snow stops. TWA to Washington National from St. Louis.
At National, the plot thickens. The Raleigh Airport is socked in with snow, but they expect to go first thing in the morning. First flight out is from Baltimore at 6AM, Monday. There's a bus outside to take you to Baltimore.
As I get on tne bus, the snow is starting to fall, but only a couple inches, and we get to Baltimore without further incident. I check in at the Holiday Inn, on Eastern, and bunk down about 10 pm. Alarm set for 4:30 am to catch the 6 AM flight.
4:30 arrives. I call down to get a shuttle to the airport, about a mile away, and am advised to check outside. The four inches of show forecast last night is two feet. Runways closed, no flights today, even if there were, the van couldn't make the trip.
I watch a lot of TV that Monday holiday. On WJZ, the ABC affiliate in Baltimore, there's a girl doing a second-banana gig on a local talk show with a funny name. Oprah. Calling Eastern every hour, the snow has stopped, but it's a holiday, so they're not plowing.
Eastern says maybe there will be flights out Tuesday. Hotel staff from Sunday night has been snowed in and is getting testy. No clean sheets or towels, and by dinnertime Monday, the only food left is popcorn from the bar's popcorn machine.
Snow plows finally arrive after dark Monday, but no planes flying. Another night in the Holiday Inn. Tuesday morning begins with jet noises, an encouraging sound. But nothing going up and down the east coast, only to the non-snowy parts of the midwest and beyond. More TV, More phone calls to Eastern trying to find a flight. Some food has made it in, but not the laundry truck. Make do with the towels again.
Eastern tells me that if I can get back to Washington National, maybe they'll fly out to Raleigh tomorrow. Now, it's Wednesday morning, the day I was supposed to be back at work in Tulsa. A bus ride with a group of people who've been camping out in the terminal without even the benefit of the Holiday Inn's showers, dirty linen and all, we look like WWII displaced persons. A good way to make a good impression on that interviewer.
By noon, Wednesday, I'm finally in Raleigh. Booked out the next afternoon to Tulsa--a commuter to Washington Dulles, and Braniff direct to Tulsa. The interview goes okay, I get dropped at the airport, and a thick fog drops in. Airport closed.
I return to the hotel in Raleigh, and tell my wife, who's called the news director three times already warning that I'm not going to be back without explaining just why it is I'm gone, to call again. He didn't much care for me before this debacle, Heaven knows what he'll be like now.
Next day, fog finally lifts about 2pm. I manage to get aboard an Eastern to St. Louis, and a TWA to Tulsa. The two-day trip turned into a five-day nightmare.
Fortunately, about a week after I got back to Tulsa, the news director in Raleigh calls and offers the job. Living on borrowed time in Tulsa, I accept.
Yawn. Just another day at the office for a Tulsa broadcaster.

---

February 16 2003 at 12:18:48
Name: Andre Hinds
Email: ahinds@aol.com
Location: Berryhill My Berryhill
Comments: For those of you into the minutiae of radio news, there's a pretty amazing internal memo for a couple of West Coast Clear Channel stations posted at:
http://www.internalmemos.com/memos/memodetails.php?memo_id=1329
The memo lists the stations' war coverage responsibilities from the moment it (inevitably) breaks out in Iraq. It details the network feeds to use, as well as a large list of local story ideas.
I wonder how our own Tulsa stations are preparing for war coverage...

---

February 15 2003 at 09:35:26
Name: Bob DeMers
Email: demers.r@worldnet.att.net
Location: Portland, Maine
Comments: I happened to stumble on this website this morning, and it rekindled so many great memories of when I worked as a meteorologist for KTEW/KJRH in the late 70's/early 80's. Tulsa was (and is) a great city!
My last visit was at the US OPEN in 2001...wow has T-Town grown!
I am now in Portland, Maine, self-employed, and no longer doing weather for TV. Weather continues to be a passion of mine, but one that I no longer have to suffer the slings and arrows of public outrage after a bust forecast (just kidding, as I never missed a forecast...oh well, maybe a few!).
I worked with Gary Shore (excellent forecaster), Dan Satterfield (all around nice guy...as well as KMOD's "Little Danny Satterfield"?), Kurt Schmidt (what a great set of pipes he had!) in weather. Dean Lewis, then Sam Jones as anchors, Jerry Webber in sports, and a number of other great talent that I was privileged to work with.
I have lots of TV memories and will certainly need to re-visit this site to share them. But the funniest memory that I have is when I was working with Betsy Raverby (where is she now?...what a fun person to work with!), and Gene Wheatly (where is he now?) on a one hour morning farm/news show between 6 and 7 a.m. during 1981 (I think...it only lasted a short time).
Betsy was reading a news story on the teleprompter, and instead of reading the name of the reporter scripted on the teleprompter who she was about to toss to with a packaged report, she said "and here's SO AND SO with a report." So the reporter's video comes on, and while it is playing, Betsy starts cracking up (an incredibly infectuous laugh!!!!). During the report, all of us are laughing until we are in tears.
Fortunately, by the time the news package is over, Betsy is composed, and able to read her next story on live TV without laughing. Unfortunately, the following story set her off again...as she is reading the teleprompter, she says..."and in Oklahoma City, a noted surgeon, Dr. xxxxxxxx, is suing a chimpanzee (or something of the like) for two point five million dollars for biting the surgeon's finger off. At this point, she loses it, and erupts into total laughter. The camera is on a complete close-up of her, and all she can do is laugh. Each time she attempts to continue with the story, she bursts out laughing.
Meanwhile, weather is next on the rundown, and I am off-camera in tears because I can't stop laughing. I know that I am in serious trouble when Betsy realizes that she can't finish her story because of her laughter (she is in tears now too), and says, "and here's Bob DeMers with weather."
So I look at her, and burst out laughing, the camera zooms in on me, Betsy is doubled over in laughter, Gene Wheatly is doubled over in the corner laughing (he was a former pro football player, but at this time weighed close to 350 lbs, and all 350 lbs of him was shaking like jello), all the camera people are laughing, folks in the control room are laughing, and I am in a world of trouble, because I have 4 minutes of weather to fill, and all I can do is laugh.
Each time I tried to say something, all I could do is laugh...for 4 minutes, all I did was laugh (and cry!). That was the most incredibly funny thing (and painful, because all I could see was my getting in trouble for laughing, which made me laugh all the harder!)
Eventually the weather segment was finished (thank God!), but when it was, and I pitched to Gene, all he could do is laugh. I am not sure if I still have this tape saved, or not, but it was the funniest thing that I have ever seen (or experienced on TV).
Apparently, not too many people were watching this newscast (nothing was ever said to me by mangement!), but a couple of people called and said that it was the funniest thing that they had ever seen on TV as well. And it all happened in Tulsa!
I've got a lot of other good TV stories that I will share here down the road.
Thanks for the opportunity to share!
Bob DeMers
Portland, Maine
Welcome, Bob!
---

February 14 2003 at 21:55:33
Name: Janice Lyons
Email: jloyallyoness@earthlink.net
Location: Tulsa
Comments: I was so very excited to see so many entries on the Tulsa Easter Pageant which I am the current Historian. The Tulsa Historical Society is planning to open a museum this summer in which I want to place a display on the pageant, and its founder Miss Isabelle Ronan. If anyone has anything they would like to donate to this effort I would greatly appreciate it.
To add information about the pageant's history, some still think it is a sunrise service, which it is not. The annual performance was moved to the Friday and Saturday nights of Easter weekend, to help handle the crowds. In the last 15 years or so it was moved to the Friday and Saturday night performance on Palm Sunday weekend so that the cast and crew could attend Easter services of their own choice.
The pageant is no longer aired on the radio, nor has live narrators. For the 50th anniversary, the pageant got a new tape with both male and female voices on it. This tape was updated three years ago.
If you would like more information on the pageant please send me an email. I also want to hear from those who have stories to tell me or want to place a donation for the museum.
Photos and comments about the Easter pageant (narrated in earlier years by Jim Hartz and Frank Morrow, among others) are in Guestbook 104.
---

February 14 2003 at 10:11:33
Name: Lowell Burch
Email: J9Z1B95@aol.com
Location: The Bomb Shelter (or is this just my garden shed?)
Comments: While the threat of terrorism is not funny - DUCT TAPE is! I don't know why, it just is. Too many jokes about the sticky stuff already floating around, I guess.
Seriously, I would suggest that you add to your emergency stock of duct tape and bottled water a generous supply of old Mazeppa tapes and Rockford Files to keep you occuppied, if worse comes to worse.
See? Homeland Security doesn't think of everything, now do they? Leave it up to us to think of the really important stuff, right guys?

---

February 14 2003 at 01:48:08
Name: edwin
Email: goditself@aol.com
Location: within
Comments: duck & cover......uh uh. Fine place to be.

---

February 14 2003 at 00:26:25
Name: Webmaster
Comments: A note about posting in the Guestbook...
Personal opinion about politics or religion occasionally comes up here, just as it does in everyday conversation. But it tends to evoke strong and bitter feeling, which doesn't fit the tenor of this site very well. There are many forums (or is it fora?) for such commentary (e.g., KRMG's site). I think we all would very much like to continue hearing first-hand reports from places like NYC and D.C. about current events, though.

---

13 February 13 2003 at 15:23:17
Name: Webmaster
Comments: Posted Mike Bruchas' resume on the Bulletin Board. He is seeking a position in broadcasting/cable operations, event management or corporate video production and training. Let him know if you have a lead (his email address is at the top of the resume).

---

February 13 2003 at 11:16:17
Name: Mike Miller
Email: michaelmmiller@hotmail.com
Location: Very near Washington, DC
Comments: The scary thing for me is seeing all the surface to air missile launchers spread around town. Residents here believe something will happen soon, they just wonder exactly where and what type of horrible weapon will be used.
Yesterday when I went to DOT, my car was searched, including under the hood and in the trunk. The threat is being taken seriously here! I carry an N95 mask in my car just in case.

---

February 13 2003 at 11:06:47
Name: Mike Bruchas
Comments: I'm sorry, folks, I moved from DC in part because I was scared of "what next".
As someone said in an e-mail posting to me - the terror factor is now in ALL of our lives since 9/11/01. These alerts notch it up more.
Little did I know that I was moving to another target city - America's second largest banking center outside of NYC (plus all the computers tied to so many banks), also a town on most mornings where I can see the steam plume from a nuclear power plant on the SW horizon 12 mi. away - we have a second one No. of town. This town has evacuation routes on major streets with blue signs - where we would all go - I don't know....
No, it isn't Tulsa and we are living in a far more potentially horrific world - sadly...

---

February 13 2003 at 10:45:12
Name: "Booger Red"
Email: studieman@aol.com
Location: Keystone Lake
Comments: As a kid I saw different approaches to "doomsday" plannings of my Dad, and his brothers.
His eldest brother was on the paranoid side, and Dad was mostly "wait and see" side. Now he respected Mother Nature's fury, as we spent many nights in our cellar (before Doppler radar), but he didn't tear out his bedroom and replace it with a "fallout shelter" like Uncle Kenneth did. Not a little one mind you but one big enough to keep 3 people with provisions a month.
He was a carpenter who did the sets for KOTV in the 50's-early 60's, and was a smart man, but every time we would visit him during this time, Dad would ask him about the reality of being left as a survivor, or what about if it took longer than a month for the fallout to neutralize, and Uncle K. would get real upset, and ask us to leave. I think being an agnostic left him without any hope, and Dad had a belief in God which can soothe, comfort, and give us confidence with unknown fears.
Bottom line that I've learned since then is "Who would want to be left after an Armageddon-like attack?" Remember the movie "Omega Man" with Charlton Heston? His only goal was to stay alive, but his quality of life was horrible. A life lived like that would make me sorry to have been a survivor.

---

February 13 2003 at 09:54:49
Name: Jim Ruddle
Email: gardel@erols.com
Location: Rye NY
Comments: The situation does't get any belly laughs around here.
People are tense, feeling vulnerable and virtually defenseless. They wish they could do something to protect themselves, but know there's not much they can do. They go to work, ride the trains, take their kids to school, and do it with a knot in their stomachs. No, it's not funny, at all.
Those of us who were around for the Cuban missile crisis know something of how this goes, but this is worse. The insidiousness of chemical and biological attacks on a civilian population is a horror to contemplate.
This isn't a tornado. You can't get in a corner of the bathroom and wait until the all clear sounds.
Years from now, people may be able to say "Boy, were they a bunch of loonies! Duct tape? Ha-ha-ha."
Nobody in New York or Washington sees the humor. And perhaps some who feel secure far from here should rethink the possibilities for themselves.

---

February 13 2003 at 01:38:51
Name: Mike Bruchas
Comments: How are Tulsa TV and radio outlets doing with Level Orange thing? Figure in more sensible OK - this would be a glorified Tornado Preparedness thing.
Here in NC - TV is going overboard emulating the networks and talk radio is worse.
From those of you who grew up in Tulsey in WWII and during the Korean conflict or Viet Nam - does NOW seem a lot scarier?
Does it seem like our media is doing often an electronic version of "yellow journalism" in coverage of the eminent war in Iraq?
Friends up in Maine and down in Arkansas say they think cable is fanning the flames more - that on Fox News/MSNBC/CNN than our over the air TV outlets. Tonight several friends remarked that their kids are getting truly traumatized by this, too.
My aged parents (survivors of the Depression and WWII) are laughing themselves silly at calls for folks to buy duct tape and plastic tarps in preparation for protection. Maybe it is a Midwest thing with them.
We ALL still have our Y2K gear I hope!
Don't know to laugh or cry, or bury my head in the sand at all of this - may we live in interesting times!

---

February 12 2003 at 16:55:21
Name: Tim Duncan
Location: Bartlesville
Comments: I understand that Tulsa was used for a location in "The Frighteners", a film by Peter Jackson (of "Lord of the Rings" fame). Do you know what parts of town were used and for what scenes?
I've become a big PJ fan since The Lord of the Rings movies came out and since most everything he does is in New Zealand it was surprising to see Tulsa on the list of movie locations for one of his films!
Let me know if you can let me know or if you know where I might be able to investigate.
Thanks for the memories!
The Internet Movie Database confirms this, but I haven't been able to find out more. Any readers have further information?
---

February 12 2003 at 14:27:12
Name: John Hillis
Email: mail@equinox-media.com
Location: Up Yonder in East Virginia
Comments: The Bob Schieffer story I heard, I think by way of Doug Dodd, who talked to Schieffer, was that Bob Gregory had indeed just quit at CBS to return to KTUL and Tulsa, when Schieffer, looking for work, came in and interviewed. The timing was such, I think the story went, that Gregory had just walked out (or given notice) when Scheiffer walked in, determined to either get a job or go back to Ft. Worth.
---

February 10 2003 at 13:24:21
Name: Jim Ruddle
Email: gardel@erols.com
Location: Rye NY
Comments: Dear Webmaster, sir--A nice lady (Janice Lyons) who is in charge of publicity/history for the Tulsa Easter Pageant has emailed me requesting a copy of the program for the 1937 Pageant which appeared on this website (Guestbook 104.) The picture of the program is inserted in some remarks I made about participation in the Pageant, but I had nothing to do with the picture, just the text.
If you, or whoever has the program pic, could inform this dear lady as to how she may obtain a copy, either off the web or by some other means, please write her and give her the details.
her email address is: jloyallyoness@earthlink.net
Having done my duty, I'm outta here.
I'm pretty sure that I found that image on eBay. I'll email her what I have.
---

February 09 2003 at 19:06:09
Name: edwin
Email: goditself@aol.com
Location: rat cheer
Comments: I think it would be a possible thing to do...(meeting at Casa B)...but since they don't serve alcohol in any form, doesn't that sound like therapy? Of course, there's always the flask.
There always is, but this Casa Bonita review claims they serve beer and wine.

Here are a couple of fairly recent shots of Edwin and then-governor Frank Keating enjoying a taped segment of Edwin's "MAINTAIN" program.



---

February 09 2003 at 13:37:46
Name: Louise Bland
Email: L.bland@sbcglobal.net
Location: Dallas
Comments:
Mike Ransom, our webmaster, does an awesome job with this website. It's easy to move around in and he's right there with updates. I'm sure I don't deserve the kind gesture with putting my photo of Nick Adams and me at the opening, but, let me tell you...I like it!
Thank you.
Louise, you're welcome.
---

February 09 2003 at 12:25:10
Name: Emily Webb
Email: tv6lady@yahoo.com
Location: Tulsa
Comments: I took this funny picture of Monte Toon the other day...I like the sign next to him.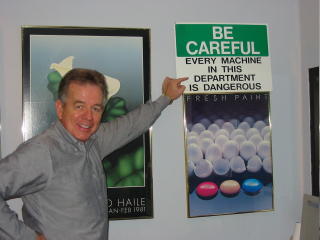 What ever happened to the dinner idea we tossed around?
There wasn't exactly a tsunami of tsupport for the idea, but I still want to visit Casa Bonita soon. Does the idea of an informal get-together at CB sound appealing to other readers? Probably the thing to do is set a time and date, then whoever wants to show up, can.





---


February 08 2003 at 01:18:32
Name: Webmaster
Comments: Archived Guestbook 122, where we just heard from and saw Louise Bland of KTUL's "Spotlight", a weekday noon show of the early 60s. We were also in the process of doing some job networking for Mike Bruchas. Many good things in the last GB; I recommend that you take a look!

Also, an urban legend was touched upon...if you find some urban legends too grisly to think about, see if these Urbane Legends are more to your taste.





---




Back to Tulsa TV Memories main page