Tulsa TV Memories GroupBlog 309

TTM main | What's new on TTM? | GB Archive




April 02 2010 at 03:58:41
Name: Blake Bartholomew (via email to webmaster)
Topic: The Uncle Zeb Foundation Golf Outing
Email: bcb00 aht cox daht net
Comments: Howdy!

This is it. Golf is Monday. Thanks to everyone who has signed up or has donated.

One last time, here?s the deal:

· Monday, April 5th
· Tulsa Country Club
· 11:30 Lunch
· 1:00 Shotgun
· 4 person scramble
· Free Beer!
· $200 per person

As of the end of February, the Uncle Zeb Foundation is a 501 (c) 3 Public Charity. Part of your donation may be tax deductible; check with your tax advisor.

Thanks again and I look forward to seeing you Monday!

---

April 02 2010 at 03:55:04
Name: J Riley (via email to webmaster)
Topic: Rockin' John Henry Tribute
Email: bopkitten3 aht ecewb daht com
Comments: Friends and fans of John Henry,

I have received tons of requests for information about the 2010 Rockin' John Henry Tribute, so will try to reach as many as possible on Facebook and email. The annual event normally held in April (John's birthday month) is being moved this year to sometime in the fall. We are researching some great ideas and will keep you posted on developments.

In the meantime, we ask that you remember Rockin' John on his 66th birthday, April 4. Gary Rofkhar of Rogers State University Radio station KRSC 91.3, and John's old sidekick Guy T Miller, will be paying tribute to John on Saturday, April 3 on the "The Hillcat Saturday Sockhop", 12:00 to 3:00 PM.

Live streaming is available as well on their website. Tune in and spend some time remembering Tulsa's Rockin' John Henry.

---

April 01 2010 at 23:04:00
Name: Jim Reid
Topic: Betty Fields (Thompson)
Comments: I saw Paul Murray's note about Betty recognizing his voice on the phone after not talking to her for 20 years. The same thing happened to me.

I left KTUL in 1981, and a few years ago I found out that a new co-worker had also worked at Channel 8. He told me that he had heard there was going to be an ex-employee reunion. I called the main number (still remembered it after 26 years) and Betty answered. I said, "I understand there is going to be an ex-employee reunion." and she said, "Jim Reid! How are you doing?". She's amazing.



Here she is over ten years ago when Mike Bruchas and I visited KTUL: Betty Fields.

I chatted with her before and after my "Good Day Tulsa" appearance in January.
---

April 01 2010 at 21:33:49
Name: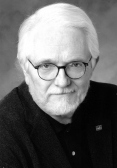 Delmeaux
Topic: Remembering Simon & Garfunkel
Comments: I always liked being called "Don't bite off more than you can---Chew!" Mike Miller was the guy who came up with that one.

But I have to say now that the time has come to resist referring to me as Del, Delmo Gillette, or Delmeaux de Gillette du Coffeyville---with a few Tulsa friends of mine still referring to me as "The Bird," as I did enjoy Bebop as a child. So, it's now into the "Mrs. Robinson" phase of my life. From now on I should be known to you simply and only as, Gary "Coo-Coo-Cuh" Chew.

Jesus loves me more than you may know, Woe Woe Woe.

And thanks to the Mems Surfers here who wished me a happy birthday. It's really swell being 39.

---

April 01 2010 at 21:32:32
Name: Mike Bruchas
Topic: "Goldberg"
Comments: Yep, Larry Burnett confirms that his brother-in-law is on THE CELEBRITY APPRENTICE - that wrestler/monster truck racer and now reality star - Bill Goldberg.



Almost ten years ago in GB 37, John Hillis told us about young Goldberg at KOTV.
---

March 31 2010 at 18:18:58
Name: John K. Young
Topic: I'll take 'Birthdays' for $1000, Alex
Email: johnk662561atyahoodotcall
Comments: Just a note to wish Mr. Gary Delmeaux Gillette aux Chew (gesundheit!) a very HAPPY BIRTHDAY! :)

---

March 30 2010 at 22:09:47
Name: Mike Bruchas
Topic: Muddy Waters - sidebar here
Comments: Went to a combined Muddy Waters 95th birthday party, 2010 Census Rally and Westmont, Illinois Summer events kick-off on Monday.

Lotta old (German-Polish) folks turned out but few listened to the good live music. Bizarre crowd. About 7, a more appreciative bunch of younger blues fans traipsed in.

WBBM-TV sent a photog only for the 10pm News (had a live truck in the back though). I have never seen a 30-something TV news shooter with 4 shades of red and purple hair... times are changing.

Muddy's real birthday is April 4th. I discovered a nice one room Muddy Waters Museum in the Westmont Centre. His son, MUDD MORGANFIELD, was there but did not sing Happy Birthday. He did give us 2-3 songs with a great blues band and his Dad's last drummer (who looks like a corporate tyro) sat in.

The Census folks said a "Census Blues" song had been composed, but I did not stay to hear it. They had several PR folks there from DC. Your tax dollars at work.

---

March 30 2010 at 21:55:14
Name: Mike Bruchas
Topic: Delmeaux Gillette, aka this guy...
Comments: Happy Birthday to GARY CHEW: may you always GO FOR DOUGH ON THE EARLY SHOW!

A free coupon for a six-pack of Diet-Rite Cola will be mailed to you!

I think that you are of an older vintage than Mike Miller or I. Us Mikes just "wear better".



Happy birthday to our fearless movie reviewer!

He has another reason to celebrate:

"YoungArts "superstars" at Interlochen Arts Academy: Part One, Ellen Chew".
---

March 28 2010 at 09:53:25
Name: Paul Fletcher Murray
Topic: Connections
Email: fletch@theassociation.tv
Comments: I ran into Ronny Jay in Burbank. His dad, Rudy Cohen, and I worked at Channel 8. It is amazing to me how far reaching are the connections I made at Channel 8.

Jim Holtzman brought me to Channel 8 after seeing my award-winning student film. For that I can't thank him enough. Whenever I go into "remembering Channel 8 mode" the names just flood in.

Betty Fields (who recognized my voice when I called KTUL 4 years ago after not speaking to her for 20 years). Bob and Debbie Welch, Red Statum, Roy, Johnny Rauser, Rick Laudon, Doug McAlister, Bob Leder, Doug Dodd, Bud Blust, Judith Clayton, Rich Wilson (Rex Brinlee's favorite cameraman to hit), Bob Hower, Mike Denney (the Leonardo of technical directors), Scott Blaker (the music man who would lift "Oil in Oklahoma" to a whole new level), the Big Z, Don Woods, John Heatley, Mazeppa, Busey, Greg (my fellow cameraman, I forgot last name), Mike Miller (who sent me to shoot the unearthing of Tommy McDonald's body - my first big challenge and big scoop), Bob Doubleday (who said I'd never amount to anything - thanks, because it made me never give up), Tom Goodgame, Linda (from Traffic, who stopped traffic when she'd walk down the hall), John Chick, Carl Bartholomew, Mike Bruchas, and my special friend and mentor, Bob Gregory, who raised average work to award-winning. What a guy. What a time. What a team.

Sorry if I forgot anybody. Fill me in on who I missed. Also, update me where some of these folks are. My company's website is TheAssociation.tv. I've got a fanpage on Facebook as well.

Tulsa! Wow. What a place! KTUL. 8's The Place.

---

March 27 2010 at 17:25:46
Name:

George Tomek
Topic: Peter Graves
Email: mranchor@cox.net
Comments: My wife and I were on our way to KC after Christmas and, while listening to the "Siriusly Sinatra" channel on XM radio we caught a program normally hosted by Nancy Sinatra that had Peter Graves guesting. It was a fascinating show. Graves talked about his early days growing up as an estwhile musician playing brass in the upper middle west. Graves said he played with Lawrence Welk for about a year before Welk hit it big on TV. Very interesting.

Both Graves and his brother James Arness certainly hit it big on TV. One of my favorite roles was Graves playing the Nazi stoolie in "Stalag 17." Arness, I'm sure, was relieved when he saw more out of his career than his first role as the ET monster in Howard Hawks' scifi thriller "The Thing From Another World."

---

March 26 2010 at 17:10:22
Name: John Young
Topic: A Thank You and a Comment
Email: johnk662561atyahoodotcom
Comments: First off, a thank you to Michael Bates for the info on the Bob Wills Transcriptions. I've been kinda under the weather for the last week or so and haven't been on much so I apologize for the tardiness of my thanks.

Secondly... regarding Bill McCright... I went to Kellyville High while my wife, Julie, went to school at Liberty/Mounds. She had Mr. McCright as a English teacher during her time there and remembered him for two particular comments... one was that when "The Big Ones" got dropped, he was "Going to run outside and catch the first one" and the other one had to do with birth control which I probably shouldn't post.

Julie said he was a great teacher and a lot of fun. She also said that he was a bit of a "discipline problem" for the school admins and some of the parents... but that was part of what made him popular with the students, I'm sure! :)

---

March 25 2010 at 00:16:59
Name: Mike Bruchas
Topic: Culp & Muddy
Comments: Robert Culp of I SPY and THE GREATEST AMERICAN HERO fame died at 79 today. I thought that he had to be older than that...then when I SPY was new, I thought ALL actors were waaaay older than me!!

For you blues fans, this next week would have been MUDDY WATER's 95th birthday. His last hometown of Westmont, Illinois is honoring him AND having a 2010 Census Rally (huh??) on Monday 3/29. I hope to see who is entertaining; hasn't been announced yet.



Really sad to hear that. Robert Culp was a favorite of mine. He was the star of the "Outer Limits" episode mentioned below, "Demon with a Glass Hand".

I got to see Muddy Waters as Eric Clapton's opening act here in Tulsa in 1979. Johnny Winter, another fav of mine, produced several successful Muddy albums around that time.
---

March 22 2010 at 19:51:09
Name: Dave
Topic: Liz Carpenter
Comments: Here's one obscure bit of Oklahoma media trivia.

Liz Carpenter of Texas, who was an assistant to Lyndon Johnson and press secretary to Lady Bird, died over the weekend. On the November 1963 Air Force One ride back from Dallas, she was the one who wrote LBJ's short address at Andrews AFB ("This is a sad time for all people...").

That and other bits of information are available in the New York Times obit, but it overlooks one piece of biographical information: in the 1950s, Carpenter was the Tulsa Tribune's Washington correspondent.

---

March 22 2010 at 13:27:57
Name: James
Topic: The Outsiders at The Admiral Twin
Email: greasersocproject at yahoo dot com
Comments: It has been confirmed that a special screening of The Outsiders (Original) will show at the Admiral Twin Drive In on April 24, 2010 in conjunction with the 60th Anniversary of The Admiral Twin Drive In. Rain or Shine.

The Outsiders has not shown at the Admiral in at least a decade or longer so come on out before the show and make this a celebration!

Anyone with vintage cars are encouraged to show up. Many of the local Tulsa actors, Greasers, Socs and crew people associated with the film will come out to celebrate and share their stories and memorabilia with the fans.

There will be a memorabilia table on display, representatives on hand from the Official Outsiders Book and Movie Website, vintage cars, a ribbon-cutting ceremony, and rumors of a local band to play music.

I'm asking anyone who may have been a part of the film to email me.

---

March 22 2010 at 04:56:26
Name: David Bagsby
Topic: Church crawl
Comments: At the First Agnostic Church, attendance is optional... same policy at the Apathy Club.



Today's closings include Greasy Public Schools, but that is for real.
---

March 21 2010 at 23:02:35
Name: Chew Again
Topic: Misspelling Important Words
Comments: Hey Web Guy: Maybe, according to what you say in italics in your response to me about the KOTV graphics screw up, maybe we should start of a First Church of the Apologetic. Sounds good, huh? We could get members like Tiger Woods, and all those many pols who've had to fess up and make amends. Maybe even Sandra Bullock's hubby, the new Jesse James.

---

March 21 2010 at 15:56:06
Name: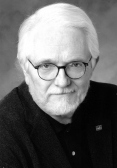 Gary Chew
Topic: Tulsa: Snowbound for Spring?
Email: Northeast of Eden
Comments: Thanks, Web Maestro, for the Newz on 6 video display in front of the funeral home across the street on Peoria. The question regarding the fishy crawl listing seen in the weather piece is: was it a misspelling, a misunderstanding of the word "agnostic" or... a prank?

If I still worked there, they'd probably think it was my being cynical on the air, and would act accordingly. "Apostolic" might have been the intention. Maybe the KOTV PD could go on camera, like Art Elliott would've, saying that the company is teaching staff to excel more at spelling words connected to theology. Just sayin'.



By George, you sure could be right about that. There is a First Apostolic Church in Tulsa. If so, a faux pas like the old Lebanese vs. Lesbian mixup. I checked the Tulsa feed from NewsOK.com from whence I believe it came, and it did NOT have Apostolic listed, so the misspelling theory is a good one. "Apologetic" may be the word of the day.
---

March 21 2010 at 09:24:52
Name: Webmaster
Topic: Prank church on weather closings crawl this morning
Comments:

We got a load of snow last night and this Sunday morning (the first day of spring!) As a result, there have been many church closings.

Check out the sixth church in this list of closings. Does it seem a bit fishy to you?
---

March 20 2010 at 10:54:52
Name: David Batterson
Topic: King Lionel
Email: dwbatterson(at)gmail(dot)com
Comments: RE: "Did King Lionel vote also"?"
=======================================================
Well, kings don't have to vote; they just RULE! ;-)

---

March 20 2010 at 06:20:21
Name: Rose Bowl Bunker Commander
Topic: Fess Parker
Comments: Should have thanked Lee Woodward for his Fess Parker tribute.

My wife and I vote at the same precinct as Lee. When we saw him there for the recent election, Mrs. RBBC said to me after, "Did King Lionel vote also"?

---

March 20 2010 at 06:17:41
Name: Rose Bowl Bunker Commander
Topic: Harlan Ellison
Comments: "A Boy and His Dog" was originally a short story by the great Harlan Ellison, who also wrote the perhaps most beautiful original "Star Trek" episode, "The City On the Edge of Forever". You owe it to yourself to read everything he ever wrote. Plus, his ground-breaking anthologies, "Dangerous Visions" and "Again, Dangerous Visions".



And then there were his standout original "Outer Limits" scripts, "Demon with a Glass Hand" and "Soldier". Ellison received an acknowledgement at the end of the first Terminator movie for ideas from these episodes. I recently read a monograph about the decades-long non-appearance of the promised third DV collection.
---

March 19 2010 at 13:20:43
Name: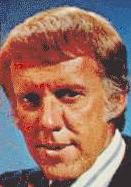 Lee Woodward
Topic: Fess Parker
Email: AnonDotCom
Comments: Yesterday, March 18th, saw the passing of one of America's favorite action heroes, Fess Parker, at age 85.

Fess was one of a group of Texas University lads, who were all theater devotees and looked to Hollywood to seek their place in the film world, Besides Fess, there was Morgan Woodward, L.Q. Jones and Alvy Moore.

Fess was the first to make it into films, but was responsible for bringing the others along. He and Morgan were very close friends as they both were singers, aviators, and about the same age. He got Morgan his first part in the movie, "The Great Locomotive Chase." Getting around the union rules, which at that time anyway, said that you could not make a movie without belonging to the union, and that you couldn't join the union unless you had made a movie?

He then followed in two more Parker movies for Disney, who really loved Fess. They were, "Old Yeller" and then "Westward Ho the Wagons!" Then they continued on their own courses, Fess having a huge success with "Davy Crockett" and then "Daniel Boone."

In person, he was what you would imagine either of these two might be like. A very big fellow with a very calm demeanor and generous to a fault. I met Fess three or four times and really liked the man.

He put his fortune into real estate in the Santa Barbara area, eventually starting a very successful winery in Los Olivos, California. His label on some wines carry a golden coon skin cap logo. Part of that place also contains a very fine hotel.

On some weekend evenings, Fess would invite Morgan, as well as his old sidekick Ed Ames and other Hollywood people who were singers, to gather in the hotel and perform. It was always a super time for the guests and the singers.

He was 85 when he passed away, so he was able to enjoy a long and fruitful life. He leaves his wife Marcie and two sons, Fess Elijah III and Ashly Allen. Eleven grandchildren and one great-grandchild.

A wonderful life.



I had my Davy Crockett coonskin cap as a kid. Thanks for the personal remembrance of Fess Parker.

L.Q. Jones (long time movie and TV tough guy) and Alvy Moore (Mr. Kimball on "Green Acres") made a great cult sci-fi film, "A Boy and His Dog".
---

March 17 2010 at 21:05:48
Name: Dana LeMoine
Topic: Ma-Hu "Movie"
Email: d4wdw@valornet.com
Comments: I am putting together a "movie" from footage shot at the remains of Ma-Hu from November, 1987 when a couple of friends and myself went there to salvage rock. It will be over an hour in length when complete. I had recently purchased a Quasar VHS camcorder ($1600.00 - ouch!) and was taping practically everything I did. I'm glad I had the foresight to bring it to Ma-Hu that day. What begins as a documentary-type video slowly evolves into a full-blown comedy when my buddy, David, arrives followed a short time later by a strange (but nice) guy. Apologies in advance to the professionals that view it, as it is an amateurish effort using Windows Movie Maker.

Here are a couple of trailers I put together for it...



---

March 17 2010 at 14:36:39
Name: Jan LeMoine
Topic: James Arness website, statement
Comments: Statement from James Arness from his website JamesArness.com:

"I deeply mourn the loss of my brother Pete. He was a loving brother, husband, father and grandfather. We will all miss him greatly. It was Pete that early in our lives suggested that I train to become a radio announcer which was the first step in our long careers in show business. Truly a professional in every sense of the word, Pete excelled as a movie and television star. I'm at a loss for words at his sudden passing."

RIP, Peter Graves

(I didn't know about the James Arness website till now - it's pretty cool - photos, Jim blog/message, etc.)


---

March 17 2010 at 10:06:09
Name: Charlie
Topic: Peter Graves - RIP
Email: charlie.tooley@wellsfargo.com
Comments: Just wanted to correct Mike B's comments about a old, old B&W TV show that aired mostly on Saturday Mornings in Tulsa.. the show was FURY and NOT My Friend Flicka ! Fury was one of my favorite shows.. next to Sky King !! - Charlie


---

March 16 2010 at 16:18:49
Name: Carla Clark
Topic: Searching for Bill McCright
Email: carla@mcuw.org
Comments: Noticed that Bill McCright had been blogging here. Is it the same Bill McCright that taught at Liberty Mounds? Just wondering.



I ran into Bill a year or so ago. I think he was planning to move out of state shortly after that.

Bill has the distinction of being one of the wearers of the Horta costume on the second season of the original Star Trek series.
---

March 16 2010 at 00:08:54
Name: Mike Bruchas
Topic: TV News "Talent Hunt"
Comments: Proposed TV show which will find THE NEW REPORTERS in a talent type show. These guys all work with crews, but the TV news world is switching to backpack journalists, so the concept is dated already.

Take a look at promotional clip for DEADLINE.

---

March 15 2010 at 17:35:00
Name: Mitch Gray
Topic: IMF
Email: North Of You
Comments: Farewell Mr Phelps!
I never missed an episode.
This blog will self destruct in 5 seconds.

---

March 14 2010 at 22:15:03
Name: Mike Bruchas
Topic: Peter Graves - RIP
Comments: What? He was "just alive" Saturday night at 11 on Mission Impossible on Channel 48 here in Chicago.

He played 2 roles in the show; the other had him made-up with BLACK hair as a downed B-52 pilot who is repatriated to the US Embassy in whatever "bloc" country which the show was set in. Guess they had budget issues about hiring another actor in the show.

Movie fans will remember him as the American-looking GERMAN bad guy in STALAG 17. But then AIRPLANE! re-jump-started his career.

And his relaunch of BIOGRAPHY on A&E and the History Channel showed that he could reinvent himself for a different TV generation.

Old, old b&w tv fans of the 1950s will remember him on My Friend Flicka "Fury".

What a long and varied career!

Now - was he really James Arness' brother or not????



Yes: Peter and James Aurness.
---

March 14 2010 at 21:32:17
Name: Rose Bowl Bunker Commander
Topic: RIP Peter Graves
Comments: One of my favourite memories of Tulsa television in the later '60s was watching "Mission: Impossible" during high school. Graves passed today at 83.

"Joey, do you like movies about gladiators?"

Thanks for the memories, Peter.

---

March 14 2010 at 00:32:42
Name: Michael Bates
Topic: Re: Bob Wills Question
Comments: I'm not aware of any transcription work that Bob Wills did while in Tulsa at KVOO. The only remnant of those shows are some surviving logs kept by a devoted listener, with lists of songs and show notes.

There are transcriptions that Johnnie Lee Wills and His Boys did at KVOO in 1950 and 1951, called the Schmitt Transcriptions. These are complete 15 minute programs, with four or five songs, gaps for the ads, and between-songs banter. Every broadcast included a hymn. You can find them here and there on the internet. A blog called "Western Swing on 78" (WesternSwing78.blogspot.com) has digital versions of old rarities not available on disc; they've got the Schmitt Transcriptions.

During World War II, the Texas Playboys performed on some Armed Forces Radio Service "Melody Round-Up" transcriptions. (Some of this is on the aforementioned Western Swing on 78.)

In 1946-1947, the Texas Playboys recorded transcriptions for the Tiffany Music Co. in San Francisco -- a 10-disc box set of this music has recently been reissued, and you can read more about the history of them at TiffanyTranscriptions.com.

There are some surviving radio airchecks from Bob's years in California. The earliest one I've heard is from 1945, when he was operating out of Fresno; it was issued a couple of years ago on CD as "Radio Days," mixed in with an aircheck from the mid-50s.

Radio Days and the Tiffany Transcriptions are available in Amazon's MP3 store. Many of the AFRS Melody Roundup broadcasts are on Archive.org/details/MelodyRoundupAFRS.



Thanks for the information and links, Michael.
---

March 12 2010 at 14:39:20
Name: Mike Bruchas
Topic: Dale Clements!
Comments: I worked at KOCO from 1981 to 1985 and Dale Clements was a hoot! And professional, too!

(I would hate to think had he been paired in another life with KTUL engineer, the late Gene Tincher - there would have been a "crusty but world-wise" TV show plot in there.)

I had forgotten that Dale was one of the early staff to have moved from Enid to OKC.
I remember him talking about Enid. I always wanted to ask how he came to work for that small-town station which became KOCO.

Several of the other former transmitter engineers became studio engineers (Dale, LD Ewy and Ray ??) who shaded cameras, took in microwave feeds and painted video on feeds and news-tape playbacks.

Dale was a good man and my good luck to have worked with him!

---

March 12 2010 at 09:26:15
Name: Kasi Danker
Topic: Ho-Ho the Clown
Email: kasidd@gmail.com
Comments: My grandfather, Dale Clements, was one of the original people at KOCO Channel 5 in Edmond. He started working for George Street's appliance store in Enid then continued to work for George when he started up the station. He worked in the transmitter until he retired in the 1980s.

Growing up around the station, Ho-Ho and Pokey were a big deal to us kids. I have enjoyed reading all the old posts here about them, but any news on recent attempts at a memorial of some kind?



---

March 11 2010 at 12:51:17
Name: Erick
Topic: KLOT
Comments: What I remember most about the very brief life of KLOT...it was (for a little while) the home of Sam Jones and Gary Shore! Sam had a call-in show there (much like he previously had at KTFO and KOTV) featuring the Sonny Gray Trio, and Gary Shore would do very brief weather segments. The quality of the production seemed to be what you would see from someone doing a show in their basement.

After Sam left, a talk show continued with some bearded guy taking calls while wearing a headset.



I bet that was Tim Oliver, the kingpin of the operation.
---

March 11 2010 at 00:22:07
Name: Mike Bruchas
Topic: KLOT Channel 25
Comments: Uh - I think I missed something.

Is this station owned by BIG LOTS????

---

March 11 2010 at 00:08:29
Name: Mike Bruchas
Topic: Movie Producer/Director Charles B. Pierce
Comments: Was reading the New York Times obits today while waiting at the doctor's.

All of us who ran movie trailers on the air at 6 & 8 will remember a lot of regional films done in the 70s and 80s (which mostly played at drive-ins) by former Texarkana ad man, Charles B. Pierce -- his name was always in the trailer ads audio.

See if you can remember THE LEGEND OF BOGGY CREEK (set in Fouke, AR and a lot of the style of The Blair Witch Project may have been "inspired" from this flick), BOOTLEGGERS, WINTERHAWK and THE TOWN THAT DREADED SUNDOWN.

Pierce was credited as a writer on the 1983 Clint Eastwood pic, SUDDEN IMPACT.

THE LEGEND OF BOGGY CREEK was made for about $160,000 and grossed $25,000,000 in time.

He used regional actors, though Lee Majors appeared in his THE NORSEMAN.

Pierce was 71.

I am sure a lot of folks will remember "sitting through" one of his films at an Oklahoma drive-in.

---

March 10 2010 at 19:21:55
Name: Billy G. Spradlin
Topic: KTOW
Email: jangleradio@yahoo.com
Comments: Saw the article on KTOW. I barely remember this station, it never had a good signal while growing up in Bartlesville in the 70s.

A couple years ago I found an old 70s vintage KTOW survey from thier R&B days on eBay. I put it on my Flickr gallery here:



---

March 09 2010 at 21:53:53
Name: Erick
Topic: TTM on Green Country Perspectives
Comments: In the process of watching the webmaster's interview on KRSC's Green Country Perspectives with Sam Jones (one of my more favorite Tulsa TV icons). Good stuff! I'm upset that I didn't see it when it originally aired.

---

March 09 2010 at 20:41:04
Name: Over in Ranch Acres
Topic: Christina's International Introductions
Comments: Well done, Mike! More to come?



More to come.
---

March 08 2010 at 16:44:52
Name: John K. Young
Topic: Bob Wills Question
Email: johnk662561atyahoodotcom
Comments: Question...

Were any of the Bob Wills noontime shows that were broadcast live on KVOO back in the 1930's cut to transcription disc? If so, are any of these available anywhere?

---

March 08 2010 at 00:42:16
Name: Michael Bates
Topic: Texas Playboys
Comments: My apologies, David; evidently I didn't hear correctly. The piano player was Spencer Sutton, which sounds nothing at all like David Bagsby. At any rate, it was a great show, and I really enjoyed Steve's work on the steel guitar.

---

March 07 2010 at 23:36:54
Name: Webmaster
Topic: Chew hits for the Oscar cycle
Comments:

Looks like Gary Chew is batting higher than Ted Williams, Carl Yastrzemski and Van Lingle Mungo all put together. He picked 8 out of the 8 top Oscar awards this evening. That's Bridges, Waltz, Bullock, Mo'Nique, The Hurt Locker, Boal for Best Original Script, Bigelow for Best Director, and The Cove as Best Documentary.

Here are Chew's top picks for 2009 as of 12/31/2009.
---

March 07 2010 at 23:15:29
Name: Webmaster
Topic: KTOW clock now on eBay
Comments:

Here is the KTOW clock now on eBay.

Read more about the station on the new KTOW page.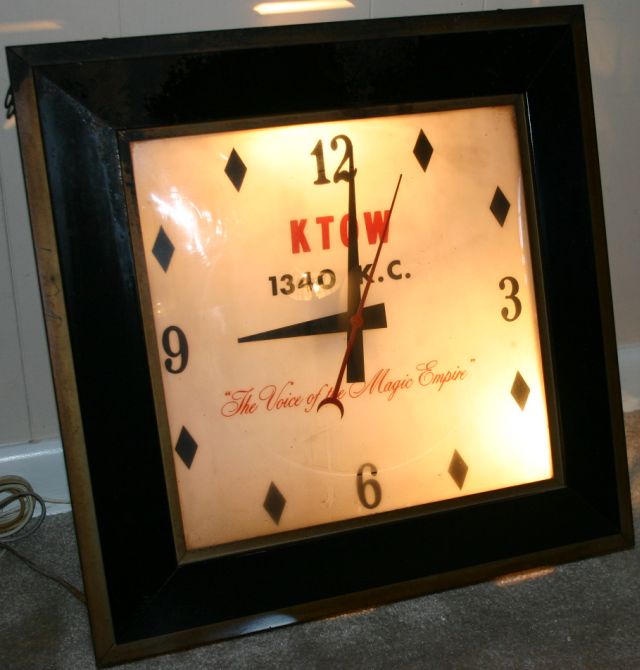 ---

March 07 2010 at 07:53:54
Name: David Bagsby
Topic: Bob Wills
Comments: I imagine Steve did the Bob Wills gig but I was here in Kansas City watching Tim Burton's "Alice in Wonderland" in 3D. I'm sure it was a good show.

---

March 07 2010 at 01:38:12
Name: Michael Bates
Topic: Bagsby Brothers at Bob Wills Bash?
Comments: If I heard correctly, Steve Bagsby (on steel guitar) and David Bagsby (on piano) were swinging their hearts out with the Texas Playboys last night at Cain's Ballroom, along with a couple of brassy Tulsans -- Mike Bennett and Steve Ham, on trumpet and trombone respectively. It was a great show!

---

March 04 2010 at 08:34:31
Name: Tulsa Area Music Archives
Topic: George Harrison Concert 1974
Email: info at preservemusic dot com
Comments: We have a two-disc CD set of the audio from that show, including Leon Russell's appearance singing "My Sweet Lord". You should be able to synch it up to your video.

Drop me an email and we'll see about getting a copy to you. I'd like to get a copy of the video for TAMA as well. Thanks. Steve



Done. Thanks!
---

March 03 2010 at 23:03:35
Name: Gary Chew
Topic: More On 70s Trib Anti-Rock Editorial
Comments: As Bill Maher might say, "I kid the Webmaster."

While in Tulsa, I wonder if Clapton was given a nostalgic tour of the jail by city fathers.

Del in Cal

---

March 03 2010 at 02:09:37
Name: Webmaster
Topic: Previous GroupBlog link
Comments:
Archived GroupBlog 308.
---
Back to Tulsa TV Memories main page