Tulsa TV Memories GroupBlog 263

TTM main | What's new on TTM? | GB Archive







| | |
| --- | --- |
| Date: | Wed, Apr 2 2008, 6:40 pm |
| Name: | edwin |
| Topic: | coverage maps |
| Email: | edwinfincherataoldotcom |
May sound odd to most, but I DX... mainly AM but also do FM and TV (since the gov. killed clear channel AM). So I am seeking coverage maps of anything. I go to da woods....pitch a tarp o're da head (before tossing a wire up in da trees) and listen to "it". One who has done this knows of what I speak. Can't find anything on FCC or other spots.....only some odd wads here, I feel, can hep me.......shortwave is taken care of at home with my 1929 radio that I have a collection of tubes for (mainly 80 recifier tubes)....I thank you.

---
| | |
| --- | --- |
| Date: | Tue, Apr 1 2008, 1:50 pm |
| Name: | Paul Fletcher Murray |
| Topic: | back from space |
| Email: | fletch@theassociation.tv |
I'm still in Burbank, Ca with my own company, The Association. I communicate with Bob Gregory often. I count myself extremely lucky point to be at KTUL during his tenure. He set the bar pretty high and gave a damn that what we cranked out under intense pressure was as good as it could be.

Eager to hear how the rest of your careers are going.

Best,
Paul F (Fletcher) Murray


---
---
| | |
| --- | --- |
| Date: | Sun, Mar 30 2008, 5:40 pm |
| Name: | Alan Duke |
| Topic: | Shotgun Sam's Commercials |
| Email: | alanduke57@hotmail.com |
Does anyone remember the old Shotgun Sam's radio commercials? They were funny, clever and appropriate for the atmosphere I remember at the Pizza Palace. I think one of them went something like this:

[Man] Liver and onions every night!!
[Woman] I thought you liked liver and onions.
[Man] I do, but not liver one night and onions the next.
(Shotgun blast)
[Man & Woman] Who are you?
[Sam] I'm Shotgun Sam the Pizza Man I run the Pizza Palace.
[Sam] Shotgun Sam, that's who I am and my horses name is Alice.
[Sam] We've got food and entertainment almost every single night.
[Sam] So come on down to Shotgun Sam's and bring your appetite.
(Shotgun Blast)
[Man] You just shot a whole in my onion!
[Sam] Good thing I wasn't here last night.
[Man] Why's that?
[Sam] I'd have shot a whole in your liver.

I have great memories of going out to Shotgun Sam's and Shakey's with all of the racing drivers and crews after the races on Saturday nights. Good family fun!


---
| | |
| --- | --- |
| Date: | Sat, Mar 29 2008, 9:56 am |
| Name: | Isaac Bates |
| Topic: | Nice site! |
| Email: | ib8u@live.com |
I like this site! Well done. :)


---
| | |
| --- | --- |
| Date: | Thu, Mar 27 2008, 10:29 pm |
| Name: | Anita |
| Topic: | Tuffy |
| Email: | ajustus@KTUL.com |
He will be greatly missed by so many people and I will always cherish the memories of working with him. He made me laugh so many times. He told me a funny story a few years back that I'd like to share. It was during a Mr. Zing and Tuffy show that we all know was a Live show. This particular day the kids were scared of him and his little daughter Toni was in the studio that day and he thought by talking to her the other kids wouldn't be afraid so he says,"How are you doing today sweetie and she said,"Just fine Daddy."



Scroll on down for more reader comments about Wayne Johnson (Tuffy).


---
| | |
| --- | --- |
| Date: | Thu, Mar 27 2008, 6:50 pm |
| Name: | Mike Bruchas |
| Topic: | WGN's Wally Phillips |
Wally Phillips, whose wit and charm dominated the art of the on-air radio personality in Chicago for two decades, has died after battling Alzheimer's disease for the last five years, WGN Radio announced Thursday. Phillips was the morning program host on WGN Radio from January 1965 until July 1986, and was number one in the morning slot from 1968 until his departure for an afternoon radio slot in 1986. He retired from WGN in 1998 after 42 years with the station, but came out of retirement the following year to host a weekly two-hour program on WAIT-AM, a station based in Crystal Lake.

Phillips' delivery occasionally had an edge to it, like the time he tracked down Chicago formal wear mogul Ben Gingiss on a cruise ship on the Pacific Ocean and got him on the phone, saying "We're down here at the store. . . . Where do you keep the fire extinguisher?"

More typical was the morning when he started his broadcast by chatting with long-time farm reporter Orion Samuelson about the coming Stomach Rumbling Finals in Stuttgart, Germany.

Phillips was 82.

For many years was the late John Doremus' day-time competition. Later when Doremus went to overnights on WGN - he was Wally Phillips' lead-in.


---
| | |
| --- | --- |
| Date: | Thu, Mar 27 2008, 6:38 pm |
| Name: | Mike Bruchas |
| Topic: | Tuffy |
I have been off-line in NC - my aunt Betty June passed the same day that Tuffy did. Don Lundy and Matt Bunyan both called me about Tuffy's passing.

Wayne was a great guy and director at 8 - nothing phased him or got him irate. He had a lot of talent as a film shooter but always bowed to his friend, Phil Atkisson as being the BEST to have ever come from 8.

My condolences to his son Chance.....


---
| | |
| --- | --- |
| Date: | Thu, Mar 27 2008, 6:10 pm |
| Name: | Chris |
| Topic: | Tuffy (Dad) |
We love you very much and will miss you greatly. You made our lives and others much brighter. Tyler and I will always keep you in our hearts as well as our prayers. May God be with you.
Rest in Peace Dad you were a wonderful man.


---
| | |
| --- | --- |
| Date: | Wed, Mar 26 2008, 5:06 pm |
| Name: | edwin |
| Topic: | Tuffy |
The reason of this site.....all hail...(having a small Wake here for Tuffy)....


---
---
| | |
| --- | --- |
| Date: | Mon, Mar 24 2008, 11:24 pm |
| Name: | Dale McKinney |
| Topic: | Tuffy |
| Email: | horvendale & gmail |
By the time I got to channel 8 in 1979, Tuffy was gone. Even so, I got to meet him, and later he came to work at my station, KRSC-TV, in our master control. I always enjoyed talking about the old days, especially the ones before my time, with him. I can see how great it must have been to work with him during the Mr. Zing days.

He is greatly missed.


---
| | |
| --- | --- |
| Date: | Mon, Mar 24 2008, 8:33 pm |
| Name: | Joe |
| Topic: | Tuffy |
I bet Tuffy and John Chick are chasing each other around the studio right now, just like in the old days. I grew up watching them, and years later, met Tuffy on my first day working at KTUL. We had some real good times.


---
| | |
| --- | --- |
| Date: | Sun, Mar 23 2008, 12:55 pm |
| Name: | david cates |
| Topic: | tuffy |
| Email: | truck311 at aol dot com |
wayne was my cousin and will be missed. my sincere prayers and thoughts are with chance, betty and rosemary. love you always wayne. see you one day keep a seat open for me. love ya, david


---
| | |
| --- | --- |
| Date: | Sun, Mar 23 2008, 10:38 am |
| Name: | edwin |
| Topic: | Tuffy |
The book may be signed from 8 to 8 Mon. & Tues. at Mobley-Dodson in Sandsprings. Funeral at 2 on Wed. there. Chance and family are here from Texas and Rosemary is doing well.


---
| | |
| --- | --- |
| Date: | Sun, Mar 23 2008, 8:39 am |
| Name: | Mitch Gray |
| Topic: | Old Radio |
| Email: | North Of You |
I have to agree with John Hillis. Old radio used to be FUN! I recall one New Years eve,while working at WDTX in Detroit, Andy Savage and I got on the mike and asked for invitations to local New Years parties.

We offered to do a brief phone remote and leave behind WDTX souvenirs.

We also invited the public to come along with us.

Little did we know that 30 cars and a Greyhound bus would show up. We visited about 9 parties and even got a traffic citation for having a convoy without a permit. What a blast!

KVOO was my last radio stint when it was still "The News Voice Of Oklahoma".

I finally got out of radio in the 90's when all you were to do is read the liner card and SHUT UP!


---
| | |
| --- | --- |
| Date: | Sat, Mar 22 2008, 7:22 pm |
| Name: | John Hillis |
| Topic: | XERF via the BBC |
First, condolences to Wayne's family and friends. Strange, the intimacy that a television broadcast created back in those days--for all the cliches about "coming into your living room," people like Wayne really did, and created a connection.

Speaking of larger than life personalities, BBC4, the all-spoken-word and upper crust radio network, ran part 1 of 2 parts series on Border Radio, XERF, and specifically, Wolfman Jack. It is amusing to hear the take they have from the perspective. The first part, available at bbc.co.uk, includes clips of Bob Wills in his pre-Tulsa days backing up Pass-the-Biscuits-Pappy O'Daniel. along with an interveiw with Ray Benson of Asleep at the Wheel, and even a clip of the famous Goat Gland Doctor, Douglas Brinkley. That's a lot of stuff to cram into a half hour, and if what radio used to be courses through your veins, you'll get at least a small kick from it.

The only people who get a kick out of how radio is today are investment bankers, and we're still waiting for the reports to come back whether there's anything coursing through their veins.


---
| | |
| --- | --- |
| Date: | Sat, Mar 22 2008, 2:19 pm |
| Name: | Aaron |
| Topic: | Old T.V. show |
| Email: | amliquor@yahoo.com |
Thanks. That could be it. I was pretty young so my memory is fuzzy. Is there any video online? Or available anywhere?




Joe's sons may have some of the old shows on film, but I am not aware of any footage available online or for sale.
---
| | |
| --- | --- |
| Date: | Sat, Mar 22 2008, 2:00 pm |
| Name: | Aaron |
| Topic: | Re: Old T.V. show |
| Email: | amliquor@yahoo.com |
Her name could have been Wanda.



I believe you may be referring the The Joe Krieger Sportsman Show. His fishing partner for many years was Wanda Scott.


---
| | |
| --- | --- |
| Date: | Sat, Mar 22 2008, 1:45 pm |
| Name: | Aaron |
| Topic: | Old T.V. show |
| Email: | amliquor@yahoo.com |
Does anyone remember a fishing show on OETA that was hosted by an older woman? This would have been in the early to mid eighties. All I remember was an older woman with a southern drawl. Her name might have been Virginia.


---
| | |
| --- | --- |
| Date: | Fri, Mar 21 2008, 2:43 pm |
| Name: | edwin |
| Topic: | Tuffy |
Chance (Rosemary & Tuffy's son) was one of the family with Tuffy when he lost the last battle. My ex (Sherry) has gone to Collinsville to check on Rosemary for all. I know she has loved him always.


---
| | |
| --- | --- |
| Date: | Fri, Mar 21 2008, 10:22 am |
| Name: | David Bagsby |
| Topic: | Tuffy |
| Email: | deeceebeeatsunflowerdotcom |
Sincere condolences to Wayne's family. As a kid, I remember the highlight of the Xmas parade downtown wasn't seeing Santa but Tuffy. I know I'm not alone in that sentiment.


---
| | |
| --- | --- |
| Date: | Fri, Mar 21 2008, 8:29 am |
| Name: | Rick Clark |
| Topic: | Dickeroo |
| Email: | clarkrick@yahoo.com |
Glad to hear Dick Loftin on KRMG. Wondering if he brought the 'Big Chair"?


---
| | |
| --- | --- |
| Date: | Thu, Mar 20 2008, 11:15 pm |
| Name: | Jim Hill (via email) |
| Topic: | Tuffy |
| Email: | gemhill at cox dot net |
Our beloved "Tuffy" is gone.

Wayne Johnson died tonight at Southcrest Hospital in Tulsa, where he had been in intensive care for several weeks following surgery for colon cancer. His wife Betty and children were with him.

We will forward funeral arrangements as they are completed.


---
| | |
| --- | --- |
| Date: | Thu, Mar 20 2008, 6:47 pm |
| Name: | John Hillis |
| Topic: | Error for the Cardinals |
You gotta love that fighting cardinal on the What's New page. I haven't seen such frustration since Bill Pitcock tried to read one of my scripts cold.

Let us always say something nice about Bob & Ray: even with weak material, they were drily funny:




---
| | |
| --- | --- |
| Date: | Thu, Mar 20 2008, 2:15 pm |
| Name: | Steve Smith |
| Topic: | 21st and Garnett |
| Email: | esskayess@hotmail.com |
Longgggg ago, I worked at the 21st and Garnett Arby's (between Taco Tico and the skating rink) for about a year. At the time, there was a vacant field between us and the rink and it seemed like every weekend there would be a fight at the rink that would bring out up to ten Tulsa police cars to quell it. It got so bad for a while that every employee and customer would move to the east side of the building to watch the unruly youths being hauled away.

One young female co-worker's husband worked at the Taco Tico and we would swap food with him when we got sick of our own.


---
| | |
| --- | --- |
| Date: | Thu, Mar 20 2008, 5:10 am |
| Name: | Frank Morrow |
| Topic: | short shots |
| Email: | frankmoratiodotcom |

How many of you are old enough to remember............

when you could dial '0' and ask the phone operator in Tulsa for the time. They always nicely told you. Or you could dial 24381 (I think.) and magically get the time by recording.

"Write if you get work. And hang by your thumbs." The sign-off by "Bob and Ray."

Tulsa policemen putting a chalk mark on tires of parked cars to ascertain if they had stayed there over the parking limit in places without parking meters.

the Golden Gales, the name of TUs freshmen football team in the days when freshmen weren't eligible for varsity play.

when the Brady Theater was called Convention Hall.

the theme song of Doc Hull's "Sleepwalkers' Serenade" on KVOO. ("The Whistler and his Dog")


---
| | |
| --- | --- |
| Date: | Tue, Mar 18 2008, 11:26 am |
| Name: | Bud Phillips |
| Topic: | See the Meat Pizza |
| Email: | philfam1@yahoo |
Does anyone remember "see the meat pizza"? It was a locally made pizza that was the only really good frozen pizza I've ever had.I was just wondering what ever happened to the company.


---
| | |
| --- | --- |
| Date: | Mon, Mar 17 2008, 8:38 pm |
| Name: | Barry Robb |
| Topic: | KVOO 1976 |
| Email: | cda coffee at msn dot com |
I just discovered the great KVOO page on this site. I saw the Big Country news team picture in front of the news vehicles with Alan Lambert and the rest of his new gang. That picture was taken when I was on the air at KVOO. Many of those guys did the news on my show. Memories and emotions keep flooding in. I worked the 3-7pm shift. I can't beleive I was a part of that great station in its heyday! Looking back now, I can see what an honor that really has come to be.

I might have the am shifts off a little since I wasn't at the station until 12 noon and it has been 32 years ago too; but I believe the jock line up at the time I was there (1975-1976) was:

Jack Fox (Am Drive?), Jay Jones (Mid-Mornings ?), Barry Robb (Afternoon Drive 3-7p), Ralph Everly (Evenings 7-12 mid), and Billy Parker's All Night Road Show (12 mid-5am).
I think that's right but I do know the afternoon and night line up is right.
Barry Robb


---
| | |
| --- | --- |
| Date: | Mon, Mar 17 2008, 8:23 pm |
| Name: | Rick Brashear |
| Topic: | Meadowood (sic) |
We used to ride our bikes over there because it was out of our territory. One day, being brazen, we rode them inside the mall, tires squealing on the waxed floor, people hollering at us, and then exited out of a barbershop! There was a customer in the chair at the time, and here we came through the rear door, pushing quickly our bikes passed him and the barber and out the front door as a security guard ran after us. We stayed away for awhile. It sure was more fun back then than today. Now, we'd be sent for observation. Heck, now I couldn't fit on that bike. Bummer.


---
| | |
| --- | --- |
| Date: | Mon, Mar 17 2008, 5:35 pm |
| Name: | Kenny |
| Topic: | Bolen |
| Email: | kwerks@comcast.net |
RacingFromThePast.com

Here's a great site for all of us local racers and race fans.

Enjoy!
Bo


---
| | |
| --- | --- |
| Date: | Mon, Mar 17 2008, 3:21 pm |
| Name: | Dana LeMoine's sister |
| Topic: | East Tulsa memories |
Another shopping mall that never really caught on was MeadowWood (or was it Meadowood?) on E. Admiral, just west of the traffic circle and the Robert Hall store. The mall's still there, populated by at least one flea market. I worked at the TG&Y store there when I was a teenager - there was also a C.R. Anthony store, and a grocery store too (a Red Bud, I think), liquor store, laundry, an OTASCO at one time, and even a beer joint 'round the back. There was an indoor mall area, but I don't remember there ever being any tenants in it - who knows why...

Our family has 3 generations of Gus's Coney lovers - in fact when I was out at Dana's last Saturday, there as his screensaver was a pic of a smiling Gus!

Our Dad used to take his favorite dog, Bill, with him to Gus's and buy him a couple of coneys to enjoy, too. (He used to treat same dog to cones from Dairy Queen. Bill got treated to more cones thank any of us kids ever did, I think - but then he was a hell of a lot less trouble to Dad, too! )


---
| | |
| --- | --- |
| Date: | Sun, Mar 16 2008, 4:35 pm |
| Name: | Mitch Gray |
| Topic: | Sewers / Mall |
| Email: | Up North Of You |
The sewer parties still go on today. On every Spring and Fall Equinox, folks gather underground about 1/8 of a mile east of 41st and Riverside. Entrance from the Arkansas river. I was a skeptic so I went to see for myself once. There were candles perched upon pipes that ran through the sewer lines overhead and an eerie sound of voices and music came from deep within.As I got closer, the sound became clearer and I could make out the tune that was playing. Soon I came upon 30 or 40 people playing guitars, beating on 5 gallon pails, and singing. Another fellow showed up with a saxaphone. That was tuly an eerie sound with the echos that followed every note. I had a great time.

The Forum 21 mall was originally called Sooner mall.

Constructed in 1974 by Charles Burris Builders. Me and 3 other guys did the electrical construction on the mall, the theatre, and the 7-11 all at the same time.


---
| | |
| --- | --- |
| Date: | Sun, Mar 16 2008, 3:51 pm |
| Name: | Chuck Adams |
| Topic: | Tulsa Speedway |
It's been awhile, but I check out the site on a regular basis to get caught up on news about my old 'home town'.

Reading some of the blogs about the old Tulsa Speedway and some of the race drivers I knew when I was the track announcer in the early 70s, brought back fond memories. I've even got a photo, attached, of me taking a test spin in the John Zink Special.

Have a nice Easter.


---
| | |
| --- | --- |
| Date: | Sat, Mar 15 2008, 11:50 pm |
| Name: | Scott |
| Topic: | 21st & Garnett/Forum 21 Mall |
Brother dear, why did you just not ask your older and wiser sibling? Read's was indeed the name of the large clothing store in Forum 21 that faced out to 21st Street. The place my hooligan friends and I went to a lot was the Looboyle's around on the west side of the mall. I loved that place. ("Hello, Looboyles. Good buy, Tulsa") Back then, the arcade room was called Wizard's. And, there was a Tandy Leather store inside the mall. I could go on, but what's the point?

Seems like such a far away place now, from such a long time ago...


---
| | |
| --- | --- |
| Date: | Sat, Mar 15 2008, 8:07 pm |
| Name: | Webmaster |
| Topic: | 1971 |
I just came across this Time Magazine article from 1971, "Going Underground".

"In groups of twelve to 25, (Tulsa's young) have been meeting regularly on Friday or Saturday nights in a small gallery of the city's labyrinthine storm sewers to play their music, smoke and relax. 'I do my best playing down there,' says Guitarist John Southern, 18, a student at Tulsa Junior College."

John Southern took a circa 1974 photo for the Tulsa Tribune of Eric Clapton in the Tulsa drunk tank, seen on the TTM page, "Knocking the rock".


---
| | |
| --- | --- |
| Date: | Sat, Mar 15 2008, 6:39 pm |
| Name: | Randy Hilliard |
| Topic: | Coney Island |
Gus is still at 21st & Garrnett selling those coney dogs. Was there last week.


---
| | |
| --- | --- |
| Date: | Sat, Mar 15 2008, 3:17 pm |
| Name: | Gary Chew |
| Topic: | Tulsa Skyline On CMT |
| Email: | Just SW of the Donner Party Family Grill |

I was surfing cable this afternoon to see if there was actually anything to watch. For about 90 seconds, my eye was caught by a video with that pretty little Carrie Underwood uh sangin' her pretty little song,
"An American Girl."

If you see it, watch closely for a few seconds about half way through the piece. In one take, there's Carrie uh warblin' keyed in front of the Tulsa skyline. The still is taken from west of the Arkansas River looking east across the river at Liberty Towers and the other edifices in that neighborhood just south of downtown.

Then I turned off the TV and moved over and sat on the couch and went back to uh readin' another Cormac McCarthy novel, friendo.

Delmeaux de Gillette du Coffeyville


---
| | |
| --- | --- |
| Date: | Fri, Mar 14 2008, 10:29 pm |
| Name: | Bryan |
| Topic: | KVOO Music Bingo |
Anyone remember the Bingo game from KVOO in the early to mid 80's? Had to pick up your cards at Otasco or Med-X. Cool game.


---
| | |
| --- | --- |
| Date: | Fri, Mar 14 2008, 6:27 pm |
| Name: | Singe |
| Topic: | 21st Garnett |
Great Memories....I too walked in your footsteps (Chris and DolfanBob) entertaining myself at all those places you both spoke about...pure mischief!

What a treat to visit the 7- Eleven on those hot afternoons and get a Slurpee-looking on the bottom of my cup for that silly toy.

Always looked forward to visitng Gus to get a Coney.....( back then he did seem really ancient in age to me too-ha! ) ..he also had his brother George and Sister there by his side each day. Nice Family.


---
| | |
| --- | --- |
| Date: | Fri, Mar 14 2008, 4:12 pm |
| Name: | DolfanBob |
| Topic: | 21st |
| Email: | MiamiPhin@yahoo.com |
I grew up at the 31st and 129th E Av area and as a early teen without a car. 21st and Garnett was just a short walk and or run to my favorite places like Tiffany Bowl where we shot pool and played Queen on the old style jukebox and we would hang out at Bill-T-Records around the corner. I had many a Skate date at Skateworld and a few Midnight movies at the Forum Twin Theatre. The Great Escape was a awsome concert, pool and foosball hall before it went Country. What fun we had back then on Bicycles and very little TV watching.


---
| | |
| --- | --- |
| Date: | Fri, Mar 14 2008, 2:28 pm |
| Name: | Chris Fields |
| Topic: | 21st Garnett |
| Email: | clfields@cox.net |
Many, many hot summer afternoons were spent running around the inside of the Forum 21 "Mall". It never really quite caught on, thus leaving the internal part of the mall mostly empty. This made a great place for all of the neighborhood kids to horse around in. We spent a lot of hours combing the whole area around the mall and up and down 21st looking for pop bottles to sell so we could promptly go blow our new found wealth at The Quarter Horse Arcade.

Some days we would be lucky enough to have spare money between us so that we could go get a coney from Gus at the Coney Island in the Executive Mall right next to the Forum 21 Mall. Gus seemed like he was about 90 years old way back then. I was surprised to see him still there just a few years ago.

Also remember going across the street to Taco Tico...If memory serves, I think you could get about 75 tacos for a dollar there (or at least it seemed as such). This was followed by sneaking into All American for a quick dip in the pool before being ran out which usually finished off the afternoon....until the next day!



Webmaster: In the mid-70s, a friend of my brother took on the job of hanging bags of merchant coupons on neighborhood doors. A "3 free tacos" coupon from Taco Tico was supposed to be included in each bag. This fellow held out a large pack of them for himself. He generously dealt my brother in for a stack, who in turn dealt me in. I was judicious in my usage, spreading my business evenly among the various Taco Ticos in town (5th & Sheridan, 21st & Garnett, Brookside).

My bro, by contrast, almost exclusively patronized the 5th & Sheridan store. As a result, his coupon privileges were abruptly terminated one day when the aggrieved manager exclaimed, "I've seen this guy in here about 20 times!"

I developed quite a taste for Tico's tacos as a result of this intensive chowdown, so hopefully they made out OK in the long run (though I did tend to favor their "3 for $1" specials).

Around '86, my bro and I drove up to Bartlesville to see acoustic guitarist and Enid native Michael Hedges at their Sunfest. I was pleased to spread some of my wealth at the town's Taco Tico.


---
| | |
| --- | --- |
| Date: | Fri, Mar 14 2008, 1:42 pm |
| Name: | Singe |
| Topic: | 21st Garnett |
That's right, T G & Y was at 11th & Garnett...Ooops

I remember Anthony's not having actual cash registers and that the clerk would take your money and put it in a "capsule " that was sucked up thru a air tunnel in the ceiling to a unknown office somewhere in the store-make change and then send it back to the clerk...all that effort.

Ahh...Derby...I'd forgotten all about that "little" gas station.


---
| | |
| --- | --- |
| Date: | Fri, Mar 14 2008, 11:20 am |
| Name: | Teb Blackwell |
| Topic: | Tulsa Music History Project |
| Email: | tebii at comcast dot net |
GREETINGS AGAIN!
I am posting another request to anyone who wishes to help preserve an important facet of Tulsa history by sharing any memories of popular music, musicians and bands who played in and around Tulsa and eastern Oklahoma during the years 1955 through 1975. I'm looking not only for the musicians themselves, but anyone who might have memories or stories about the Tulsa music scene during this era. Please see my TTVM blog in GB 258 for a description of my project.

Much has been written about the "Tulsa Sound Triumvirate," Leon Russell, J.J. Cale and David Gates, and rightly so...their talents and early successes were a major reason for Tulsa becoming a national music center. What I am doing, however, is documenting and preserving the stories of hundreds of musicians, many high school students emulating their music heroes of the day, who were playing in local venues at dances, proms, bars and clubs during the mid-50s to the mid-70s.

Thank you to those who responded to my last request (especially, THANK YOU LB!), and I hope to hear from many more of you.


---
| | |
| --- | --- |
| Date: | Fri, Mar 14 2008, 10:10 am |
| Name: | Chris Fields |
| Topic: | 21st and Garnett |
| Email: | clfields@cox.net |
T G & Y was located at 11th and Garnett. I do remember the Humpty Dumpty but I thought the closest Anothony's store was over by the traffic circle (Admiral and Mingo).

One of my first jobs was at the Derby gas station next to the skating rink on 21st. I learned more about people and their ill intentions from that job than any other job since! Good times...good times!



There was also a Wagon Wheel addition T.G. & Y. at Admiral and Garnett.

Here is a photo of the T.G. & Y. on Brookside in 1954, and the Humpty Dumpty on East Admiral, courtesy of the Beryl Ford Collection/Rotary Club of Tulsa. I think my Monopoly game was purchased from "Toy City" in that same shopping center around 1960.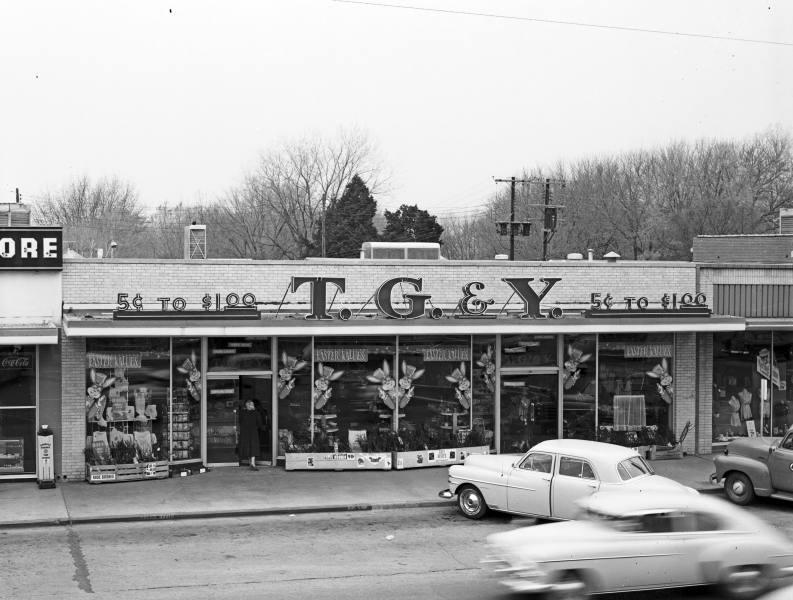 T.G. & Y. on Brookside in 1954, courtesy of the Beryl Ford Collection/Rotary Club of Tulsa. Check out the weight & fortune machine on the sidewalk.

See close-ups of this model of weight and fortune machine (price: 1¢):
Full view Guess the lucky slot Top section Scale plate Coin return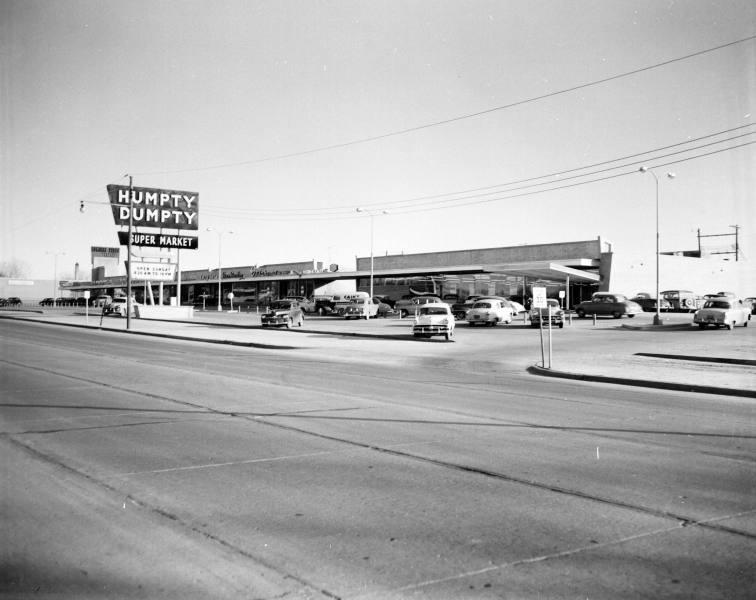 The Humpty Dumpty on East Admiral, courtesy of the Beryl Ford Collection/Rotary Club of Tulsa.
I think my Monopoly game was purchased from "Toy City" in this shopping center around 1960.
---
| | |
| --- | --- |
| Date: | Thu, Mar 13 2008, 6:42 pm |
| Name: | Singe |
| Topic: | 21st and Garnett |
Crutchers?...At the Forum?....I don't recall that.

I remember when there was a "Gulf" and "DX" gas station at the intersection and also a Humpty Dumpty Grocery , TG & Y and Anthonys in the Cherokee Village shopping center at 21st & Garnett.


---
| | |
| --- | --- |
| Date: | Thu, Mar 13 2008, 4:43 pm |
| Name: | Charles |
| Topic: | Reed's |
I think there was a Reed's in the Forum Mall. It was either a Department store or a clothing store. I'm pretty sure it originated in Coffeyville.


---
| | |
| --- | --- |
| Date: | Thu, Mar 13 2008, 4:32 pm |
| Name: | Kenny Bolen |
| Topic: | Racing |
| Email: | kwerks@comcast.net |
Speaking of Western Stores, I remember my uncle working at the Hitch'n Post. We lived on Louisville right around the Harvard Hills Shopping Center.

I remember Alvin Bennett (#59) living around the corner from us. I used to stand in front of his garage and watch him work on the car. One day he asked me if I would like to sit in it. I crawled in and he just laughed. I couldn't run home and then tell my Grandpa what just happen.

As a kid, I was lucky enough that my Grandparents use to take me to John Zink's Ranch and to the original Fairgrounds. George Chris Moore, Buddy Cagle, Ron Fowler, Al Lemons, Corky Crawford, Angelo Howerton, Charlie '007' Wells, and Red McNally in those pre-sprint chassis putting on great door to door racing. Ever so often, names like Rutherford, Ruby, and and Unser would stop in to run against the locals.

Neat stuff.


---
| | |
| --- | --- |
| Date: | Thu, Mar 13 2008, 2:12 pm |
| Name: | Chris Fields |
| Topic: | Western store at 21st and Garnett |
| Email: | clfields@cox.net |
According to a childhood friend from the same neck of the woods, Crutchers Western Wear was the name I was trying to come up with!!


---
| | |
| --- | --- |
| Date: | Thu, Mar 13 2008, 5:46 am |
| Name: | mallam |
| Topic: | Catch up |
| Email: | mallam@yahoo.com |
love this site


---
| | |
| --- | --- |
| Date: | Thu, Mar 13 2008, 12:33 am |
| Name: | Rick Brashear |
| Topic: | Tulsa Speedway |
Boy, did that bring back memories. I remember Emmitt Hahn, Donny Crawford and many others at the speedway. I grew up next door to Leroy Bachtell. He was in the racing business for eons. He also owned Leroy's Restaurant just west of Memorial on 11th. There were race cars being built and tested in the garage, back of the house. The other racers would come over and hang out. One had a red 1967, 427 AC Cobra and another had a really cool '32 coupe with a small block Chevy and chrome headers down the side. Leroy's oldest son, Buster, drove a super modified one year that was very different. Leroy made it a front-wheel drive. It had a Jeep differential, 425HP, roller cammed, 289CI Ford and a fiberglass body. The radiator was an oil cooler from a Sherman tank (really) and the engine and tranny were mounted backwards. The thing would out-pull any car in the turns. The next season the whiners outlawed front wheel drive vehicles.

One night, Buster was driving it and a fuel leak happened at the gas tank. The car caught on fire and Buster didn't know about it until he was flagged down by people on the track. He came close to being killed. Of course, the body was ruined. The 289 was later put in a street 1965 Falcon driven by one of Leroy's sons, and then a custom 1932 Ford 2-door sedan that James Leake bought for....$1800!! That '32 would pop wheelies with a couple of hits to the peddle. It also had a Mac bulldog radiator cap. What a car!!

Leroy also had a '40 Ford coupe that he raced for a few years earlier. He had used it many years before that to push his other race cars. AMT had a 3-in-1 model when I was a kid. It had a 1940 Ford coupe & a sedan. The decal sheet had the exact markings of Leroy's coupe (red & white number 76 and pin stripes). I built it and gave it to him. He put it on the fireplace mantel. Leroy taught us boys how to build cars and engines. We learned "hands on" from him. I can set the idle of a normal car by listening to it, thanks to Leroy. Thanks, Leroy.



Models still available on eBay.


---
| | |
| --- | --- |
| Date: | Wed, Mar 12 2008, 4:24 pm |
| Name: | Kenny Bolen |
| Topic: | Local Racing - Harold Hillenburg |
| Email: | kwerks@comcast.net |
Sad to learn recently of the passing of business and racing car owner Harold Hillenburg of Broken Arrow. Being my hometown, I was always a fan of the jet black and gold leafed 55's that Ray and later Donnie Crawford, wheeled around the old fairgrounds with the likes of Jerry Stone, Emmitt Hahn, George Armstrong, and Harold Leep.

Andy also drove locally before hitting the trail with the World of Outlaws and did very well. What a great racing family and for one who grew up in the pits at the Speedway, many thanks for the great memories.

Additionally, Gene Paddock and one of the nicest racing folk in the day, Odell Anderson, has left us as well.

RIP and Godspeed to all of you.


---
| | |
| --- | --- |
| Date: | Wed, Mar 12 2008, 12:51 am |
| Name: | Singe |
| Topic: | Western store at 21st and Garnett |
Chris : Your question has been stuck in my head...trying to remember....I believe that store was called "Reids" or "Reads" Western wear. Does that sound familiar?

Spotlite Magic Store was on the east side of it and Fantastic Sams Hair Salon was on the west of it.


---
| | |
| --- | --- |
| Date: | Tue, Mar 11 2008, 8:46 pm |
| Name: | John Hillis |
| Topic: | Forum 21 |
I remember the western store, but don't remember the name. I used to get my hair cut there in the shopping center, back when hair was a far greater issue for me than it is today. I also remember my first trip out there was in winter of 1976, and how blue the sky looked to my easterner's eyes far from the city pollution.

Not to go all geeky on you, but tonight I am trying the new Firefox 3 Beta 4 browser, and am amazed at how much faster it is in loading pages. Thusfar, it's been worth every penny I paid for it.


---
| | |
| --- | --- |
| Date: | Tue, Mar 11 2008, 5:58 pm |
| Name: | Jim Ruddle |
| Topic: | Catch up |
| Email: | jruddle@earthlink.net |
I've been away for a while and the blog had problems so I was unable to post anything until now.

First, I was dismayed to learn--six months after the fact--that Don Norton had died. He was a sometimes prickly character who held a wealth of Tulsa TV stuff in his head. I first met him at TU about 1949 and later worked with him in the fifties at KOTV where he was largo al factotum for Cy Tuma.

Second, I was also upset to learn that Frank Morrow has decided to empty his trash pile onto this site.
Frank, you promised not to wallpaper the blog, but you lied.

The hell of it is that I read Frank's stuff and none of it is unfamiliar. I guess we were all in the same leaky rowboat in those days.

But where, Frank, are the towering words of praise for John Wheeler?


---
| | |
| --- | --- |
| Date: | Tue, Mar 11 2008, 2:21 pm |
| Name: | Chris Fields |
| Topic: | Western store at 21st and Garnett |
| Email: | clfields@cox.net |
Does anyone recall the name of the western wear store that was located in the Forum 21 shopping mall? It faced 21st street and was right next door to Spotlite Magic.


---
| | |
| --- | --- |
| Date: | Tue, Mar 11 2008, 8:02 am |
| Name: | Webmaster |
| Topic: | Previous GroupBlog summary |
Archived GB 262.
Too many people were having trouble with the previous GB style, including me, so we are back to this one. Still trying to improve on either of these.
---




Back to Tulsa TV Memories main page