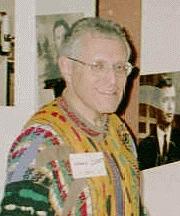 Date: April 17 2002 at 01:07:58
Name: Edward Dumit
Location: Out of the Ivory Tower
Comments:

Jim Hartz did indeed gain his first tv experiences at KTUL, Ch. 8, on "Galaxy" ("Odyssey" was almost right, Jim). At the time, he was a pre-med major at TU while announcing on KRMG radio. It was spring of '62, Jim's senior year. Ye gads, almost exactly 40 years ago! I could tell you the dates of his first appearances if it weren't for the fact that my only missing grade book is for that year (weird . . . ).

For eighteen seasons, from fall of '57 through spring of '75, KTUL-TV most graciously provided for our students in my Television Fundamentals and Television Production classes (Tom Ledbetter's classes during '68-'69) the opportunity of two semesters of lab experiences once a week in their Lookout Mountain offices and studios. Each week in the fall, our students met with a different executive or department head, who explained the functions and responsibilities of his or her area and answered all questions.

In the spring, the main studio, control room, and announcer's booth and Ch. 8's state-of-the-art equipment were turned over to us on Saturday mornings for set-up, dress rehearsal, and LIVE telecast at 11:30 or (after the arrival of videotape equipment) live on tape for airing early Sunday afternoons. Throughout spring, students were rotated through all production positions from floor manager, camera operator, booth announcer, cue card holder, and talent, to technical director and director. While a member of the Ch. 8 studio crew supervised the students in setting up sets and lights and generally stood by in the studio in case of crisis, I put in a lot of mileage racing up and down stairs; but I spent most of the time in the control room, also in case of crisis.

During the week preparation took place of diverse programs of the director's choosing, such as plays, jazz and classical music, dance, discussions and documentaries related to the arts, history, political science, business, social issues, etc.

After the first few seasons, the last five minutes became "TU Telenews" as a lab for Bill Hays' Broadcast Newswriting class with student reporters and presenters. Film stories were shot throughout Tulsa.

"Galaxy" (actually "Galaxy '58," "Galaxy '59," etc.) ended with the completion of New Kendall Hall on campus with its own tv studios and new equipment.

But what an invaluable experience KTUL provided for so many fledgling broadcasters! It would be great to hear from more of you guys through Tulsa TV Memories.